- IMF has raised projections for Nigeria's economic growth this year to 0.8 per cent
- The fund also revised its forecast for Nigeria in 2018 to 2.3 per cent
- These forecasts were revised up mainly to reflect high oil production due to security improvements
After plunging into its worst recession in over two decades, the International Monetary Fund (IMF) has estimated that Nigeria's gross domestic product (GDP) will grow at 0.8 per cent in 2017.
This was contained in its January 2017 World Economic Outlook – "A Shifting Global Economic Landscape.
This latest forecast for Nigeria was revised based on prospects of higher oil production due to security improvements.
READ ALSO: Nigeria aims to be world largest cocoa producer
Also revised was its forecast for Nigeria in 2018 which was put at 2.3 per cent from its previous projection of 0.7 per cent.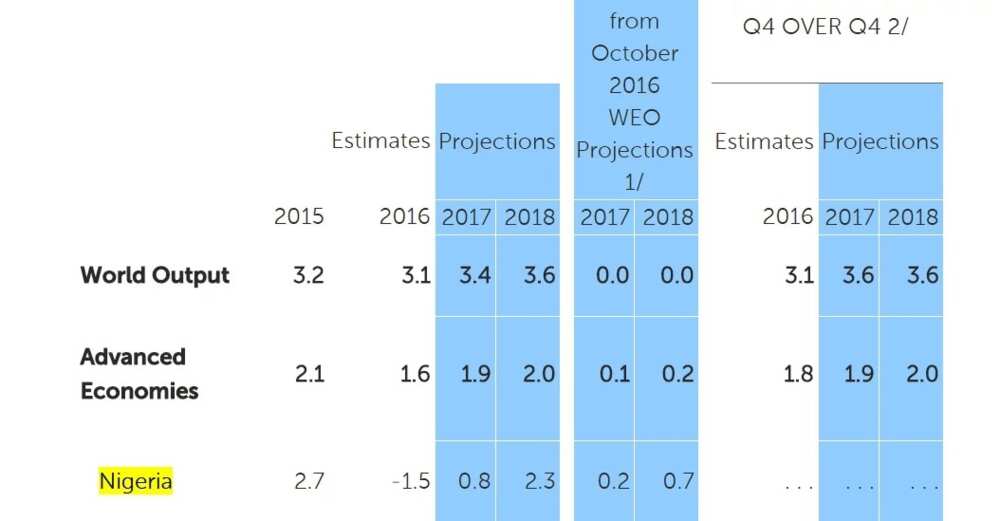 This is coming a week after the World Bank projected Nigeria's GDP to grow by one percent in 2017.
The IMF world economic outlook report which was released on Monday, January 16, read: "Global growth for 2016 is now estimated at 3.1 percent, in line with the October 2016 forecast. Economic activity in both advanced economies and EMDEs is forecast to accelerate in 2017–18, with global growth projected to be 3.4 percent and 3.6 percent, respectively, again unchanged from the October forecasts.
"Nigeria's forecasts were also revised up, primarily reflecting higher oil production due to security improvements."
READ ALSO: All efforts to save Naira failed - IMF
However, the IMF warns that there are still risks to the global growth outlook.
Recall that in October, IMF had projected that Nigeria's economy will grow by 0.6 percent.
Also, Godwin Emefiele, governor of the Central Bank of Nigeria and Kemi Adeosun, the minister of finance, had both said that the country will return to growth in the 2017 fiscal year.