2017 budget: DSS to spend N4.93bn on rifles and inteligence equipment
- The federal government is planning to spend N4.93 billion on DSS in 2017
- The proposed fund is to acquire intelligence equipment, assault rifles, cellular jammer and other security gadgets for the agency
The federal government is proposing to spend a total sum of N4.93 billion to acquire intelligence equipment, assault rifles, cellular jammer and other security gadgets for the Department of State Services (DSS) in 2017.
Details of the proposed spending are contained in the 2017 budget, which was submitted to a joint session of the National Assembly by President Muhammadu Buhari on December 14, 2016.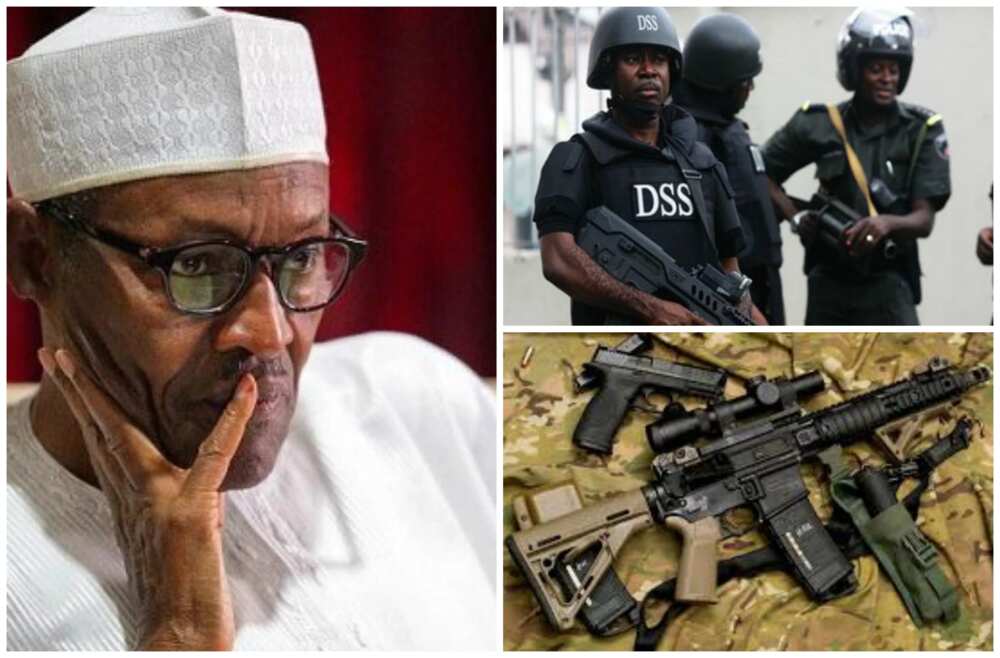 READ ALSO: Obasanjo blasts Awujale of Ijebuland
The N7.3tn budget has a total capital vote of N2.24tn, representing 30.7 per cent of the budget, while the recurrent component stands at N2.98tn with the rest allocated to debt servicing.
According to Punch, a breakdown of the N4.93 billion reveals that the sum of N1.45 billion is budgeted for maintenance and service warranties for all communication intelligence equipment for the DSS, while N340 million is budgeted for the purchase of Trevor assault rifles.
The government is also proposing to purchase handheld direction finder for the DSS at a sum of N97.9m, while the acquisition of antennae forensic solution and the purchase of Orion mines detectors are expected to gulp N648 million and N25 million respectively.
Similarly, the purchase of Sony handheld radios is being proposed for N216 million, while the sums of N150 million, N22 million, N168 million are budgeted for Oscor blue analyser, cellular jammer and armoured land-cruiser vehicles respectively.
In the same vein, N3.9 million is budgeted for laptops for intelligence processing; N5 million for purchase of surveillance audio microphone set; N37.9 million for the purchase of Jericho pistol for the service; N35 million for cyber security equipment; N21.9 million for the acquisition of handheld detectors and N102.5 million to link crime database to all formations.
READ ALSO: APC reassures Nigerians of fruitful democracy in 2017
Server and operational control room equipment are to be acquired at the sum of N184.3; assault rifles for the service, N78.8 million; purchase of five-seven pistol N206.7 million; baggage scanner N50 million; maintenance of baggage scanner, N124.9 million; purchase of body armour, N42.5 million, while mini explonix is estimated at N50 million.
The rest are the acquisition of ballistic helmet, N25 million; backpack bomb jammer, N70.5 million; purchase of 5.56mm ammunition for the service, N407 million; convoy protection bomb jammer, N250.8 million, and the purchase of 7.62mm ammunition for the service N75 million.
Meanwhile, the federal government has announced the discontinuation of the allocation funds for the maintenance of plants and generators in its foreign missions and embassies in countries with stable power supply.
The order to stop the allocation funds came years after its investigation exposed the controversial budgetary disbursement.
Watch a video of the president presenting the 2017 budget below:
Source: Legit.ng