Governor Wike to begin stomach infrastructure in Rivers state
- Governor Nyesom Wike says his administration will combine stomach infrastructure projects along other projects in Rivers state
- Wike assures the leaders of Rivers state that his administration would continue to invest in the maintenance of security
- The governor declares that the state would roll out the drums in 2017 to celebrate the state golden jubilee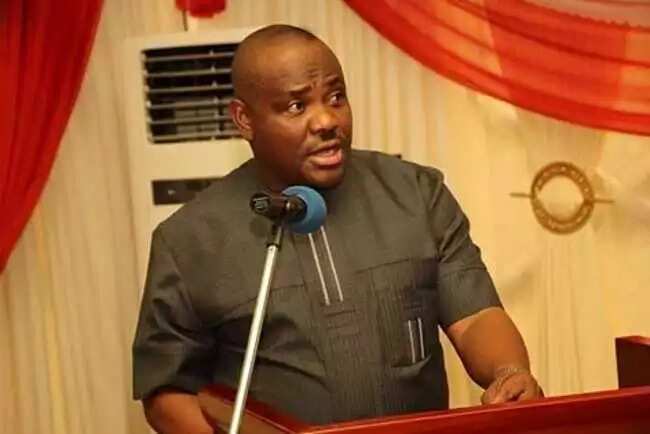 Governor Nyesom Wike of Rivers state has assured the people of the state that his administration would embark on extensive empowerment programmes in 2017.
According to This Day, Wike made the assurance recently at the 2017 state New Year banquet at the government house.
READ ALSO: Nigeria's unity is paramount - Wike
The governor said his administration will combine stomach infrastructure projects along other projects in the state.
He said: "This year will be a year of the empowerment of our people. While we are doing projects, we will be doing stomach infrastructure.
"Our stomach infrastructure this year will go round the people. We will transform the state in all ramifications."
The governor said: "We will increase the tempo of projects execution in January to the level that our people will be amazed.
"Work starts on January 3, 2017. We will release more funds for the execution of the Ogoni Andoni-Opobo-Nkoro Unity Road. Sakpenwa-Bori road, Buguma internal roads, and several road projects will be executed.
"Between this year and early 2018, we will deliver on all our road projects. Within this period, Rivers State will witness total transformation."
Wike assured the leaders of Rivers state that his administration would continue to invest in the maintenance of security.
READ ALSO: BREAKING: Rivers Assembly Speaker resigns
The governor declared that the state would roll out the drums in 2017 to celebrate the state golden jubilee.
In other news, Governor Nyesom Wike's defense for the unity of Nigeria, has met very strong opposition in the Niger Delta.
On Monday, January 2, 3 civil society organizations in the Niger Delta, disagreed with the Rivers state governor, on his recent statement that the unity of the country was not negotiable.
The groups claim that Wike's unconditional support for the unity and indivisibility of a defective federal structure, favours only a section of the country, a development which is totally unacceptable.
Source: Legit