A company co-founded by Nigeria's minister of Trade, Industry and Investment, Okechukwu Enelamah, African Capital Alliance Ltd ("ACA"), has been sued alongside other defendants in a $249 million suit involving breach of contract, breach of confidentiality obligations and unlawful interference with economic interests.
Enelamah was the CEO of ACA until his appointment as minister late last year.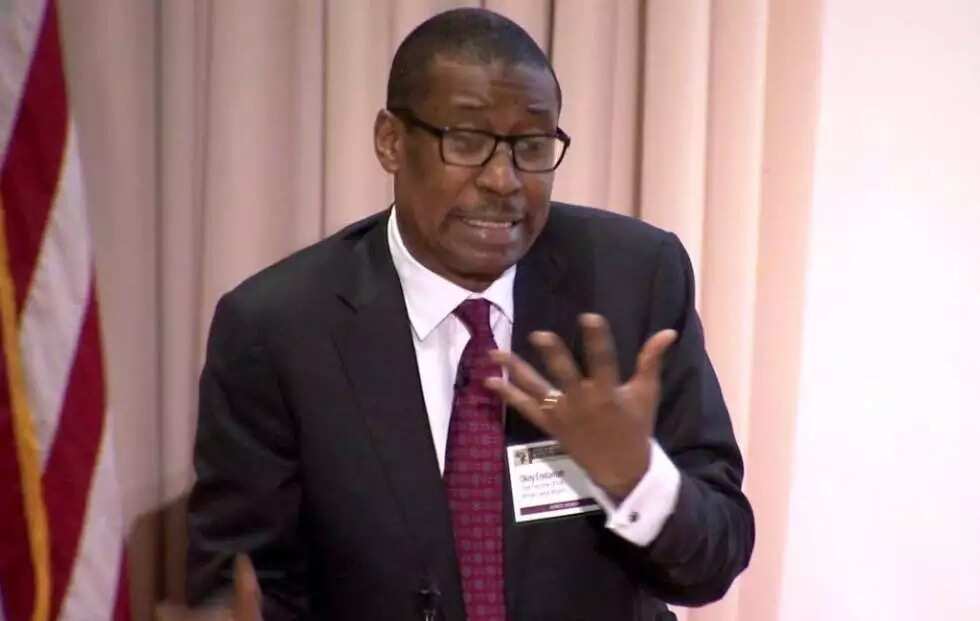 The plaintiff, Petroleum Zion Exploration and Production Ltd, in a suit filed at the Federal High Court, Lagos, claims that the said company unlawfully interfered with the plaintiff's transaction to purchase Afren's stake in Oil Mining Lease ("OML") 26, with a production potential over 10,000 barrels of oil per day.
Joined in the suit, as co-defendants, are PJT Partners UK Ltd, FHN 26 Ltd, Wilmington Trust (London) Ltd, Vertex Energy Ltd, Department of Petroleum Resources, and Ministry of Petroleum Resources.
Others parties are Simon Jonathan Appell, Daniel Imison and Ms Catherine Williamson (who are being sued in their capacity as UK administrators of Afren UK Plc and Afren Nigeria Holdings Ltd).
READ ALSO: CCB summons ministers, top officials of Buhari's government
In the court papers, the plaintiff contends that, sometime in 2015, Afren Plc (a UK listed Pan- African Oil and Gas Company currently under insolvency) mandated PJT Partners (a subsidiary of Blackstone Group UK) to liquidate all its assets in Nigeria, including its 100 percent stake in FHN26 (a special purpose vehicle of that owns a 45% interest in OML 26).
The plaintiff expressed interest in acquiring the said stake in OML 26 (the "Sale Asset") and was eventually declared preferred bidder, whereupon it commenced negotiations, in good faith, and reach agreement to execute a Sale Purchase Agreement in respect of the Sale Assets ("SPA").
According to Petroleum Zion, due to the global fall in oil prices, which impacted the value of the Sales Asset, the deal was later renegotiated during which price sensitive and propriety information was divulged on confidential basis for 10 months between August 2015 and May 2016.
However, PJT Partners in handling the transaction on behalf of Afren's administrators breached their confidentiality obligations owed to the plaintiff, unlawfully disclosing the plaintiff's bid price and other sensitive information to ACA (who secretly joined the bid process later) and now on the verge of concluding the transaction leveraging the sensitive information unlawfully obtained from PJT Partners to its advantage.
READ ALSO: Saraki says MTN's $13.9bn can end recession
The plaintiff contends that PJT Partners disclosed the sensitive informations it gathered from it (Petroleum Zion) including renegotiated terms to ACA, which made it easy for ACA to want to close the transaction.
Petroleum Zion is, inter alia, asking the court for an order mandating First Hydrocarbon Nigeria Company Ltd and or Wilmington Trust (as Security Trustees of the Sale Asset) to execute the draft SPA in the form agreed with Petroleum Zion as at May 24, 2016.
The plaintiff is also seeking $230 million as damages against PJT Partners UK for disclosing its sensitive information to competitors and an additional $8.94 million as compensation for expenses it incurred as a result of the defendants' bad faith.
Further, Petroleum Zion is seeking $10 million as damages against ACA for unlawful interference with the plaintiff's economic interests.
Meanwhile five of the defendants in the suit have filed notices of preliminary objection challenging the jurisdiction of the Federal High Court to hear the suit.
READ ALSO: 7 ministers of President Buhari who are not 'visible'
Justice M. Idris of the Federal High Court, Lagos fixed January 27, 2017 for ruling on whether it has jurisdiction to hear the matter.