Check out these ridiculous baby names that had to be banned
Evidently, just because you have a child does not automatically mean you are at liberty to name him/her whatever you want.
Over the years, courts have had to ban parents from giving their children ridiculous names.
Here are 10 funny examples.
Cyanide
A woman was recently told by the court that naming her child 'Cyanide' would only hurt him in future.
Chow Tow
The Malaysian government has banned parents from naming their child "Chow Tow," the translation for which is roughly "smelly head".
READ ALSO: Dad stops his daughter's wedding so her stepdad could walk down the aisle with them
Anus
One set of parents had to appeal to the Denmark government to grant them permission to name their kid Anus. A request which was denied.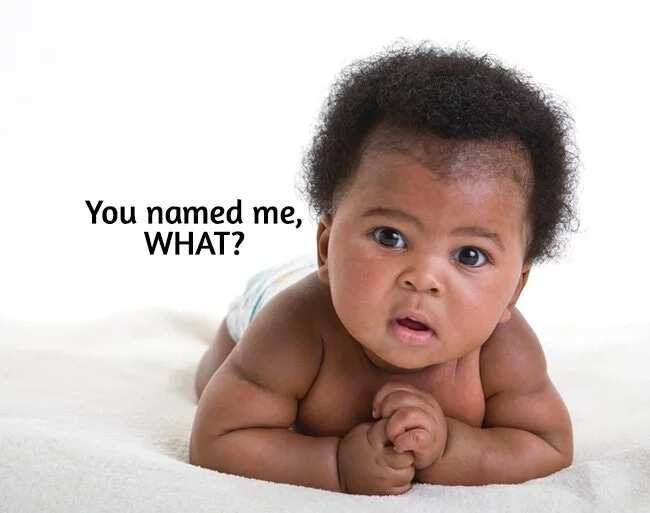 @
In China, the baby's parent was banned from using this name which is pronounced "ai-ta" over there.
Facebook
A state in Mexico banned a few names because they "lacked in meaning." Facebook was on that list. Other names that made the list were Burger King, Hitler and Robocop.
Lucifer
Lucifer was on a list of 77 banned names in New Zealand.
Talula Does The Hula From Hawaii
A girl had to go to court to change her name which she hated. Her parents named her Talula Does The Hula From Hawaii. A judge granted her request.
READ ALSO: Yoruba vs Calabar, which has the most beautiful women?
III
Pronounced 'Three,' this name was banned in California in 1984 on the grounds that it is a symbol and symbols can't be names.
Venerdi
Judges prevented a couple from naming their child Venerdi, which means Friday. They say the name would expose the boy to mockery.
Brfxxccxxmnpcccclllmmnprxvclmnckssqlbb11116
Interestingly, the Sweden couple who gave their child this name said it was pronounced "Albin." The court made them pay a fine and banned the name.
Which of these names can you give your child?
Source: Legit.ng