Death of Queen Elizabeth II: World Leaders Pay Tributes, Britain Mourns as Charles Becomes King
Queen Elizabeth II, the UK's longest-reigning royal and among the world's longest-ruling monarchs in history, died at the age of 96 at Balmoral Castle in Scotland, Buckingham Palace announced
Charles, 73, automatically becomes king of the United Kingdom and the head of state of 14 other realms including Australia, Canada and New Zealand, and his wife Camilla becomes queen consort
World leaders have been thrown into mourning over the news as the details of a publicly funded state funeral and ceremony are expected to be released soon
Eulogies from global leaders and leading personalities all over the world poured in for Queen Elizabeth II, the United Kingdom's longest reigning monarch, as she died at the age of 96, on Thursday, September 9.
She died peacefully at Balmoral Castle, her estate in the Scottish Highlands in the afternoon marking the end of an era in the United Kingdom, The Punch reported.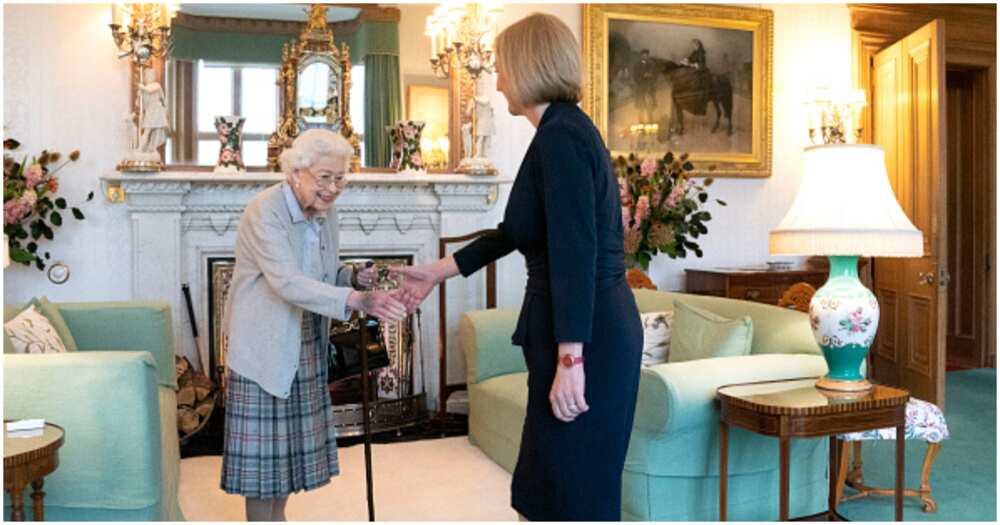 Her death, which was announced by Buckingham Palace, attracted glowing tributes from global leaders, who described her in glowing terms.
The crown passes immediately to her son and heir Charles, who will officially be known as King Charles III.
World leaders pay tributes
Shortly after her death was announced, mourners gather at Buckingham Palace to pay tributes.
The Queen's children – Charles, Princess Anne, 72, Prince Andrew, 62, and Prince Edward, 58, flocked to her Scottish Highland retreat, Balmoral.
They were joined by Charles's sons, Prince William, and his estranged brother, Prince Harry.
The new King said his mother's death was a moment of "the greatest sadness for me and all members of my family."
Leaders from around the world mourned her passage, describing it as the end of an era.
UK PM Truss
The UK Prime Minister Liz Truss, who was appointed by the Queen on Tuesday, described her as "the rock upon which modern Britain was built.''
Joe Biden pays tribute
The United States President, Joe Biden and first lady, Jill Biden, in a statement, said Elizabeth was more than a monarch, describing her as a steadying presence and a source of comfort for many Britons.
The American first family said:
"Her Majesty Queen Elizabeth II was more than a monarch. She defined an era. In a world of constant change, she was a steadying presence and a source of comfort and pride for generations of Britons, including many who have never known their country without her."
Canadian Prime Minister, Justin Trudeau mourns
Canadian Prime Minister, Justin Trudeau also expressed his grief over the monarch's passage. According to him, the Queen's service to Canadians would forever remain an important part of his country's history.
French President, Emmanuel Macron pays tribute
French President, Emmanuel Macron tweeted:
"Her Majesty Queen Elizabeth II embodied the British nation's continuity and unity for over 70 years. I remember her as a friend of France, a kind-hearted queen who has left a lasting impression on her country and her century."
5 key changes bound to happen in United Kingdom following Queen Elizabeth II's death
On Thursday, September 8, the world was thrown into grief over the passing of Queen Elizabeth II at the age of 96.
The late Queen was the longest-reigning monarch since the passing of Albert Frederick Arthur George (George VI) on February 6, 1952.
With the Queen's death, several changes are bound to take place in the United Kingdom to usher in the reign of a new monarch.
Queen Elizabeth II, longest reigning monarch, declared dead
The world was thrown into mourning as Britain's longest-reigning monarch, Queen Elizabeth, is declared dead at 96.
Her death brings to a close a reign that spanned seven decades and made her the most recognized woman in the world.
As monarch, the Queen is automatically granted a publicly funded state funeral and details for the ceremony are expected to be released soon.
Source: Legit.ng