Breaking: Russia Bombs Children, Maternal Hospital in Ukraine, Casualty Unknown
Russia has targeted a maternal and children hospital in the ongoing invasion of Ukraine according to reports
The Russians during the devastating attack targeted a medical facility where children were treated
Meanwhile, Ukrainian President Volodymyr Zelensky condemned the air strike on a hospital in Mariupol
Russian troops have reportedly bombed a maternity hospital where women and children are being treated.
This was disclosed by the city council of the southern Ukrainian city of Mariupol.
The council posted video of a devastated maternity hospital in the city and accused Russian forces of dropping several bombs on it from the air, Aljazeera reports.
The council wrote:
"The destruction is enormous. The building of the medical facility where the children were treated recently is completely destroyed. Information on casualties is being clarified."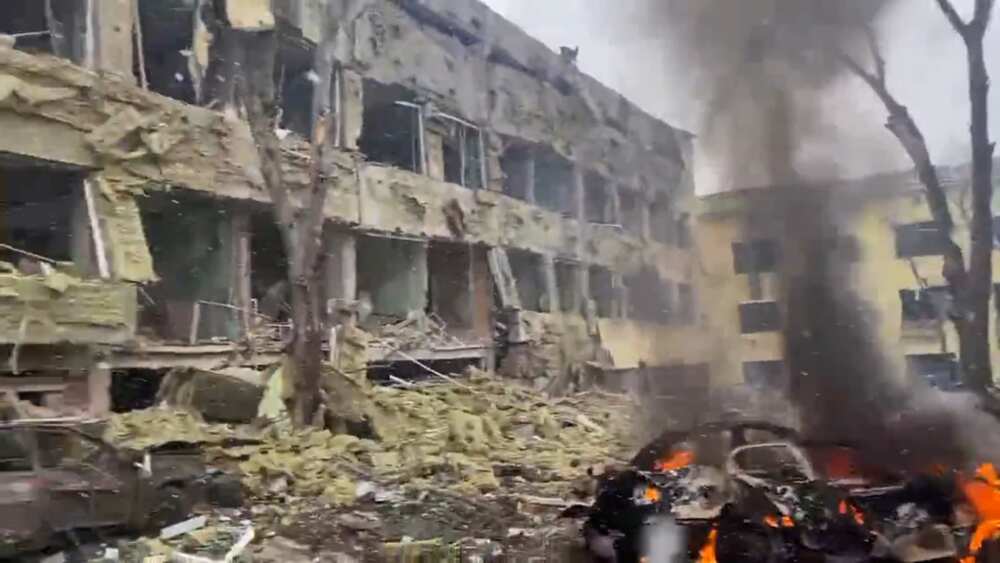 "A maternity hospital in the city center, a children's ward and department of internal medicine ... all these were destroyed during the Russian air strike on Mariupol. Just now."
Also, Ukrainian president, Volodymyr Zelensky condemned the air strike on a hospital in Mariupol.
On his Telegram account, Zelensky said:
"Direct strike of Russian troops at the maternity hospital. People, children are under the wreckage. Atrocity! How much longer will the world be an accomplice ignoring terror?"
Details on casualties from the airstrike are yet to be confirmed.
Amid Russia's invasion, Ukrainian, 17 others receive huge award in Nigeria
Meanwhile, Legit.ng reported that amid the intensified invasion of Ukraine by Russian military troops the country seems not to be deterred in its effort to shine bright in the film industry. Olesya Morgunets-Isaenko from Ukraine won the award for Best Picture in the film Carol of the Bells at the Women's International Film Festival Nigeria (WIFFEN 2022) on Saturday, March 5.
The award ceremony which took place at the International Conference Centre in Abuja was organised by Girls Voices Initiative's Girl Nation Academy in partnership with the French Embassy's PISCCA Program and other partners.
All the ambassadors of various countries in Nigeria who were present at the event including the French Ambassador represented by Rafael Pont, head of cooperation and cultural affairs at the embassy and Esmond Reid, the Jamaican High Commissioner to Nigeria received the award on behalf of Morgunets-Isaenko.
Foreign minister finally reveals Nigeria's position
In another report, the Nigerian government finally revealed its position on the Russian war against Ukraine.
Foreign affairs minister, Geoffrey Onyeama, said the Nigerian government does not condone Russia's invasion of Ukraine.
Onyeama added that the Nigerian government would act in accordance with the United Nations.
According to him, the Buhari-led administration will comply with UN resolution should sanctions be imposed on Russia.
Source: Legit.ng