G-20 Summit: President Tinubu received by Indian Prime Minister Narendra Modi
President Bola Ahmed Tinubu has joined other world leaders to participate in the 18th G-20 Summit in India
The Prime Minister of India and host of the G-20 Summit, Narendra Modi, received President Tinubu on Saturday, September 9
The 18th G-20 Summit is ongoing at Bharat Mandapam International Exhibition-Convention Centre, Pragati Maidan, New Delhi, between 9 - 10 September 2023
New Delhi, India - President Bola Ahmed Tinubu has been received by Narendra Modi, the Prime Minister of India and the host of the ongoing G-20 summit.
Tinubu, on an official visit to India, arrived in New Delhi, the nation's capital, on Tuesday, September 5.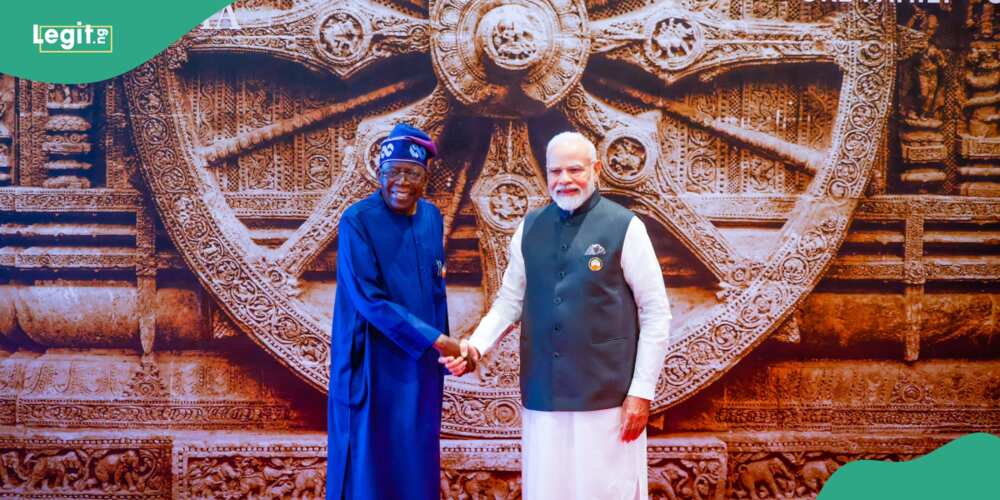 The visit is believed to reignite ties between Nigeria and India, and Tinubu will attend several high-level meetings with prospective investors.
President Tinubu's attendance at the G-20 summit will also help him engage with other world leaders like US President Joe Biden, who is present at the event.
The 2023 G-20 summit is the 18th meeting of world leaders, which is taking place at Bharat Mandapam International Exhibition-Convention Centre, Pragati Maidan, New Delhi.
It is the first G20 summit held in India and South Asia.
Agenda for 2023 G-20 Summit
This year's G-20 Summit has put forth six agenda priorities for the G20 dialogue in 2023.
They include Green Development, Climate Finance and Life Accelerated, Inclusive and Resilient Growth, Accelerating SDG progress, Technological Transformation and Digital Public Infrastructure and Multilateral Institutions for the 21st century.
Women-led development
Indian billionaire to invest in automobile in Nigeria as Tinubu meets with one of India's richest men
In another development, President Bola Tinubu has met with one of India's wealthiest men, Prakash Hinduja.
The president assured the Indian billionaire that he was ready to partner with him for investments in Nigeria.
The billionaire revealed that his companies would focus on automobile manufacturing in Nigeria.
"How I joined Exxon Mobile": President Tinubu reveals his journey to wealth
Meanwhile, President Bola Tinubu has disclosed that his academic excellence took him from Deloitte to Exxon Mobil.
The President said Nigeria is blessed with knowledge and human resources, but the country needs more leadership and management.
According to Tinubu, he was a brilliant undergraduate student, which allowed him to join Deloitte and then move to Exxon Mobil at his request.
Source: Legit.ng