Gabon Coup Live Updates: What We Know So Far as Soldiers Sack President Ali Bongo, Cancel Election Result
In a surprising move, 12 senior Gabonese military officers have taken control of the country. This comes shortly after President Ali Bongo secured a third term in office, according to the election body.
The officers cited concerns about unstable governance and social unrest as reasons for the takeover. The announcement was made on national television. The government has not yet responded."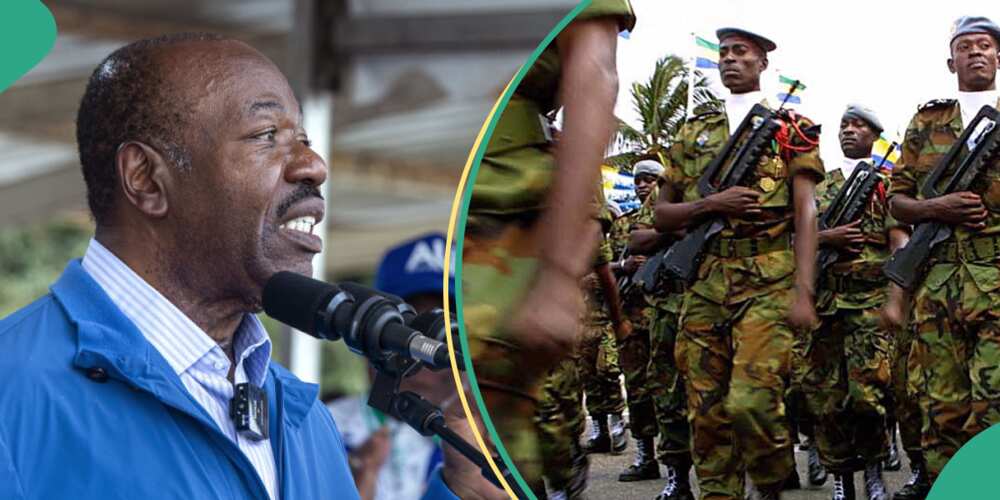 Follow Legit.ng's live updates of the crisis in the African country.
Gabon Coup: What we know so far
A group of senior military officers in Gabon claimed they had seized power in the early hours of Wednesday
Their announcement came shortly after the country's election body announced that President Ali Bongo had won a third term
The soidiers said they have cancelled the election result
President Bongo's whereabouts currently unknown
Bongo's family have ruled for 56 years
Gabonese citizens celebrate military take over
Some Gabonese citizens in parts of Libreville, the capital city of Gabon, are celebrating the sack of President Ali Bongo by the soldiers.
Legit.ng gathers that residents were seen applauding members of the security forces in the Plein Ciel district.
The Bongo family has ruled the African country since it gained independence from France in 1960
Gabon coup: Soldiers list reasons why they sacked President Ali Bongo
The Gabonese army officers have also revealed on national TV their reasons for seizing power from President Ali Bongo.
They pointed to severe institutional, political, economic, and social crises as factors driving the 'necessary' coup for the country's advancement."
They also pointed at the just conducted controversial election,
"We are therefore forced to admit that the organisation of the general elections of 26 August 2023 did not meet the conditions for a transparent, credible and inclusive ballot so much hoped for by the people of Gabon," the officers said,
Gabon coup: Soldiers close borders indefinitely
The soldiers in Gabon have closed the country's borders indefinitely.
The announcement was made on Gabon 24 TV by a soldier representing the 'Committee for the Transition and Restoration of Institutions', Al Jazeera reported.