Anxiety as Niger Military Rulers Order Armed Forces to Go on Highest Alert
The military rulers in Niger have ordered its armed forces to go on the highest alert, citing an increased threat of attack
An internal document issued by Niger's defence chief was confirmed as authentic by a security source in the country
The document said the order to be on maximum alert would allow forces to respond adequately in case of any attack
Niamey, Niger Republic - The junta in Niger has ordered its armed forces to be on the highest alert, citing an increased threat of attack.
According to the Voice of America, this update was according to an internal document issued by its defence chief on Friday, August 25. A security source in the country reportedly confirmed that the document is authentic.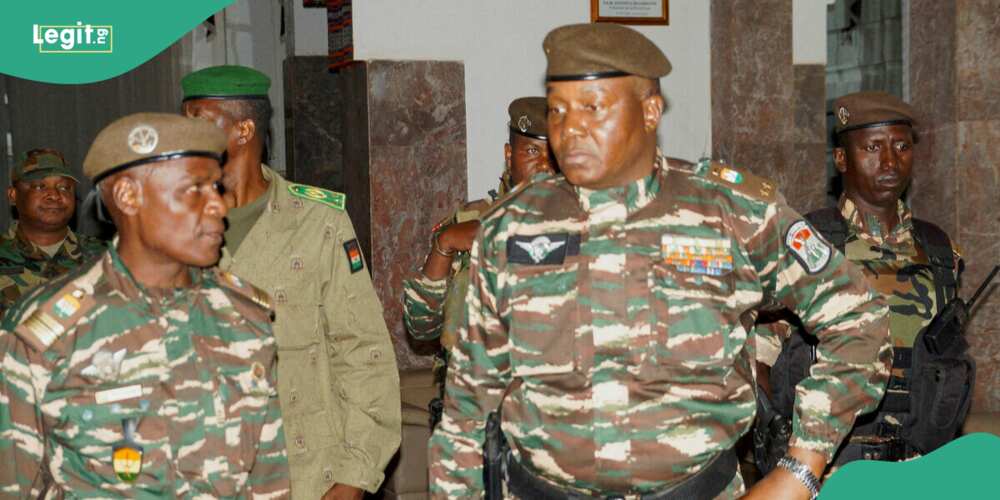 Niger junta raises armed forces alert
Per Reuters, the document said the order to be on maximum alert would allow forces to respond adequately in case of any attack and "avoid a general surprise".
It partly reads:
"Threats of aggression to the national territory are increasingly being felt."
The Niger junta's latest action comes amid contemplation of a use of force by the Economic Community of West African States (ECOWAS).
Niger coup leaders didn't expel Nigerian Ambassador
In a piece of related news, Legit.ng reported that the military government in the Niger Republic reacted to the report that it ordered German, United States (US) and Nigerian ambassadors to leave the country.
The coup leaders denied the widely circulated reports, stating that only the French ambassador, Sylvain Itte, was ordered to leave the country. Thus, it ruled the reports false.
Tinubu speaks on external forces against Niger
Legit.ng also reported that President Bola Ahmed Tinubu revealed that he was under pressure to deploy the use of force against the military junta in the Niger Republic.
The Nigerian leader stressed his commitment to a peaceful resolution in solving the issue as the chairman of the ECOWAS Authority of Heads of States.
Tinubu spoke when he hosted top Islamic leaders, known as Ulama, led by their leader, Sheikh Bala Lau, at the presidential villa in Abuja on Thursday, August 24.
Source: Legit.ng