Identities of 6 Journalists Detained in Sudan Over Video of President Kiir Allegedly Wetting Self Revealed
Six journalists have been reportedly detained in South Sudan over a viral video of the country's president Salva Kirr allegedly wetting himself
According to reports, the journalists were detained under the suspicion of the release of the unauthorised footage
Meanwhile, in a new development, the identities of the reporters have been revealed to the public by the Union of Journalists of South Sudan
The Union of Journalists of South Sudan (UJSS), has revealed the identities of the six journalists detained in relation to a leaked video of President Salva Kiir allegedly urinating on himself while at an official event two weeks ago.
Head of the UJSS, Patrick Oyet, confirmed on Saturday, January 7th, that five of the journalists were detained on Tuesday, January 3rd, while one was arrested and detained on Wednesday, January 4th.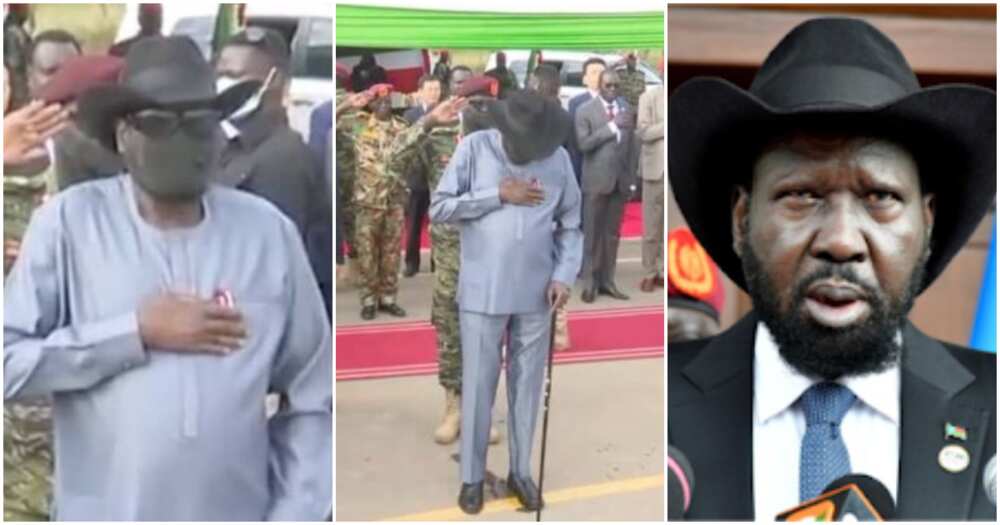 A word for the media as the fate of the journalists remained unknown
Oyet said he hopes any investigation will be fast and said that the media should act professionally, Nigerian Tribune reported.
The names of the detained journalists
Those detained include;
Joval Tombe,
Victor Lado,
Mustafa Osman,
Jacob Benjamin,
Oliver Wani, and
Cherbek Reuben.
However, South Sudan's information minister, Michael Makuei Lueth, in a statement, said,
"People should wait to hear the reason for why the media workers are being held."
The Cable added that the controversial video footage which went viral and was shared widely on social media in late December, showed President Kiir urinating on himself while at an engagement, but the video was quickly cut away from the shots of the 71-year-old president.
Tinubu's camp drops bombshell, describes AriseTV owner as "unscrupulous hustler"
In another development, the rift between the All Progressives Congress (APC) presidential candidate, Bola Tinubu's camp and AriseTV/ThisDay is far from coming to an end as the ruling party has attacked the owner of the media.
In a statement jointly signed by Bayo Onanuga and Dele Alake for the APC media and communication directorate and sent to Legit.ng, the campaign council described the owner of the organisation, Nduka Obaigbena, as an "unscrupulous hustler".
The media organisation had accused the spokespersons of the APC presidential campaign council, Bayo Onanuga and Dele Alake, of tampering with press freedom in Nigeria by accusing it of being biased in its reportage.
Source: Legit.ng