Bill Gates tests positive for COVID, declares that he is fortunate to have been vaccinated
Bill Gates on Wednesday, May 11, said he tested positive for COVID-19 and is experiencing mild symptoms
The billionaire philanthropist and Microsoft founder disclosed this in series of tweets on his Twitter page
Meanwhile, the Bill & Melinda Gates Foundation had pledged in January a $150 million to fund its COVID-19 pandemic response
Billionaire businessman and co-founder of Microsoft, Bill Gates has announced that he tested positive for COVID-19.
The philanthropist who said he is experiencing mild symptoms announced this in a post on Twitter.
He wrote:
"I've tested positive for COVID. I'm experiencing mild symptoms and am following the experts' advice by isolating until I'm healthy again."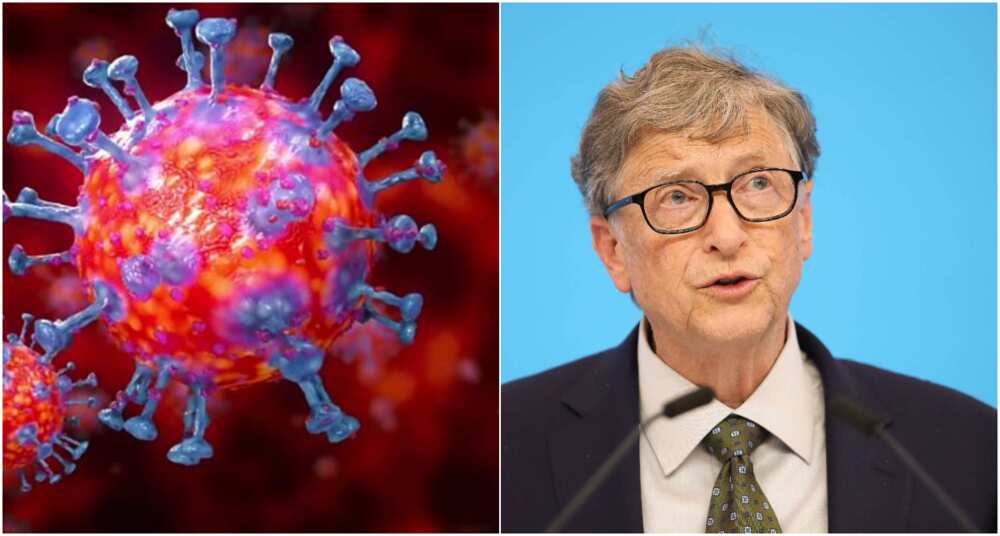 "I'm fortunate to be vaccinated and boosted and have access to testing and great medical care.
"The Gates Foundation is coming together today for the first time in two years, and I am lucky to be on Teams to see everyone and thank them for their hard work.
"We will continue working with partners and do all we can to ensure none of us have to deal with a pandemic again."
Gates' global health charity organization the Bill & Melinda Gates Foundation had pledged in January a $150 million to the Coalition for Epidemic Preparedness Innovations (CEPI) to fund its COVID-19 pandemic response.
Bill Gates says another pandemic is around the corner, states that COVID-19 risks have reduced
Gill Gates said on Friday, February 18, 2022, that the dangers of serious disease from COVID-19 have drastically reduced but another pandemic is very certain.
While speaking with CNBC's Hadley Gamble at Germany's Security Conference, Gates said that a possible new pandemic may likely come from a different pathogen to that of the coronavirus family.
As per the billionaire, the advances in medical tech should help the world fight it if people invest early enough.
Gates Foundation, Wellcome pledge $300 million to improve vaccine development, research
Legit.ng has reported that in furtherance to efforts channeled towards the eradication of the COVID-19 virus and its antecedent pandemic, the Bill and Melinda Gates Foundation in partnership with Wellcome has pledged $300 million ($150 million each) to the Coalition for Epidemic Preparedness Innovations (CEPI).
A statement which was seen by Legit.ng said the donation, is aimed at financing COVID-19 pandemic answer and accelerating epidemic preparedness across the globe.
The foundation while calling on world leaders to support CEPI to help end the COVID-19 crisis said it is important that preparations are made for future pandemics, and address epidemic threats in the world.
Source: Legit.ng