Benefits of Using Satellite Imagery Analytics for Input Suppliers in Africa
- EOS Data Analytics provides satellite imagery analytics to help input suppliers increase the value of their offers
Agriculture is one of the critical industries in Africa's economy: it accounts for 20–40% of the continent's GDP and provides jobs for about 70% of the population. Yet, Africa's agricultural businesses haven't reached their full yield potential.
One of the investment directions that can positively impact yields is the increased application of inputs and hybrid seeds. Despite local farmers' aim to harvest more and healthier crops while optimizing input use, input manufacturers still can outrun competitors, motivate agricultural businesses to use their products, and increase the loyalty of existing customers.
The key to achieving these goals is leveraging data to navigate the African agriculture market: understanding what crops are grown at given regions or areas, what problems farmers face on site, and other details that allow input suppliers to adjust production and marketing efforts.
EOS Data Analytics, a global provider of AI-powered satellite imagery analytics, has a solution created with agricultural users in mind — EOS Crop Monitoring — that grants suppliers access to this valuable data and its analytics. The satellite-based precision agriculture platform is a single source of near-real-time analytics and historical data about crop health, weather conditions, crop rotation, field activities, elevation, soil moisture, technological operations, and other indicators. The solution is trusted by almost 8,000 customers on the continent.
"The platform takes farm management to the next level by providing users with relevant data about vegetation, soil moisture, weather, and other indicators. All agriculture supply chain parties can benefit from EOS Crop Monitoring platform functionality. The solution timely detects stressed areas within customer fields, while the EOS Scouting app allows for saving time and resources on managing those problem spots. The zoning feature makes it possible to create vegetation and productivity maps for distributive fertilizer application. That way, farmers can optimize their inputs while suppliers can offer a more personalized approach to their customers," says Yevhenii Marchenko, Account Executive at EOS Data Analytics.

Platform features can be classified into four groups.
Field monitoring through notifications about regular and abnormal changes in the condition of crops throughout the season. Users can remotely evaluate the vegetation density at various growth stages with 18 vegetation indices (e.g., NDVI, NDRE, ReCl, MSAVI). They can also detect water stress, track crop growth stages according to the BBCH-scale, access crop rotation data for each field, and weather data (14-day forecasts and historical weather data since 2008).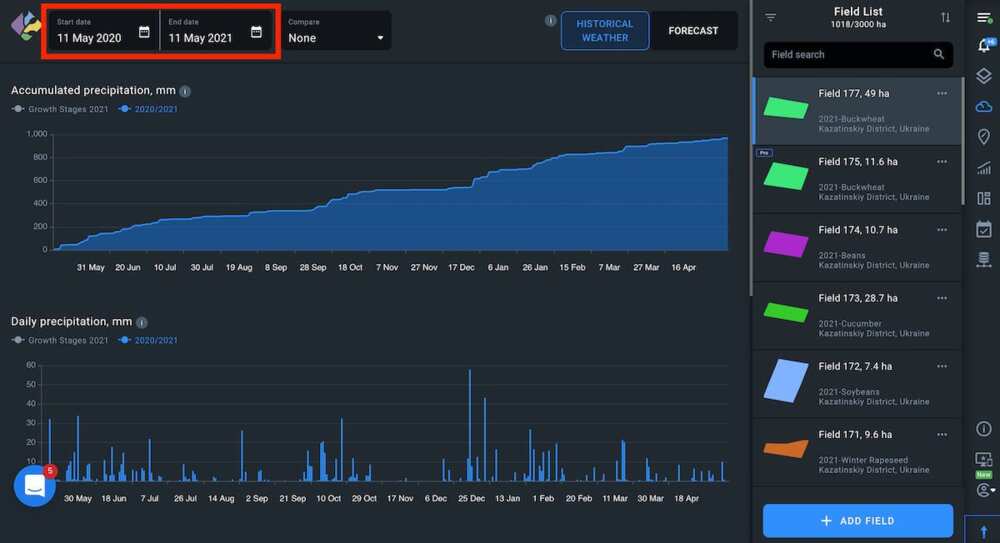 Split view — the opportunity to compare two images of the same field made at different dates to monitor the state of crops over time. Users can choose among three split-view modes: field monitoring, vegetation and custom indices, and water stress detection (NDMI).
Zoning — identification of field areas with different levels of productivity. The feature lets users adjust the amount of fertilizer, seeds, or pesticides based on the state of each zone. There are two types of zoning: vegetative map and productivity map.
The scouting app and team management are about coordinating field inspections. The scouting app allows identifying problem areas using up-to-date satellite imagery and vegetation data and assigning tasks to scouts. Team management entails giving user roles (e.g., admin, scout, observer) for effective field management.
Let's review how seed and crop protection companies can use the solution to their advantage.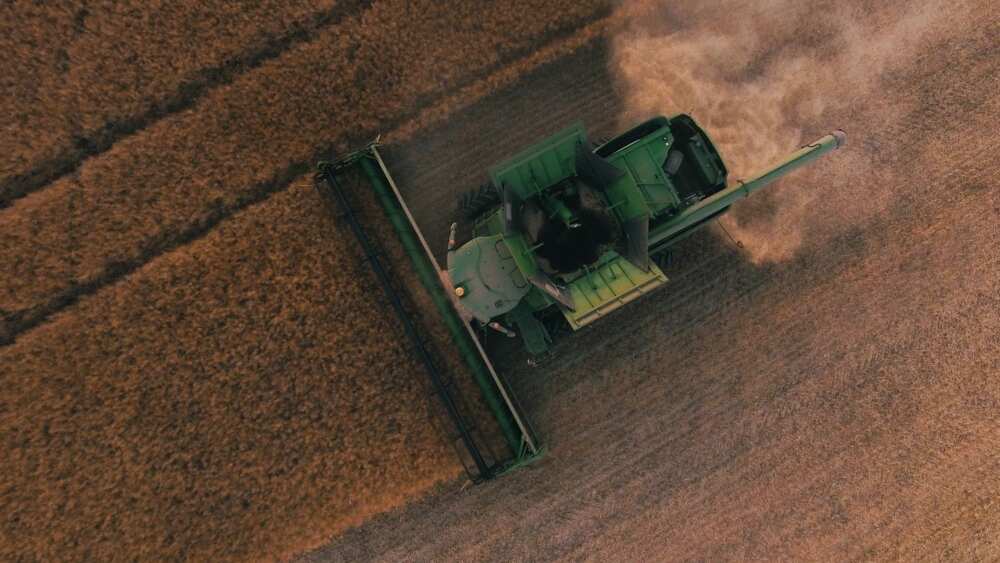 Use cases for EOS Crop Monitoring for input suppliers
Identifying market demand for given inputs and services: Using market data on region, country, and global scale, commercial and marketing teams of input suppliers can define farmer pain points to timely respond to them and adjust their promotion activities. Data may include farm locations and cultivated crop types, the number of agricultural products harvested in specific regions (with crop classification), recent weather extremes, soil moisture levels at areas of interest, or NDVI reports. For instance, one of the EOSDA input supplier clients made the NDVI time series report using historical data for the past three years. The company then prioritized fields by productivity and chose the most productive one to test new seeds.
Testing a product and proving its effectiveness: Input suppliers can speed up the testing of products before introducing them to the market. Instead of waiting for the end of the harvesting season to evaluate input effectiveness, companies can monitor how fertilizers and pesticides affect the rigor and biomass of crops after their application on a test field. Specialists usually track crop health based on vegetation indices like NDVI and consider soil moisture and weather data as external factors.
Testing results supported by data about crop conditions before and after using inputs can complement product overviews for distributors, agents, or farmers.
Provide consultancy services on top of inputs to increase customer loyalty: For every electronic device, there is a manual. End users could also benefit from a guide on sowing and applying crop protection chemicals. So, input manufacturers can go the extra mile and consult farmers on using their products correctly based on the insights from EOS Crop Monitoring. Input suppliers have to become resellers within the EOS Data Analytics Partner Program to do so. The program includes tech support, services, and educational content for participants to ensure they know the platform from A to Z.
"The satellite-based precision agriculture platform acts as a source of data about the current and past state of customers' fields and crops. Input suppliers' sales teams can rely on the platform insights to manage their efforts in a given area. At the same time, customer care specialists can support end-users by providing recommendations about best products and agro practices for keeping their crops safe and healthy," adds Yevhenii Marchenko.
EOS Data Analytics is ready to contribute to Africa's agricultural potential by providing relevant market data analytics to meet the needs of input manufacturers. Through the functionality of the EOS Crop Monitoring platform, input suppliers can address several challenges and drive their commercial growth.
[Sponsored]
Source: Legit.ng