Kentucky: Photos, Losses, Tears, Deaths As Tornadoes Ravage US
Dozens of storms tore through at least six Southern and the Mid-West States across the US on Saturday, December 11
So far, 80 people have been confirmed dead with many of the casualties taking place in Kentucky
A candle factory and an Amazon warehouse were badly hit as many workers spent Friday, December 10, night shift packaging Christmas orders
President Joe Biden has described the dozens of tornadoes that tore through at least six US states on Saturday, December 11, as "one of the largest" storm outbreaks in American history.
The devastating storms, which happened literally overnight, have left at least 80 people dead and displaced thousands more. The state of Kentucky has been the most severely affected with at least 70 locals confirmed dead.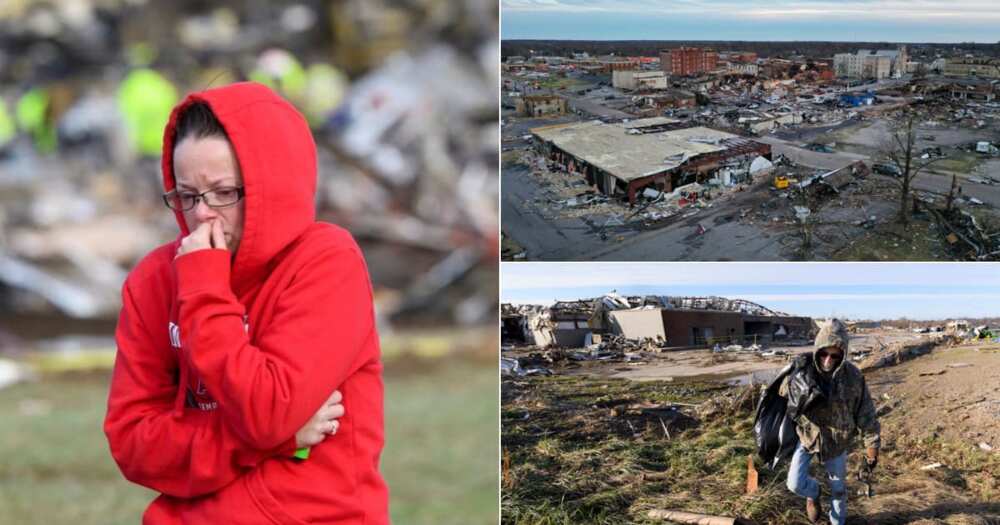 News 24 reports that many of the deceased have been identified as workers at a candle factory, while at least six died in an Amazon warehouse where they were on the Friday night shift packaging orders ahead of Christmas.
The severe storms apparently crumbled metal, bashed concrete buildings to pieces, and even threw a heavy train off its track.
Rescue efforts are still underway in Arkansas, Illinois, Kentucky, Mississippi, Missouri, and Tennessee, The Guardian added.
Kamala Harris becomes first woman to hold presidential power in United States
Meanwhile, Kamala Harris, the vice president of the United States of America, had become the first woman to hold presidential power in the country.
President Joe Biden on Friday, November 19, temporarily transferred power to Harris while he underwent a medical checkup.
Legit.ng gathered that Biden was under anesthesia for a routine colonoscopy for one hour and 25 minutes.
Harris who was also America's first female, first Black, and first South Asian vice president worked from her office in the West Wing while Biden was under anesthesia.
President Biden, who will turn 79 on Saturday, November 20, arrived Friday morning at Walter Reed Medical Center to undergo his first routine annual physical since taking office.
It was gathered that it was a routine for a US vice president to assume presidential powers while the president undergoes a medical procedure that requires anesthesia.
Source: Legit.ng