Breaking: African President Sacks Prime Minister, Dissolves Government
The political instability in Burkina Faso on Thursday, December 9, attained what some may call the climax
This was as the president, Roch Marc Christian Kaboré, dismissed the prime minister, Christophe Joseph Marie Dabiré
President Kaboré also dissolved the government in a presidential decree read by a media aide of the presidency
The president of Burkina Faso, Roch Marc Christian Kaboré, on Thursday, December 9, dismissed Prime Minister Christophe Joseph Marie Dabiré and dissolved the government.
A decree by President Kaboré read:
"The functions of the prime minister are terminated, the government is dissolved."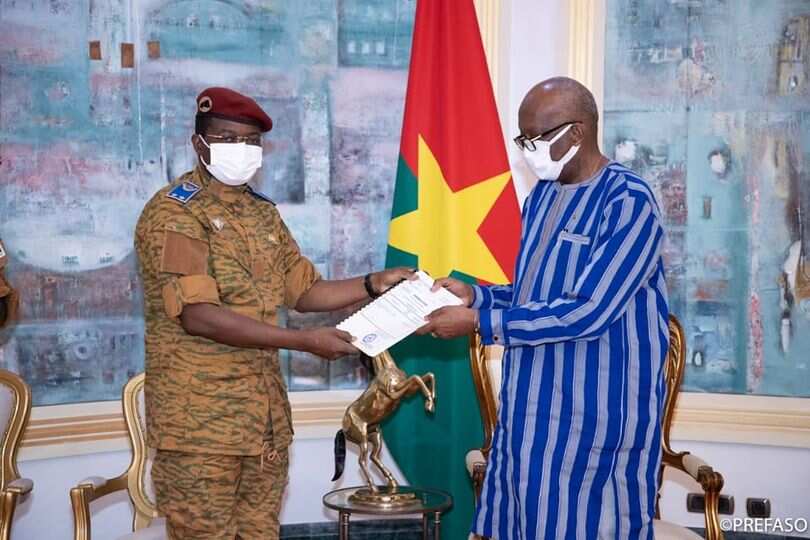 At the moment there is no indication of when an interim or future head of government will be elected, Voice of Nigeria reports.
This decree came after the president was said to have received the resignation letter of Prime Minister Dabiré, Aljazeera added.
Updated: Videos reveal how President Alpha Conde's government was overthrown
Meanwhile, a Guinean Army Colonel, Mamady Doumbouya, had seized control of state television and declared that President Alpha Conde's government had been dissolved and the West African nation's borders closed.
The announcement came after hours of heavy gunfire erupted near the presidential palace.
Legit.ng gathered that after seizing the airwaves, the mutinous Guinean soldiers vowed to restore democracy and gave themselves a name, "The National Committee of Gathering and Development."
A video revealed that the coup was characterised by heavy gunshots around Hotel Kaloum where the now-ousted president was during the attack.
According to the report, Conde's whereabouts were not immediately known as Col. Doumbouya, who spoke to the nation, made no mention of the 83-year-old president, whose popularity has plummeted since he sought a third term last year.
Col. Doumbouya:
"The personalisation of political life is over. We will no longer entrust politics to one man; we will entrust it to the people."
Doumbouya, who had headed a Special Forces unit in the military, said he was acting in the best interests of the nation of over 12.7 million people.
The military officer said:
"The duty of a soldier is to save the country."
Source: Legit.ng