Why First Ladies Should Get Presidential Privileges After Vacating Office, Aisha Buhari Speaks
Nigeria's First Lady, Mrs Aisha Buhari has revealed the special treatment First Ladies should receive after vacating office
Mrs. Buhari said first ladies should get privileges just like their husbands or presidents in office and out of office
The wife of the president made this known on Friday, May 26, at the launching of a book in Abuja, authored by Mrs Vickie Anwuli Irabor
Outgoing First Lady, Mrs Aisha Buhari, has called for the application of certain privileges akin to the provision of vehicles, sponsored medical treatments and provision of some stipends, among others that are due to former presidents, to wives of presidents as against the existing position.
Mrs Buhari said first ladies deserved these privileges just like their husbands or presidents in office and out of office, Vanguard newspaper reported.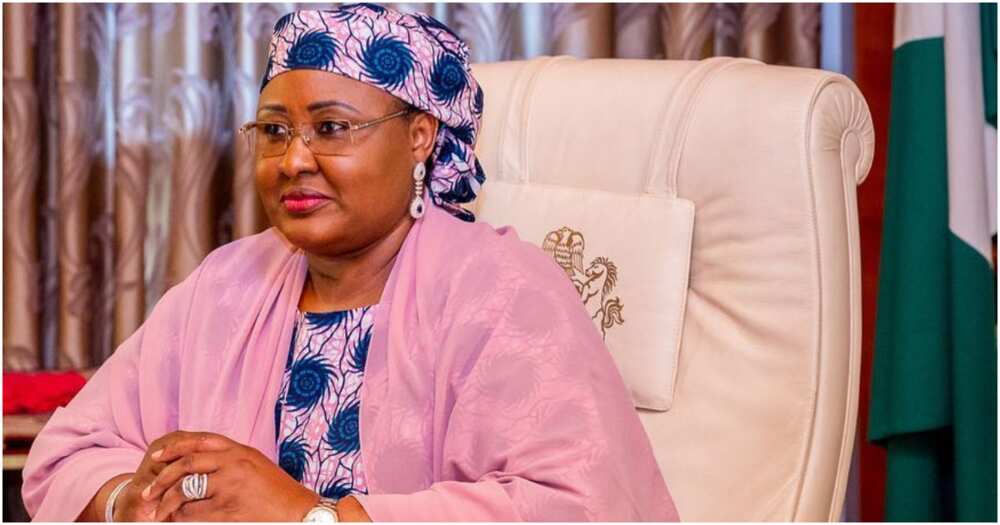 According to her, when the pressure comes, nobody wants to know whether you are out of the villa or not, Sahara Reporters further confirmed.
Former first Ladies ladies deserve some presidential privileges, Aisha Buhari says
Legit.ng understands that former Presidents enjoy some benefits such as pensions, allowances, vehicles, cars, sponsored foreign trips, and medical treatments, among others after exiting office.
Explaining why the privileges should be extended to first ladies, Mrs Buhari said,
"I married my husband as the wife of a former president. I am going in a few days as a wife of a former president a second time.
"They should consider us as former first ladies. They should incorporate the first ladies, give us some privileges that we deserve as first ladies, not just the former presidents."
May 29: Aisha Buhari takes incoming First Lady Remi Tinubu on Aso Rock Villa tour
The First Lady of Nigeria, Aisha Buhari, has taken Remi, the wife of the president-elect, Bola Tinubu, on a strategic tour of the Aso Rock presidential Villa.
Aisha and Remi visited some strategic areas of the official residence of the Presidential family in the Aso Rock Villa during the tour on Tuesday, May 9, including the Glass House, which she described as a transitional home of the first family.
The tour of the outgoing and incoming First Lady was intended to familiarise the incoming first family with the Aso Rock presidential villa.
Bola Tinubu: Knocks as pastor says Remi should have poisoned president-elect
Legit.ng earlier reported that Nigerians have started expressing their anger over the trending video of Apostle Kassy Kachukwu of the Peniel Ministry against Bola Tinubu, the president-elect.
The cleric in the video said that if Remi Tinubu, the incoming first lady, had poisoned her husband, Nigerians would not be having controversies about the outcome of the 2023 election.
Some of the Nigerians who have reacted to the video are calling for his arrest, while others described it as a disgrace to the Body of Christ.
Source: Legit.ng