Alleged UK Meeting with Tinubu: Fresh Video Reveals CJN Ariwoola's True Location
Chief Justice of Nigeria (CJN) Justice Kayode Ariwoola was spotted in Abuja on Friday, March 24
The CJN was seen leaving the Supreme Court in Abuja for the usual Friday prayers amid claims that he is in London with Bola Ahmed Tinubu
This latest update dismisses the unfounded speculation that Tinubu is trying to buy Ariwoola's heart as the head of Nigeria's judiciary
Amid rumours that he was in a private meeting with President-elect Asiwaju Bola Ahmed Tinubu, Chief Justice of Nigeria (CJN) Justice Kayode Ariwoola has been spotted in Abuja.
CJN Ariwoola, according to Channels TV, was seen on Friday, March 24, leaving the Supreme Court for the Ansar-Ud-Deen Central Mosque in Abuja to observe his prayers.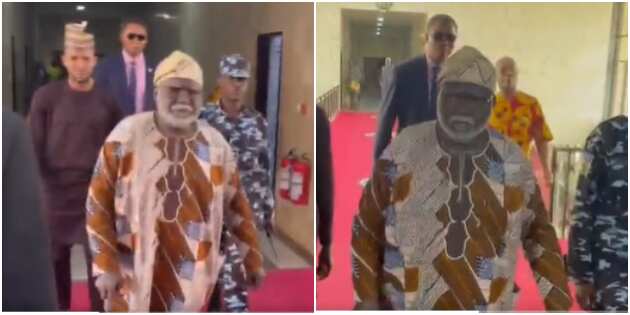 The speculations that Ariwoola is in London with Tinubu are fuelling suspicion that the latter is making smart moves to buy the former's heart while court cases surrounding the outcome of the presidential election abound.
Presidential election tribunal: Did Tinubu, CJN Ariwoola meet in UK? Fresh details emerge
Amid several news reports about a meeting between Nigeria's president-elect, Bola Tinubu and the Chief Justice of Nigeria (CJN), Justice Kayode Ariwoola, in the United Kingdom, Ahmed Raji (SAN) has dismissed such claims.
Raji said the reports were false and were an attempt to mar the image of the Supreme Court of Justice.
As reported by the Nigerian Tribune, Raji revealed on Thursday, March 23, that Justice Ariwoola was indeed in the United Kingdom but was there only on medical leave but returned to Nigeria in the early hours of Thursday.
Meanwhile, a series of reports confirmed that Tinubu had left the country on health grounds as well.
"It is in the news since Tuesday evening that Tinubu was travelling to Europe for medical reasons as well as for lesser hajj, further reports indicated that he is in France to meet with his medical doctor, why would somebody now link that to the CJN that has left Nigeria for the UK since Saturday to observe his own medical session and just came back today (Thursday) as meeting?"
Source: Legit.ng