Gov Wike's 'No Love Lost' for Ayu Deepens, Exposes PDP's Top Secret
Governor Nyesom Wike has once again expressed his dislike for the national chairman of the Peoples Democratic Party (PDP), Senator Iyorchia Ayu
He stated that Senator Ayu had no electoral value to the PDP and was useless like his cohort during the general election
However, the Rivers state governor reiterated his loyalty to the party, stating that he would not leave
Rivers, Port Harcourt - Governor Nyesom Wike of Rivers state has once again attacked the national chairman of the Peoples Democratic Party (PDP), Senator Iyorchia Ayu.
The pragmatic Wike said Ayu has no electoral value to the party, referencing his loss at his polling units during the general elections.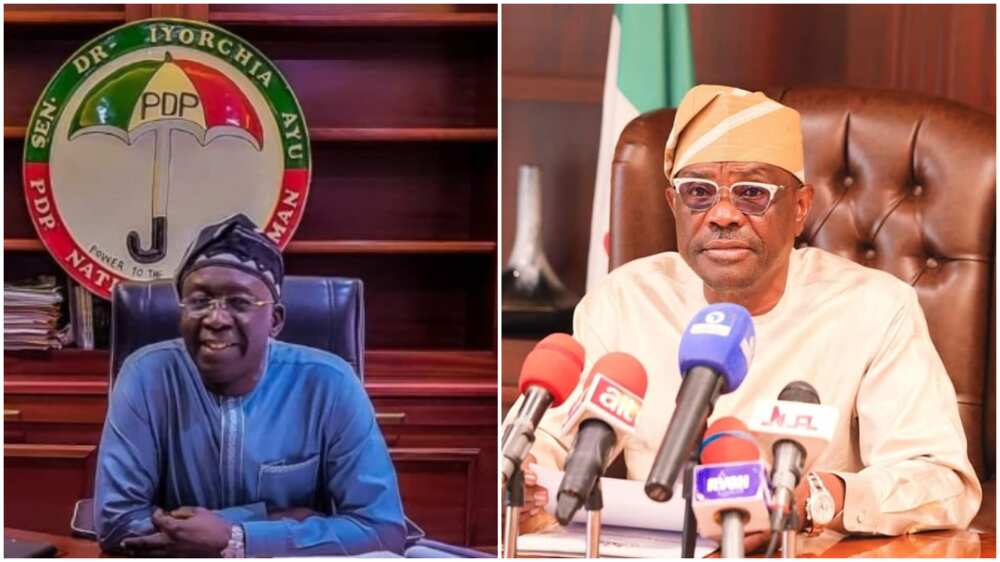 Governor Wike boasted that unlike his Senator Ayu and his cohorts, he delivered for PDP with a landslide victory in his state at the governorship, senatorial, house of representatives and state parliament levels.
According to The Nation, Wike said:
"Rivers is PDP. The governorship and national assembly members are PDP. Ayu lost his polling unit. I won three senatorial seats, 32 house of Assembly seats. He didn't get anything.
"Jigawa did not win presidential election. Babangida Aliyu did not win. So who is the betrayer? We won to make sure PDP exist. Of what relevance is he as national chairman? He couldn't deliver his polling unit."
The Rivers governor further reiterated that all he has ever wanted was for fairness and equity to reign supreme in the party.
He referred to the zoning of the national leadership as an unfair treatment of other regions. Governor Wike also said he would never leave the PDP as he remains a committed party member.
As reported by Channels TV, Wike said:
"I am a peacemaker. All I want is equity and fairness. I am not a troublemaker. PDP should be careful. There are those who don't want PDP to survive. They called us small boys.
"Mention one state that PDP did what Rivers State did. who love PDP more? I am saying the NWC must do the right thing. Why do you want to use another zone to remain as a national chairman. I cannot leave this party. Ayu left and came back."
Rivers Guber: Wike Makes Crucial Revelation on Amaechi, Tonye Cole, APC's Loss
In another development, Gov Nyesom Wike believes the APC in Rivers is responsible for its defeat during the governorship election.
On Tuesday, March 21, Wike accused the duo of Rotimi Amaechi and Tonye Cole, the APC's gubernatorial candidate in Rivers, of what happened to the opposition party.
According to the governor, while Amaechi brought about the division in the party, Cole was estranged from his people before the election.
Source: Legit.ng