Oyo State Governorship Election Results 2023: Live Updates from INEC
The 2023 governorship election was successfully conducted in Oyo state on Saturday, March 18. The key contenders are: Seyi Makinde (PDP), Teslim Folarin (APC), and Bayo Adelabu (Accord Party).
The official collation of the results from 33 Local Government Areas (LGAs) is expected to commence Sunday, March 19, at the Independent National Electoral Commission (INEC)'s state collation centre in Ibadan, the state capital.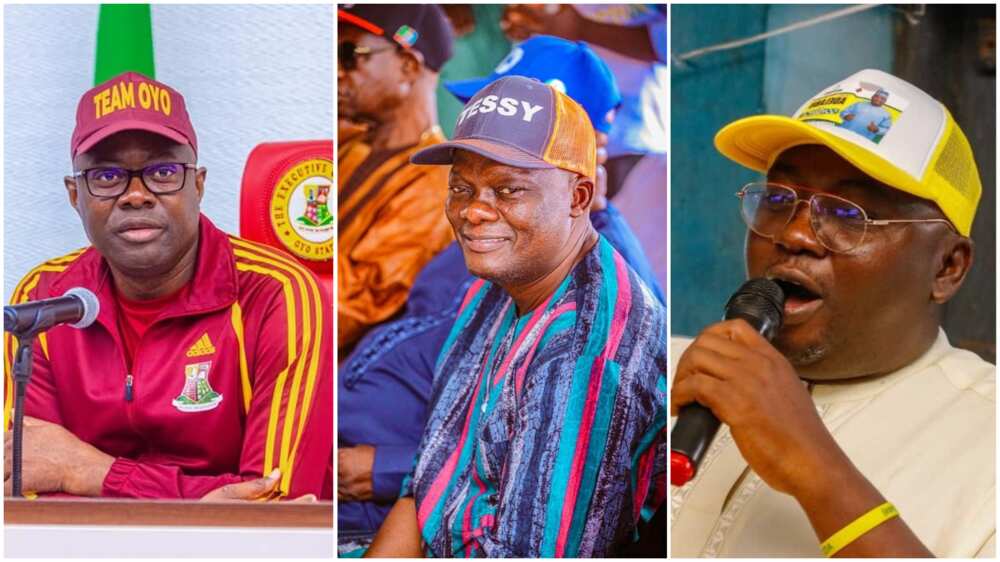 Stay tuned for live updates of the results from the 33 LGAs.
Final result of Oyo state governorship election: Seyi Makinde of Oyo state has been re-elected
A - 38,357
APC - 256,685
LP - 1500
PDP - 563,756
Results of all the 33 LGAs finally collated
It's time for the declaration of the winner as the results of all 33 LGAs in Oyo state have now been collated.
OYO GOVERNORSHIP RESULT: Akinyele LGA
Accord - 1287
APC - 9445
LP - 66
PDP - 28,920
Accredited voters - 41,399
Total votes cast - 41,399
OYO GOVERNORSHIP RESULT: Iwajowa LGA
A - 269
APC - 6441
LP - 06
PDP - 9029
Accredited voters - 16,265
Total votes cast - 16,260
OYO GOVERNORSHIP RESULT: Orelope LGA
Accord - 1602
APC - 7077
LP - 10
PDP - 6483
Accredited voters - 16,046
Total votes cast - 16,046
OYO GOVERNORSHIP RESULT: Saki west LGA
Accord - 607
APC - 13,753
LP - 32
PDP - 17,452
Accredited voters - 33,455
Total votes cast - 33,051
OYO GOVERNORSHIP RESULT: Egbeda LGA
Accord - 3472
APC - 7377
LP - 77
PDP - 30,444
Accredited voters - 42,273
Total votes cast - 42,270
OYO GOVERNORSHIP RESULT: Iseyin LGA
A - 501
APC - 9694
LP - 34
PDP - 25,740
Accredited voters - 37,095
Total votes cast - 37,094
OYO GOVERNORSHIP RESULT: Ibadan North LGA
Accord - 2120
APC - 11,883
LP - 174
PDP - 39,658
Accredited voters - 55,219
Total votes cast - 55,195
OYO GOVERNORSHIP RESULT: Lagelu LGA
Accord - 886
APC - 7432
LP - 44
PDP - 19,104
Accredited voters - 28,398
Total votes cast - 28,368
OYO GOVERNORSHIP RESULT: Kajola LGA
Accord - 1710
APC - 9523
LP - 0
PDP - 13,562
Accredited voters - 25,046
Total votes cast - 25,046
OYO GOVERNORSHIP RESULT: Ido LGA
Accord - 822
APC - 7865
LP - 86
PDP - 19,284
Accredited voters - 29,052
Total votes cast - 29,052
OYO GOVERNORSHIP RESULT: Ogbomoso North LGA
Accord - 562
APC - 10,661
LP - 89
PDP - 20,387
Accredited voters - 32,618
Total votes cast - 32,613
OYO GOVERNORSHIP RESULT: Oyo east LGA
Accord - 571
APC - 6999
LP: 16
PDP - 15,751
Accredited voters - 24,192
Total votes cast - 24,178
OYO GOVERNORSHIP RESULT: Oyo West LGA
Accord - 431
APC - 7599
LP - 14
PDP - 15, 084
Accredited voters - 24,188
Total votes cast - 24,183
OYO GOVERNORSHIP RESULT: Ibarapa central LGA
A - 1455
APC - 6287
LP - 21
PDP - 10,491
Accredited voters - 18,874
Total votes cast - 18,870
OYO GOVERNORSHIP RESULT: Ibarapa North LGA
Accord - 563
APC - 5678
LP - 07
PDP - 10,845
Accredited voters - 17,576
Total votes cast - 17,575
OYO GOVERNORSHIP ELECTION RESULT: Ibadan south-east LGA
A - 1846
APC - 9,147
LP - 61
PDP - 23,585
Accredited voters - 35,873
Total votes cast - 35,786
OYO GOVERNORSHIP ELECTION RESULT: Ogbomoso south LGA
A - 961
APC - 8257
LP - 83
PDP - 17,693
Accredited voters - 27,949
Total votes cast - 27,949
OYO GOVERNORSHIP ELECTION RESULT: Ibadan north-east LGA
A - 1564
APC - 8486
LP - 61
PDP - 29,396
Accredited voters - 41,217
Total votes cast - 41,217
OYO GOVERNORSHIP ELECTION: Olorunsogo LGA
A - 998
APC - 4851
LP - 04
PDP - 5838
Accredited voters - 12,412
Total votes cast - 12,033
OYO GOVERNORSHIP ELECTION RESULT: Irepo LGA
A - 388
APC - 9,786
LP - 03
PDP - 7,193
Accredited voters - 17,988
Total votes cast - 17,988
OYO GOVERNORSHIP ELECTION RESULT: Ogo Oluwa LGA
A - 50
APC - 5,570
LP - 17
PDP - 10,930
Accredited voters - 17,045
Total votes cast - 17,045
OYO GOVERNORSHIP ELECTION RESULT: Itesiwaju LGA
A - 2036
APC - 4597
LP - 09
PDP - 8034
Accredited voters - 15,003
Total votes cast - 15,001
OYO GOVERNORSHIP ELECTION RESULT: Surulere LGA
A - 271
APC - 8882
LP - 173
PDP - 15,554
Accredited voters - 25,676
Total votes cast - 25,676
OYO GOVERNORSHIP ELECTION RESULT: Saki east LGA
A - 188
APC - 5519
LP - 07
PDP - 8374
Accredited voters - 14,337
Total votes cast - 14,337
OYO GOVERNORSHIP ELECTION RESULT: Atisbo LGA
A - 1188
APC - 6955
LP - 16
PDP - 9199
Accredited voters - 17,987
Total votes cast - 17,983
OYO GOVERNORSHIP ELECTION RESULT: Oluyole LGA
A - 1386
APC - 6592
LP - 62
PDP - 21,700
Accredited voters - 30,777
Total votes cast - 30,744
OYO GOVERNORSHIP ELECTION RESULT: Ibadan south-west LGA
A - 2270
APC - 9491
LP - 166
PDP - 31,273
Accredited voters - 44,600
Total votes cast - 44,580
OYO GOVERNORSHIP ELECTION RESULT: Ibarapa east LGA
A - 1,885
APC - 7,094
LP - 10
PDP - 11,125
Accredited voters - 20,654
Total vote cast - 20,652
OYO GOVERNORSHIP ELECTION RESULT: Orire LGA
A - 1895
APC - 9216
LP - 17
PDP - 13,768
Accredited voters - 26,348
Total votes cast - 26,347
OYO GOVERNORSHIP ELECTION RESULT: Ibadan north-west LGA
A - 1291
APC - 5947
LP - 74
PDP - 19,007
Accredited voters - 27,279
Total votes cast - 27,276
OYO GOVERNORSHIP ELECTION RESULT: Atiba LGA
A - 1113
APC - 7484
PDP - 18,389
LP - 15
Accredited voters - 28,016
Total votes cast - 27,846
OYO GOVERNORSHIP ELECTION RESULT: Afijio LGA
A - 1,357
APC - 5,588
PDP - 13,139
LP - 10
Accredited voters: 20,834
Total votes cast: 20,819
OYO GOVERNORSHIP ELECTION RESULT: Ona-Ara LGA
A - 1212
APC: 5510
LP: 36
PDP: 17,326
Accredited voters: 25,122
Total votes cast: 25,113