Abia State 2023 Governorship Election Results: Live Update From INEC as Alex Otti, Ahiwe and Others Battle
The state result from the governorship election in Abia state will be announced soon.
The governorship seat in Abia state for the March 18 election was contested keenly by Chief Mascot Uzor Kalu of the APP, Dr Alex Otti of the Labour Party, Professor Greg Ibe of the All Progressives Grand Alliance and Chief Okey Ahiwe of the Peoples Democratic Party.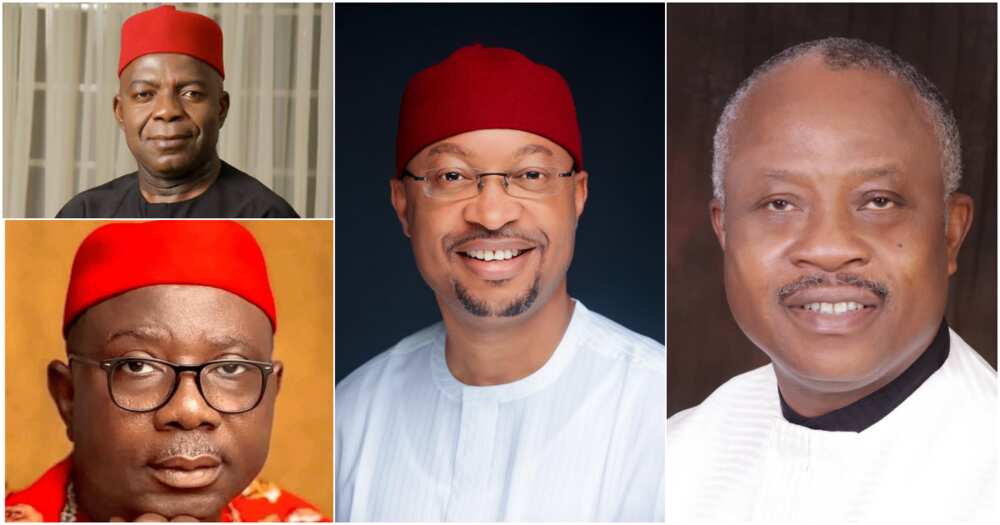 Stay tuned as Legit.ng provides live updates of verified results from the collation centres across all local government areas in Abia state, as announced by INEC.
"Declare Abia, Enugu Results Immediately", Obi Charges INEC
Labour Party (LP) flagbearer, Peter Obi, has frowned at what he described as the continuous delay in releasing the governorship results of Abia and Enugu states.
In a statement issued and signed on Tuesday, March 21, Obi charged the Independent National Electoral Commission (INEC) to release the results immediately.
INEC Suspends Further Collation of Governorship Election Results in Abia, Enugu
The Independent National Electoral Commission (INEC) has suspended the further collation of governorship election results in some parts of Abia and Enugu States.
The commission, however, assured that a review would be undertaken immediately before the process is concluded.
INEC Suspends Collation of Abia Guber Results
The Independent National Electoral Commission, (INEC), has again suspended the collation of results of the Abia State governorship election.
The nation's electoral umpire made this announcement on Monday, March 20, 2023, as monitored on Channels TV by Legit.ng.
ABIA STATE GOVERNORSHIP ELECTION COLLATION RESULT: Ikwuano
ELECTION COLLATION RESULT: Ikwuano
LP – 7,054
PDP – 2,427
APGA – 499
APC – 1,098
ABIA STATE GOVERNORSHIP ELECTION COLLATION RESULT: Isuikwuato
COLLATION RESULT: Isuikwuato
LP – 8,228
PDP – 2,204
APGA – 3,662
APC – 872
ABIA STATE GOVERNORSHIP ELECTION COLLATION RESULT: Ugwunagbo
ELECTION RESULT: Ugwunagbo
LP – 2,159
PDP – 2,539
APGA – 398
APC – 398
ABIA STATE GOVERNORSHIP ELECTION COLLATION RESULT: Arochukwu
Final result: Arochukwu
LP – 12,689
PDP – 1,286
APGA – 460
APC – 1,082
ABIA STATE GOVERNORSHIP ELECTION COLLATION RESULT: Isiala Ngwa South
ELECTION RESULT: Isiala Ngwa South
APC 1580
APGA 366
LP 7589
PDP 9093
ABIA STATE GOVERNORSHIP ELECTION RESULT COLLATION: UKWA EAST LGA RESULT
ELECTION RESULT: UKWA EAST LGA RESULT
APC 560
APGA 646
LP 2273
PDP 232
ABIA STATE GOVERNORSHIP ELECTION COLLATION RESULT: BENDE LGA
ELECTION RESULT: BENDE LGA
APC 2143
APGA 847
LP 9886
PDP 3410
ABIA STATE GOVERNORSHIP ELECTION COLLATION RESULT: Umunneochi LGA
ELECTION RESULT: Umunneochi LGA
APC 2034
APGA 581
LP 5940
PDP 3198
ABIA STATE GOVERNORSHIP ELECTION RESULT COLLATION: Ukwa West LGA
ELECTION RESULT COLLATION: Ukwa West LGA
APC 1209
APGA 830
LP 2833
PDP 4622
ABIA STATE GOVERNORSHIP ELECTION COLLATION RESULT: ISIALA NGWA NORTH
ELECTION RESULT: ISIALA NGWA NORTH
APC 838
APGA 225
LP 7323
PDP 21741