Naira Redesign Policy: List of Important Court Orders Buhari Has Disobeyed
President Muhammadu Buhari who had vowed to uphold the rule of law when he was sworn-in in 2015 but have acted contrary in some cases
The recent disobedience to court order by President Buhari is the supreme court injunction restricting the federal government to implement its naira redesign policy further
The policy has made many Nigerians stranded as many of them cannot have their money in banks while others are buying the country's currency for survival
During his emergence in 2015 as president of Nigeria, President Muhammadu Buhari swore to the oath of upholding the rule of law in administering the country.
However, the president has disobeyed many court orders, injunctions since he was sworn in as President, and the recent of all is the disobedience of the supreme court injunction on his naira redesign policy.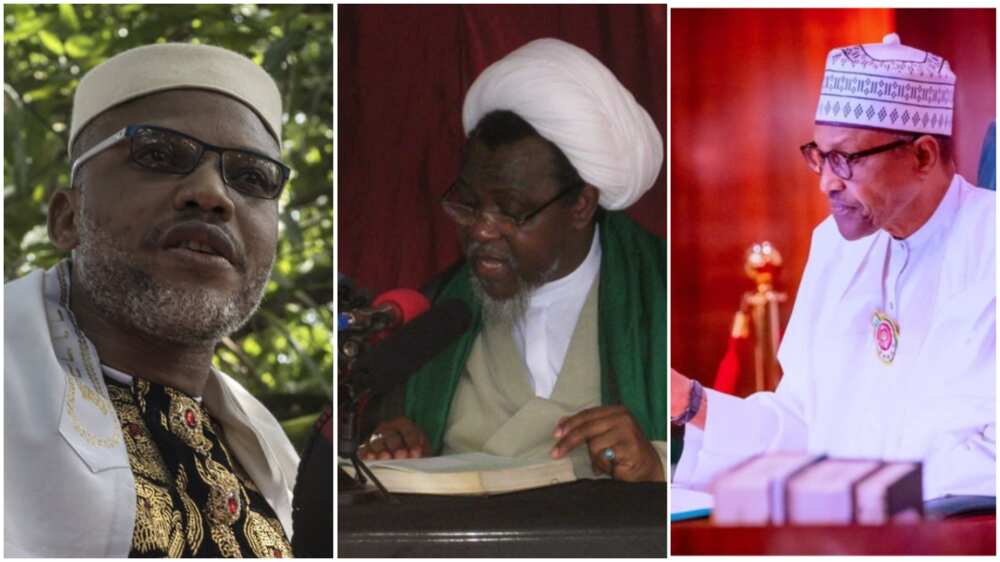 Below is the top most important court orders President Buhari has disobeyed since his emergence in 2015.
Naira Scarcity
President Muhammadu Buhari has recently come under attack for disobeying the supreme court injunction that restrained him from further implementing the February 10 deadline on the use of old N200, N500 and N1000 notes.
The deadline has slowed down the economy and left Nigerians stranded as many of them could not get the new notes, and others buy the old ones from the Point of Sales (POS) vendors.
However, the apex court granted an interim injunction stopping the Central Bank of Nigeria (CBN) and the federal government from the further implementation of the February 10 deadline.
Continued Detention of Ibraheem El-Zakzaky
Justice Gabriel Kolawole of the federal high court sitting in Abuja in December 2, 2016, ordered President Buhari-led federal government to release Ibraheem El-Zakzaky, the detained leader of the Islamic Movement in Nigeria (IMN) and his wife, Zeenat from the Department of State Service's (DSS) custody.
Before the ruling, the Islamic leader has been in custody of the security force since December 2015 after members of his group altercated with officers of the Nigerian Army in Zaria, Kaduna state.
The court also ordered the DSS to pay the couple N50m compensation, but Buhari's administration has yet to obey the court order.
Nnamdi Kanu
The federal government under the watch of President Muhammadu Buhari also disobeyed the federal high court of Abuja's ruling on the leader of the proscribed Indigenous People of Biafra (IPOB).
Justice Binta Nyako at a point queried the DSS authority to disregard the court order, but the situation has not changed.
The court presented Kanu the permutation to apply for an order of mandamus to compel the DSS to allow the detainee access medical care, but the order has been refused.
"Attack on banks is armed robbery, and you will be treated as such": Police warn
Legit.ng earlier reported that the Nigeria Police Force had cautioned protesters to desist from attacking banks as it is equivalent to robbery act.
Olumuyiwa Adejobi, the spokesperson of the force, in a broadcast disclosed that any protester arrested for attacking banks will be treated at robbers by the police without recourse to human rights.
Adejobi added that those who have been arrested will be charged to court for legal prosecution for armed robbery.
Source: Legit.ng