Presidency: Obasanjo Finally Speaks on June 12, Reveals What Was Against Mko Abiola's Ambition
Ex-President Olusegun Obasanjo has disclosed the factor responsible for the June 12 failure and MKO Abiola's ambition in the 1993 election
Obasanjo, while speaking at the 100 years anniversary of the Baptist Boys High School (BBHS) in Abeokuta, said "bad belle" thwarted the dream of Abiola to become Nigeria's president
Obasanjo stated this while recognizing other prominent Nigerians that the school has produced in its 100 years of existence
Abeokuta, Ogun - Olusegun Obasanjo, the former president of Nigeria, has disclosed the factors that worked against Chief MKO Abiola, the denied winner of the June 12, 1999, presidential election, from becoming president.
The former president spoke at the lecture titled "Eyin Ni Iwe Wa: You Are Our Epistle" to mark the 100 years of the Baptist Boys High School in Abeokuta, the Ogun state capital on Wednesday, January 18, Daily Trust reported.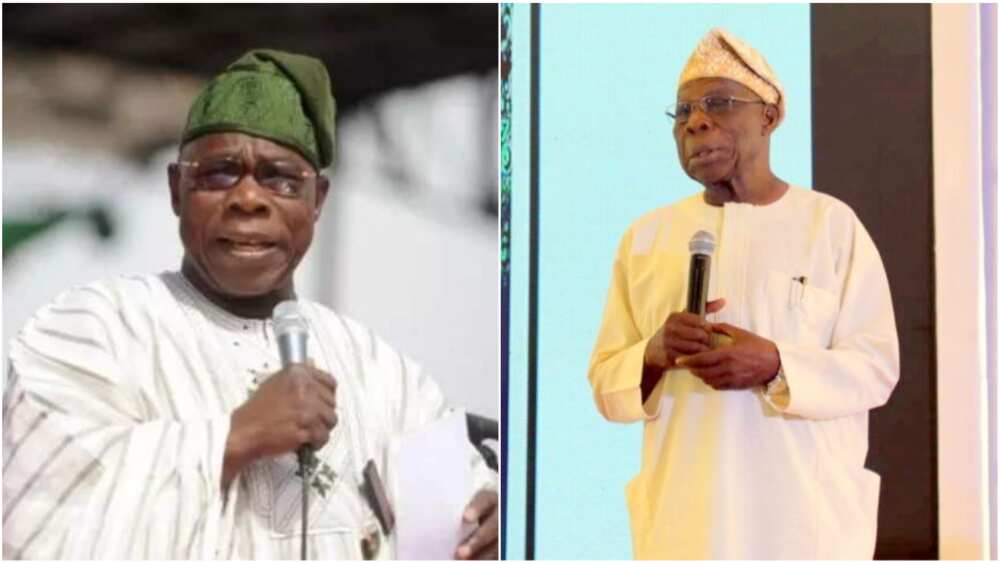 Obasanjo opens up on June 12, 1993 election
Obasanjo revealed that it was "bad belle" that stopped Abeokuta from producing another president.
He also noted that the BBHS impacted him with some moral virtues and sound education that helped him to become who he is today.
The school is also the alma mata of the late sage, Chief Obafemi Awolowo, ex-judge of the International Court of Justice (ICJ) Prince Bola Ajibola.
Latest about Obasanjo, MKO Abiola, Obafemi Awolowo, June 12, 1993 election
Obasanjo, while speaking at the event that was organised by old students of the school, said BBHS molded them all into what they later became in life.
In 1928, Awolowo graduated from BBHS, Ajibola followed in 1955, Abiola graduated with the 1956 set and Obasanjo finished in 1957.
The former president said:
""If not for Nigerian bad belle, M.K.O. Abiola would have been president and with me as president, we would have needed one more old student of BBHS to be president for us to permanently locate it in BBHS after three times. And that is a challenge to up-and-coming generations of old boys."
Obasanjo: "The Letter Man" Goes Broke, Gets Loan to Run Ota Farm
Legit.ng earlier reported that a new revelation has shown that ex-President Olusegun Obasanjo went broke after leaving office as Nigeria's military head of state in 1979.
The dilemma of the ex-military general was narrated by a veteran journalist, Musikilu Mojeed, in his new book titled, 'The Letter Man'.
Mojeed narrated that Obasanjo got a loan from UBA to set up his Ota farm after leaving office and went broke again about 3 years later; thus, the need to borrow N80,000 from his old friend Samuel Ogbemudia.
Source: Legit.ng