Breaking: Peter Obi Visits Femi Kuti, Reveals his Mission in Video
Afrobeat king, Femi Kuti, received an august visitor in his Lagos residence on Wednesday, August 17
The visitor was the presidential candidate of the Labour Party, Peter Obi, a former governor of Anambra state
Obi, in a viral video, said he came to Femi to tell him of his plan to embark on issued-based campaigns ahead of 2023
Lagos - Peter Obi, the presidential candidate of the Labour Party (LP) on Wednesday, August 17, paid a courtesy visit to Afrobeat king, Femi Kuti.
The meeting between Femi and Obi came days after the former pointed out that he is not part of the 'Obidient' movement.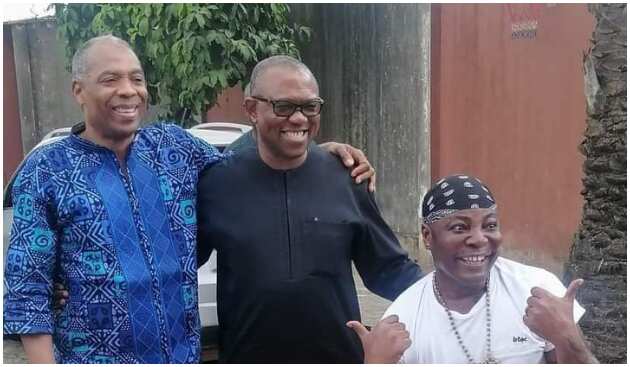 In a viral video on Twitter, the former Anambra governor noted that his visit was in reaction to the singer's tweet in which he said the term "Obidient" cannot be applied to him.
In the brief clip, Obi said rivalry and ill-feeling are not part of the society he intends s to build if elected president in 2023.
Obi said before the 2023 general elections, his campaign will be issue-based and this what why he visited Femi for.
His words:
"My own dear brother Femi, I saw what he tweeted and I said, no, that is not what the society needs. We need a campaign based on issues, that affect Nigeria. That is what I came here to do."
"They threatened to burn down the shrine": Femi Kuti speaks up as Peter Obi supporters come after him, family
Recall that Femi in a recent Instagram video post had addressed supporters of Obi who have been on his case.
Kuti disclosed that he got tons of threats against his family members and the supporters equally threatened to burn the Afrikan Shrine, simply because he allegedly tagged them as 'zombies'.
The musician made it clear that all he did was come out to distance himself from the 'obedient' tag and give a clear context of what he meant.
Kuti explained:
"I'm too angry, I'm too sad and depressed to be 'obedient'. How can anyone come up with that term? How can you be obedient? Me I can't be obedient in this country. End SARS, Killing..."
Source: Legit.ng