2023: "They're Noisemakers", Influential PDP Senator Slams 'Obidients'
While some governors and notable leaders are supporting the movement of Peter Obi, Labour Party flagbearer, others are lashing out at his supporters
This time around, Enugu Senator, Chimaroke Nnamani, has called out Obi's loyalists, noting they are noisemakers in the polity
The Senator representing the Enugu North Senatorial District had earlier vowed that the Labour Party would not win the 2023 presidency
Senator Chimaroke Nnamani, representing Enugu North Senatorial District has described the supporters of the Labour Party's presidential candidate, Peter Obi, as noisemakers.
He stated this after a face-off with an Obidient supporter, on Twitter, PM News reported.
On Sunday, August 7, the former Enugu State governor claimed that Obi's supporters, who are known as Obidients, are less than 0.25 percent of the entire 200 million Nigerians.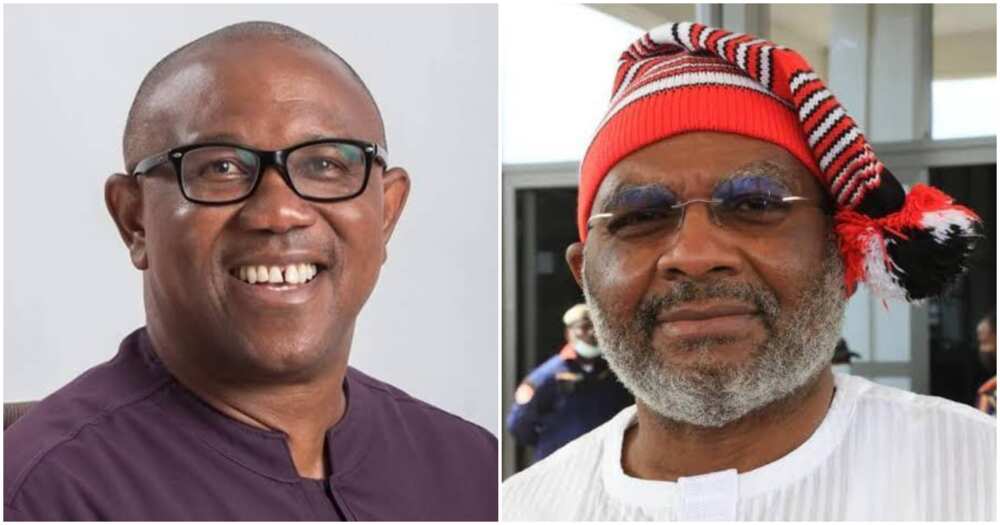 Nnamani, who is seeking a return to the National Assembly, had earlier vowed that Labour Party would not be allowed to win any political office in Enugu State, saying "bye-bye for Obidient".
Nnamani was attacked by the Obidients' movements
Reacting to the backlash, Nnamani said that his followers belong to the Peoples Democratic Party, PDP and that they cannot labour for another party to inherit.
As a result, several of Obidient's fans attacked him on Facebook and Twitter, causing a significant uproar.
In a new post on his verified Facebook page, the lawmaker noted that the "Obidient Movement" shouldn't have expanded to include the governorship and Assembly seats if it is exclusively for Peter Obi.
The Senator maintained that:
"There is no Obidient PARTY! The name is Labour Party. A political party with candidates in all offices, including the governorship.
"Our party and platform are different, and that is PDP. FACT If we blur the distinction and foolishly vote Obidient that is Labour Party for President?
"For the minority ELITES it easy to reverse 2 weeks later!
"For the majority over 98percent that is major "confuse "as they say on the Streets"Confuse Yamaru" as Umu Asadu will put it!
Nigerians react
Nigerians in their usual way reacted to the development and expressed shock over the Senator's statement.
They took to the Facebook page of Legit.ng and aired their views.
Justina Ifeoma Chukwumah stated
"You better celebrate grace before something bad go do you. It appears you have not heard the lot of those who mocked Obi."
Lino Obidi said
"Peter obi is a nite mere so don't blame dem.they re afraid of him."
Chimsdcute Ndukwe urged
"Ebeano, mind yourself."
Friday Otie said
"Jealousy go kill you there?
Franklin Uka floored the Senator
"He's a big fool for saying that nonsense, I don't blame him I blame ugwuanyi that brought him from exile."
Enyi Jesus John stated
"Water mouth, have you started that ur stupidity? respect urself now or you'll meet ur obituary."
Sarata Egele
"You are threatened by Obedient supporters. United we stand."
Innoocent Maduagwunaobi stated
"Nnamani is a common criminal."
Unogu Stanley Ikenna said
"E go do you voooom for eyes."
2023: Massive votes certain as popular general overseer endorses Peter Obi
Meanwhile, Obi was on Tuesday, August endorsed by the general overseer of the Omega Power Ministry (OPM), Apostle Chibuzor Gift Chinyere.
Apostle Chinyere's decision was made known after he and the LP's presidential candidate for 2023 were nominated for the Man of the Year award by Igbere.
The Christian cleric who described Obi as the Moses of Nigeria sent by God, actually stepped down for him as he sees him as fitting for the honour.
Source: Legit.ng