Nigerian Governor Reveals how God Rebuked Him When he Didn't Want to Seek Re-Election
Samuel Ortom says he concluded two years not to seek reelection as the governor of Benue state following his first term in office
According to the governor, God gave him the directive to contest for another four years in 2019 after he fasted for three months
Governor Ortom made this known while commissioning a mega Pentecostal Church in Makurdi recently
Makurdi - Governor Samuel Ortom of Benue state said as a result of the insults he was received during his first trm in office he did not want to contest the 2019 elections.
Daily Trust newspaper quoted Ortom as saying he had to fast for three months, adding that God gave him the directive to seek reelection.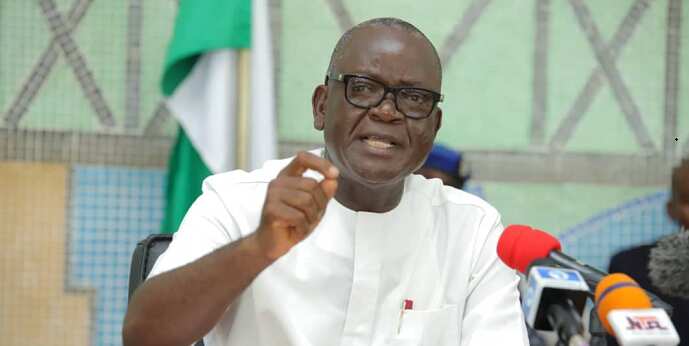 The governor was said to have made the remarks when he commissioned a mega Pentecostal Church in Makurdi, the Benue state capital.
While noting that some members of the church joined forces with those who do not know God, the governor admitted he was hurt and questioned why God brought him
Ortom who was reelected two years ago revealed concluded he was not going to contest back in 2019, however, God stepped in.
He said:
"That night, God rebuked me and told me. 'I'm not done with you. I brought you, I have not rejected you, when people reject you, I am still with you.'
"I fasted for three months, I did a case study on the life of Moses in the book of Exodus in the Bible and at the end, God told me, don't be like Moses who could not get to the Promise Land, have faith in me and I will see you to the end."
Ortomes begs Christians to pray for him
Vanguard had earlier reported that Ortom urged Christians to pray for him and his administration instead of castigating him as he gives his best to ensure purposeful leadership.
According to him, prayer is a duty the people of Benue owe their leaders. He assured citizens that his responsibility to the state would be his topmost priority.
Ortom accuses his critics of laziness, urges them to be diligent
In a previous report by Legit.ng, Ortom accused some citizens of the state of heaping unverified criticism on him after getting themselves drunk.
The governor noted that some of them usually start drinking from the early hours of the day until dusk.
He said instead of his critics to be diligent like some ethnic groups resident in the state, they rather choose to castigate him.
Tiv Youth Council describes Ortom as the worst governor in Benue's history
Meanwhile, the Tiv Youth Council Worldwide declared that the administration of Ortom will go down as the worst in the history of Benue and will remain the darkest and inglorious years of the state's evolution.
The group made the statement in reaction to comments by Governor Ortom that the Buhari administration is worse than past military regimes in Nigeria.
The statement which was signed by the president of the Tiv Youth group Hon. Mike Msuaan, and sent to Legit.ng on Tuesday, November 2, stated that instead of building the needed synergy like other governors with the federal government, Governor Ortom has continued his blame game.
Source: Legit.ng