Nnamdi Kanu trial: Journalists, Lawyers Barred From Accessing Courtroom
The leader of the Indigenous People of Biafra is currently at the Federal Court in Abuja for his trial
Nnamdi Kanu is being tried on charges bordering on treasonable felony and terrorism by the Federal Government of Nigeria
However, journalists and lawyers have been prevented from entering the courtroom by the security operatives
As the trial of the leader of the Indigenous People of Biafra (IPOB) is underway, lawyers and journalists alike have been barred from entering the court premises and courtroom of the Federal High Court in Abuja.
Punch reports that the journalists and the lawyers were stopped by security operatives littered at the entrance of the ministry of justice building.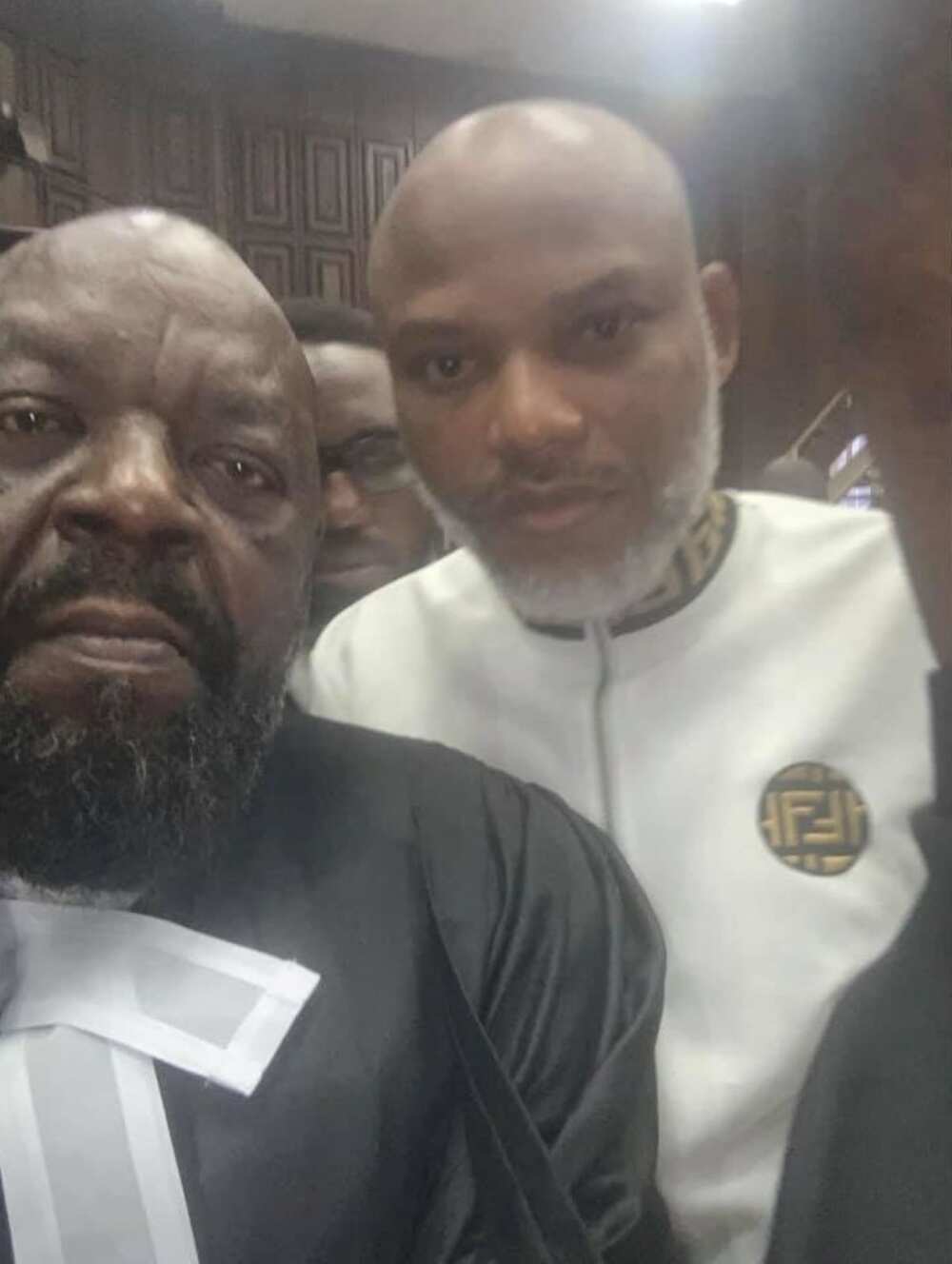 They asked the journalists to stay away as only those accredited would be allowed into the court premises and further into the courtroom where the trial of the IPOB leader would take place.
However, it was also observed that even the accredited journalists and affirmed judiciary reporters were not allowed into the court.
Legit.ng previously reported that the IPOB leader was brought into the court by security operatives in a black Sports Utility Vehicle on Thursday, October 21.
Kanu was brought into the court at about 8 am amid tight security around the court premises.
In other news, traditional leaders in the southeast have demanded the release of Kanu by the Federal Government of Nigeria.
The leaders under the umbrella of the South East Council of Traditional Rulers urged President Muhammadu Buhari to release Kanu to the Igbo traditional and religious leaders.
The monarch made the demand in a statement released on Tuesday, October 19, 2021.
Some of these traditional leaders who made the demand include; Eze Joseph N. Nwabeke, the chairman, Abia state traditional rulers council and the Obi of Onitsha, Igwe Nnaemeka Achebe, the chairman, Anambra state traditional rulers council.
Others are; Igwe L.O.C. Agubuzu, the chairman of, Enugu state traditional rulers council and Eze Dr E.C. Okeke, the chairman of the Imo state traditional rulers council.
Also, the Federal Government in a swift move had filed an amended seven-count charge against Kanu.
The fresh charges bordering on treasonable felony and terrorism would be heard at the court presided over by Justice Binta Nyako.
The charges against the IPOB leader is in line with the pending charges Kanu was facing in 2016 before his disappearance after an attack at his family house in Afaraukwu Umuahia by troops of the Nigerian military.
Source: Legit.ng