Trendy Wedding Band Designs for the Perfect Nigerian Groom
Are you a Nigerian groom-to-be on the hunt for a wedding band that epitomises your personal style and cultural heritage? The journey to finding the ideal symbol of love can be overwhelming, given the plethora of options available.
The overwhelming array of choices, ranging from classic gold wedding bands to contemporary tungsten carbide designs, can leave you perplexed and uncertain about which one truly resonates with your style.
This comprehensive article contains a curated selection of trendy wedding band designs suitable for Nigerian grooms. From classic and timeless options to culturally symbolic and customised designs, this post contains a variety of choices to ensure you find the perfect band that represents your love and commitment.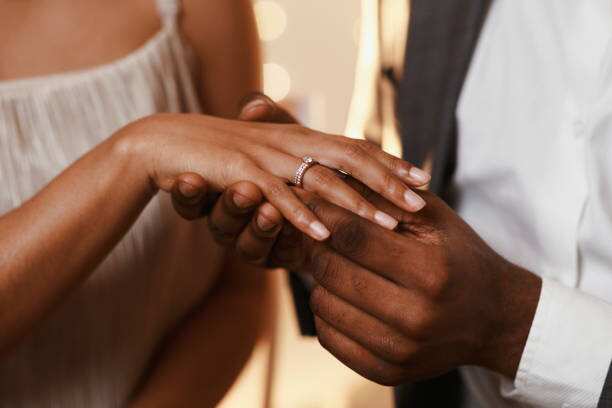 Let's explore the world of fashionable wedding bands for Nigerian grooms, where style and heritage merge!
Wedding Band Designs for the Nigerian Groom
Classic and Timeless Wedding Band Designs
Gold wedding bands
Gold wedding bands are timeless classics that remain a popular choice among Nigerian grooms. The warm, lustrous appeal of gold symbolises prosperity and elegance, making it a cherished metal for wedding bands.
Silver wedding bands
Silver wedding bands offer a sleek and sophisticated look that appeals to grooms who prefer understated elegance. Silver bands are versatile and complement various personal styles.
Contemporary Wedding Band Designs
Two-Tone wedding bands
Two distinct metals are combined in two-tone wedding bands to produce a fashionable contrast. They are perfect for Nigerian grooms who seek a modern yet classic look.
Platinum wedding bands
Platinum wedding bands signify endurance and opulence. Nigerian grooms who appreciate sophistication often opt for platinum bands due to their rare and enduring nature. Visit mensweddingbands.com to see a catalogue of platinum men's wedding bands you can order and wear on your big day.
Tungsten carbide bands
Tungsten carbide bands are highly durable and scratch-resistant, making them an excellent choice for grooms with active lifestyles.
Black ceramic bands
Black ceramic bands exude an edgy and contemporary vibe, appealing to fashion-forward Nigerian grooms who desire a unique wedding band.
Wooden inlay bands
Wooden inlay bands combine natural elements with metals, creating a rustic and charming appeal. They are ideal for men who are lovers of nature.
Cultural and Symbolic Wedding Band Designs
Wedding bands engraved with traditional symbols
Nigerian grooms - like those from the Eastern part of Nigeria, often opt for wedding bands with engraved designs that feature traditional symbols like the Nsịbịdị symbols, representing their cultural heritage.
Personalized wedding bands with initials or names
Personalizing wedding bands with initials or names adds a sentimental touch to the rings, creating an intimate connection between the groom and his spouse.
Wedding bands with family crest designs
Family crest designs on wedding bands honour the groom's lineage and ancestry, making them cherished heirlooms for generations to come.
Customised Wedding Band Designs
Wedding bands with customised gemstones
Customising wedding bands with gemstones allows Nigerian grooms to add a pop of colour or incorporate birthstones with special significance.
Wedding bands incorporated with birthstones
Incorporating birthstones in wedding bands adds a personal touch and represents the bond between the groom and their partner.
Diamond-encrusted bands
Diamond-encrusted wedding bands are a popular choice for those seeking ultimate opulence. The brilliance of diamonds will add an unmatched sparkle to the groom's finger.
The Importance of Wedding Bands for Nigerian Grooms
Wedding bands are a symbol of love and commitment:
The wedding band serves as a powerful symbol of the groom's love and commitment to their partner. It represents their unshakable tie and their commitment to support one another no matter what.
Wedding bands have cultural significance:
Nigerian weddings are steeped in tradition and customs, and wedding bands are an integral part of these rituals. The exchange of rings represents the formal acceptance of the couple's union by their families and community.
Wedding bands depict men's marital status:
Wearing a wedding band is a public declaration of one's marital status. It lets others know that the wearer is committed and devoted to their partner, and it is a visual representation of their marital bond.
They serve as a daily reminder:
Wedding bands serve as constant reminders of the love and promises shared during the wedding ceremony. Grooms often glance at their rings, recalling the vows they made and the joyous celebration of their union.
Wedding bands foster emotional connection:
A wedding band holds sentimental value as it is a tangible connection to the wedding day and the start of a new chapter in the groom's life. It becomes an emotional keepsake of cherished memories.
It is a sign of respect and honour:
Wearing a wedding band as a man is also a sign of respect for one's partner and the institution of marriage. It portrays the groom's dedication to maintaining the honour of his marriage.
Wearing wedding bands is a timeless tradition:
Throughout history, wearing wedding bands has remained an enduring wedding fashion, symbolizing love, fidelity, and unity. For Nigerian grooms, this tradition is an integral part of their cultural heritage.
How to Select the Perfect Wedding Band Fit and Size as a Nigerian Groom:
Do professional sizing.
Visit a reputable jeweler or jewelry store to get professionally sized. They will take an accurate measurement of your finger's using a ring sizer.
Choose the appropriate wedding band width.
Determine the wedding band width that suits your style and finger size. Wider bands may feel tighter than narrower ones, so try on different widths to see what feels most comfortable.
Take the temperature into account.
Remember that temperature variations might cause finger size adjustments. Measure your finger when it's at its average temperature for the most accurate sizing.
Try different bands before settling for one.
Before picking which wedding band to buy, if feasible, try on a few different styles. Put the band on for a short while to get an idea of how they appear on your finger.
Take your daily routine into account.
Take your daily activities into account when determining the size and fitting of the wedding band to choose as a Nigerian groom. If you have an active lifestyle or work with your hands, a more snug fit might be preferable to minimize the risk of the ring slipping off.
Select a wedding band that you like.
The ideal fit basically comes down to your taste. Some grooms prefer a snug fit, while others like a looser feel. Choose what feels most comfortable and secure to you.
Finding the ideal wedding band fitting and size takes time, but it's worth it. A well-fitted band will not only be comfortable to wear every day but will also be a cherished symbol of your love and commitment throughout your marriage journey.
Where to Find Trendy Wedding Bands for Nigerian Grooms?
Finding popular wedding bands for Nigerian grooms is an exciting endeavour, as the country offers a myriad of options to cater to diverse preferences and styles. If you are a Nigerian groom searching for the perfect symbol of your love, here are some fantastic places to explore:
Local jewelry shops
One of the best places to start your search is at local jewelry shops in major cities and towns across Nigeria. These establishments often have a wide selection of men's wedding bands, ranging from classic designs to modern and contemporary styles.
Online marketplaces
Embrace the convenience of online shopping by exploring popular e-commerce platforms that offer a vast array of grooms wedding bands. These platforms provide the opportunity for you to compare prices, styles, and customer reviews before deciding on the one to buy.
Wedding exhibitions and shows
Keep an eye out for wedding exhibitions and shows that are held in major cities. These events often feature multiple vendors, including jewellers showcasing their latest and trendiest wedding band collections.
Custom jewelers
For a truly personalized experience, consider collaborating with custom jewelers who can create bespoke men's wedding bands tailored to your preferences, incorporating cultural symbols and meaningful elements.
Specialty jewelry stores
Look for specialty jewelry stores that sell only wedding bands and engagement rings. These stores usually provide unique and exquisite wedding band designs that cater to the needs of Nigerian grooms.
Online artisan marketplaces
Explore online artisan marketplaces that showcase the craftsmanship of local artisans. Here, you may discover unique and handcrafted men's wedding bands with intricate designs and cultural significance.
Shopping malls and boutiques
Major shopping malls and boutiques often house reputable jewelry stores that present an assortment of wedding band options for Nigerian grooms.
Follow recommendations and referrals
Seek recommendations from friends, family, or newly married couples who have recently purchased a groom's wedding band. First-hand experiences can provide valuable insights.
Note: Before deciding on the wedding band to buy, ensure that the jewellery store offers quality products, provides certification for precious metals and gemstones, and has a good reputation for customer service.
Conclusion
Choosing the perfect wedding band is an essential part of a Nigerian groom's journey to matrimony. With a wide array of designs to choose from, grooms can find a wedding band that reflects their personality, style, and cultural heritage, ensuring it remains a cherished symbol of love for years to come.
[Sponsored]
Source: Legit.ng