"No Pre-Wedding Pictures": 49-Year-Old Nigerian Man Wants a Second Wife, Offers N1m Dowry with Conditions
A Nigerian man who is married to one wife has expressed his desire to tie the knot with another lady
The 49-year-old man who hails from Katsina state listed some conditions interested ladies must satisfy in order to be considered
Among other things, he is offering N1 million dowry payment and N200k pre-wedding compensation
A Nigerian man has opened the floor for interested ladies to apply after he revealed his intention to take a second wife.
The Katsina indigene who is a civil servant also spelt what he would be looking out for in his second wife.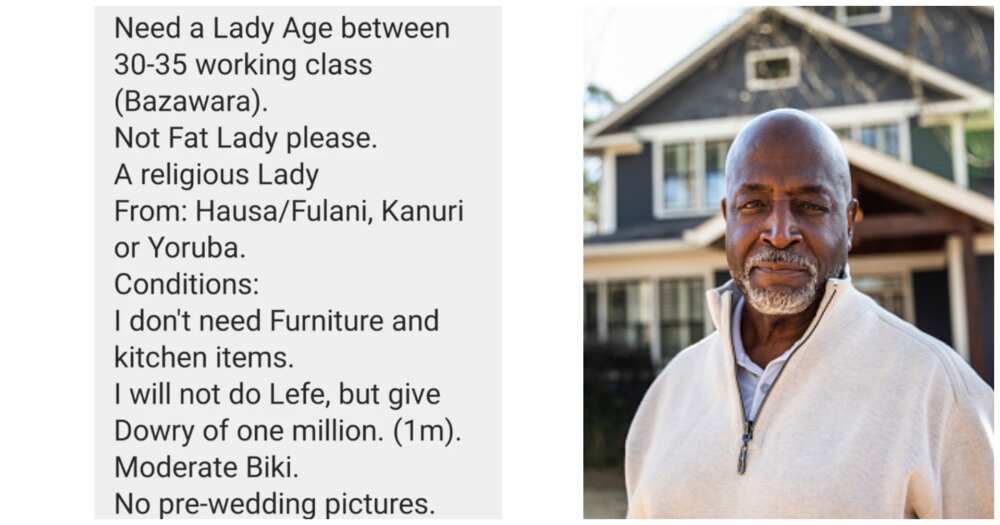 According to a Muslim matchmaking platform, Halal Match which shared the information on Twitter, the man is currently based in Lagos.
His genotype is AS and his blood group is O+ .
The graduate wants a working-class lady between ages 30 to 35, who is religious and not fat.
His conditions for marriage are a dowry payment of N1 million and N200,000 compensation for not doing a pre-wedding photo shoot. He also doesn't want a party and doesn't need furniture nor kitchen items from the lady.
The man is also a Muslim.
See the tweet below:
Social media reactions
@khaleelabba said:
"He said he want a divorcée. So go and be finding the unmarried small girls. Isn't that fair enough?"
@AliHuss70629085 said:
"Compensation for dinner and pre wedding pictures! I don't see the need, domin rashin yin dinner zai Hana su saba wa Allah."
@Mansur_N_A said:
"I like his strategy, being straightforward with what He wants to avoid unnecessary drama in the long run..."
@ibumar88 said:
"I think its not right for a man to be looking for wife base on such conditions. If you meet a woman of your dreams, both families can come to terms on the condition you want for the Nikah."
@hosnideedat said:
"OMO only Allah knows how many sisters go don turn bazawara from single like this......women with money am sure like 200 ladies will have shown interest."
Man offers condition as he expresses desire to marry a second wife
Legit.ng previously reported that a man had indicated interest to marry a second wife.
For a second wife, the man needs a lady who is not fat or skinny and is between the ages of 25 to 35. He also wants someone who is religious, decent and Godfearing. The man noted that being a Quranic memorizer will be an added advantage.
His conditions include a dowry payment of N500k and above, no furniture or household items required from her and no wedding festivity required..
Source: Legit.ng