Wedding Fashion: Bride and Her Maid of Honour Dazzle in Gorgeous Style Inspirations
There are some brides who are big on looking good for their big day and do not bother as much with whether their bridal train comes through looking gorgeous or not.
This is why it is often refreshing to see brides who are not afraid to risk sharing the spotlight with their bridal train.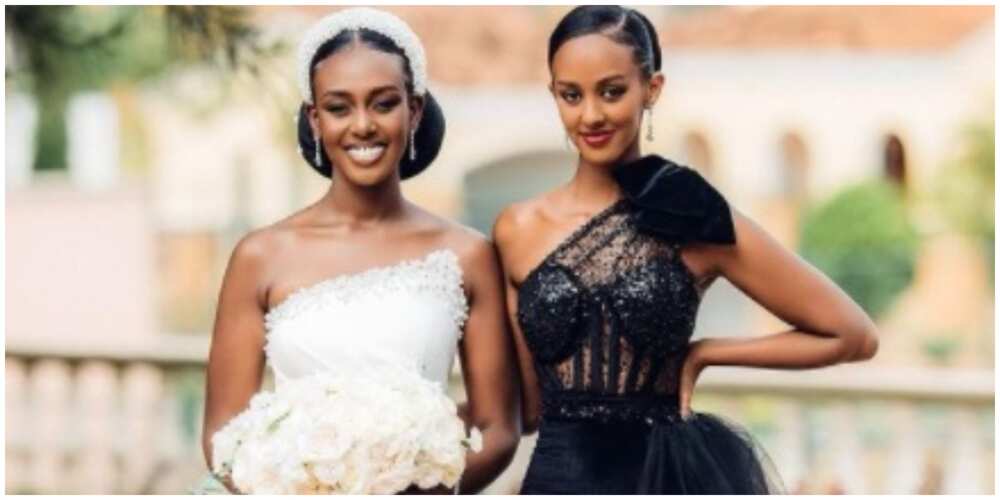 A case in point is photos that have surfaced of an East African bride and her maid of honour looking radiant in their various dresses.
While the bride donned a tube dress with a train and a pearly hairband accessory neatly placed on her hair, the maid of honour sported a black mono strap corset dress with a tulle draping on the side.
Both dresses did well to flatter their silhouettes. Everything from the styles to their choice of colours was simply perfect.
Swipe to see more:
Check out some comments below:
ritaclare09:
"They look like sisters."
gemmakenealy:
"Stunning."
princessalice_benjin:
"They're beautiful ❤️❤️❤️❤️"
noellaefeti:
"Awww so Gorgeous Adorable and beautiful princesses my lovely dear."
Bridal style inspirations for daring brides
When it comes to fashion, sometimes normal and conventional can be pretty boring. This explains why a lot of people often love to go extra with their looks.
Most ladies when preparing for their white wedding ceremony prefer to go for modest looks.
However, there are those who break the rules - in style. While it is common to see brides keep their legs hidden beneath ball gowns and mermaid dresses, there are those who would rather flaunt them.
Unconventional bridal train style inspiration
As society continues to evolve, it is becoming glaring that people are now more willing to take more fashion risks than ever before.
While most women reserve fashion experiments for their everyday looks, there are those who see nothing wrong in going against the fashion tides on big, special days such as their wedding day.
This was the case for a Tanzanian lady identified as Jesca, who recently got married to the love of her life. While that was - unarguably - the highlight of her big day, something else stood out from her wedding day and that was her bridal team.
Source: Legit.ng