"I'll Never Forgive Myself for This": Lady Tearfully Confesses in Clip 7 Years After Dad's Death
Seven years after her dad passed away, a young lady has opened up on social media about how she wronged him
She said it all started in December 2016 when she did not want to resume school early, but her dad thought otherwise
While narrating her story, the lady vowed never to forgive herself and urged people to learn from her
A young lady identified as Kido Ndofido has confessed to wronging her father seven years after he passed away.
Kido, who broke down in tears while doing her video, said she would never forgive herself over the incident.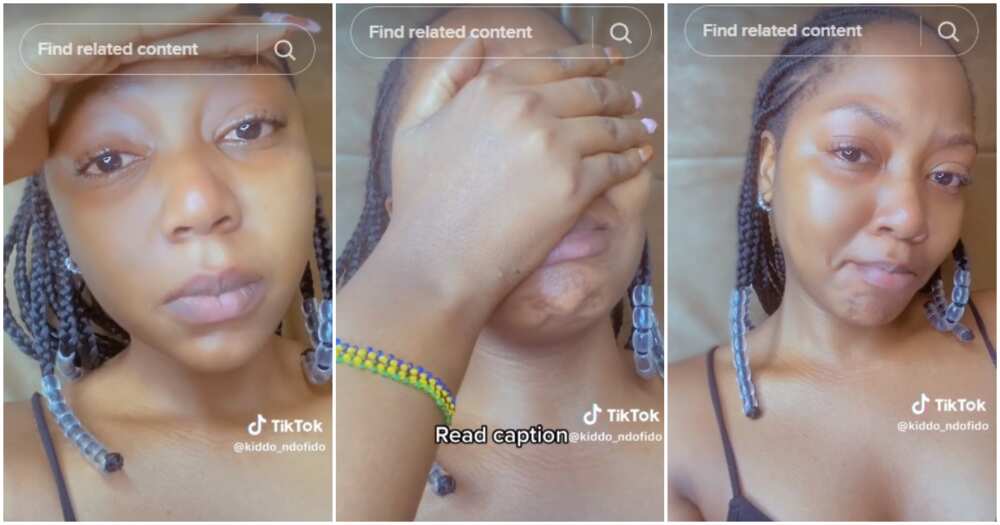 She said her dad already booked her ticket to school after the December 2016 holidays, but she did not want to resume school early.
She said she acted rudely and wildly towards her dad on the way and cleaned the kiss he gave her on the forehead in his presence. Kido said his parting words were that she should make him proud.
Unbeknownst to her, that would be her last encounter with him.
Narrating in full, she wrote:
"I will never forgive my self for this !
"It was 2016 after Dec holidays when I was not ready to go back to school early but my Dad already had booked a ticket for me so I had no way out but just to go, On the way he spoke to me but I did not listen and acted very wild and rude towards him.
"It's because I didn't like his idea of going so early to school then we reached the bus station and he said some word which the keep replying on my mind saying " GO MAKE ME PROUD BABY " and he kissed me on the forehead but I was so rude and stupid and ignorant to wipe off the kiss in front of him and without saying a word I went off and quiet in the bus .
"Little did i know after three months at school without speaking to him he left me so helpless, so weak, stressed guys I kept on wiping tears whenever I think of the day I break into tears this paint is unbearable #ripdaddymissyou️ Now am here try na show him how proud he could be if he was around To everyone out there may this be a lesson to you all, Pls never be a fool as I was .. LOVE Y'ALL."
Watch the video below:
Reactions on social media
Nziza said:
"Fatherly love is one underrated but its the realest.. I remember when he promised to tell me his big secret en he died the next morning..."
Rossina said:
"I don't know English well but u tought my heart i can fell what u fell but God still love you be strong."
Dada g said:
"I remember the last words from him .. "take care of your youngs I'll be there in Wednesday and at that day he died."
Big baby said:
"People who get fatherly love take it for granted I never felt any love like I dont even feel like making anyone proud they dont deserve it."
alpha_Eva said:
"Your story just made me call my dad after many months I was angry with him hmmmmm thank you."
Ammy said:
"Now go make him proud! don't let the guilt haunt you don't let it decieve you! Dad will be more proud if you are happy than sad okay bbygirl?!"
Lady says late dad's money still comes through for her
Legit.ng previously reported that a lady had praised her deceased dad for still helping her.
The lady revealed that her father still positively affects her life despite being five years in the grave.
According to Just_derah, who danced happily in a video, his money and name have kept her since he died.
"Hyping my dad because 5 years in the grave it's still his money and name that's coming through for me", she said.
Source: Legit.ng