5 Years After Dad's Death, Nigerian Lady Dances in Video, Says His Money Still Comes Through for Her
A Nigerian lady has danced in a video while remembering her late father, who died five years ago
Although her father lost his life years ago, he acquired properties and wealth, which his daughter still enjoys to date
In a video, the lady danced excitedly as she showered praises on her late father over his sacrifice for her
A TikTok user identified as @just_derah has excitedly narrated how her late father's wealth and name have been paving the way for her.
The lady revealed that her father still positively affects her life despite being five years in the grave.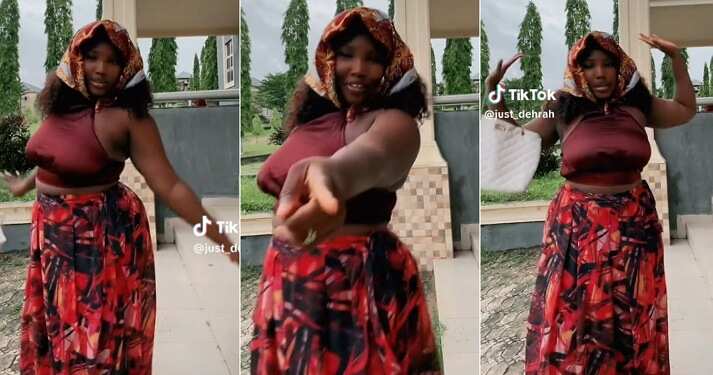 According to Just_derah, who danced happily in a video, his money and name have kept her since he died.
"Hyping my dad because 5 years in the grave it's still his money and name that's coming through for me", she said.
Social media reactions
@Bevey reacted:
"You guys are so lucky, some of us were deprived of it, thanks to extended family."
@Doraz_empire said:
"Mine is 7 years in the grave and his name is still active, just got an appointment because of his name! Man is a legend even in the grave."
@Grace Edward said:
"My day is still alive but am not proud of him. Am living like an orphan."
@Naomi Onyibia reacted:
"This is me even him his grave his still paying my siblings' Sch fees cos of this investment he left behind, I pray I will be able to be like this for mine."
@Jared Ejeagwu said:
"I can't Imagine losing a parent now y'all are really strong."
@OlajumokeAdams commented:
"My mom and dad. My mom passed away since 23yrs ago n dad 18yrs ago n I'm still spending their money."
@Myrrh said:
"My dad is still alive even without much investment I'm enjoying his money."
@JiddaHabibty reacted:
"10 years and we still getting funds."
@Shugga said:
"So Na only my papa die no drop even 10 kobo."
@aajay899 reacted:
"Even in his grave real MVP."
@Ella said:
"That's what we call legacy."
@John Chukwuebuka reacted:
"This post is very interesting and educating in the real sense."
@Thuvaaaa said:
"The realest even in the grave."
Watch the video below:
Little girl innocently talks to her late father's grave
Meanwhile, Legit.ng reported that a little girl has melted hearts after a video of her talking to her late dad's grave went viral on social media.
The video, which was shared by the kid's guardian on TikTok, was captioned, "she always remember her daddy." In the clip, the kid climbed the cemented resting place and got closer to the upright headstone.
Looking at the headstone, she innocently said, 'hello papa,' perhaps thinking she could be heard by her late dad. After some inaudible statements from the kid, she happily got off the grave. The guardian disclosed that the kid asks to visit her late dad's grave every two weeks. The clip has amassed over 1.7 million views as of the time of making this report.
Source: Legit.ng