"Please Buy Him Masa": Boy Throws Tantrum as Dad Denies Him Meal, Cites Fuel Scarcity as Excuse
In a comical video that has captured the attention of viewers, a little boy's earnest desire for a traditional Nigerian delicacy called masa took to the centre stage
Despite his father's logical explanation, highlighting the economic challenges in the country, the determined little boy continued to shed tears and insist on his request
Reacting, netizens pleaded with his father to reconsider and buy the masa for his son, as they said that the little boy was not responsible for the fuel scarcity
A footage shared on Tik Tok by @orji4dad showcased a father and his son sitting in a car, with the father who assumed the role of the cameraman to document the amusing exchange.
The adorable little boy dressed in a school uniform pleaded with his father, longing to taste the flavourful masa.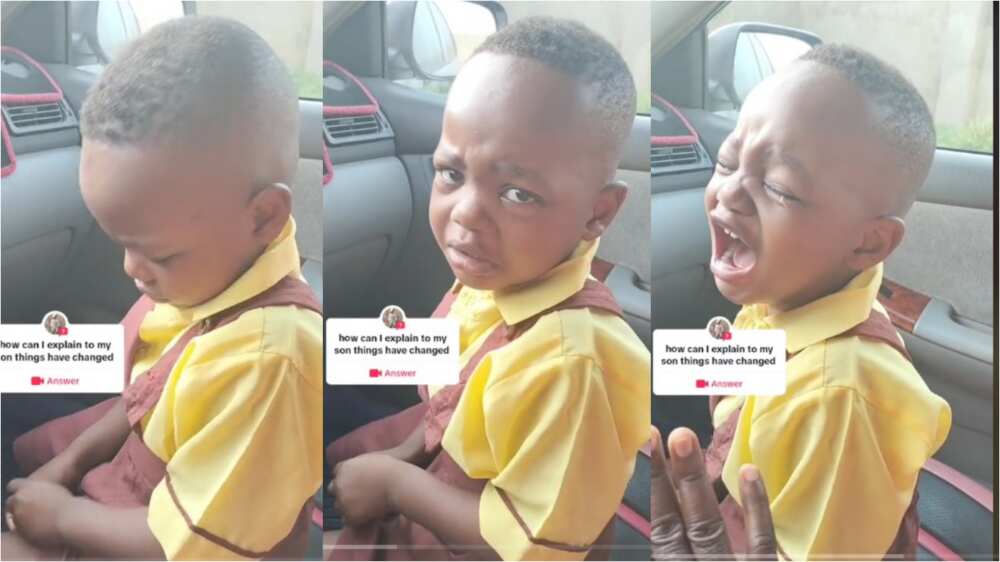 Seemingly caught off guard, the father responded by questioning whether his son was aware of the current fuel prices in the country.
Reminding the boy of the rising cost of living, the father humorously remarked that even the household budget would need to be reduced.
Unfazed by his father's plea to calm down, the boy's tears persisted, which prompted his father to soothe him by gently rubbing his hand on his chest.
Attempting to gauge the seriousness of his son's desire, the father posed a crucial question once again. He inquired if the boy truly comprehended the cost of fuel.
Undeterred by his father's query, the little boy reaffirmed his unwavering desire for masa.
Throughout the video, the lighthearted banter between the father and son brought smiles and laughter to TikTok users with an outpouring of support and pleas to buy the boy masa.
Social Media Reactions:
@user6197165874166 commented:
"buy masa for the child joor wetin concern him with fuel."
@nhor_apparel said:
" He's trying to calm down but its only Masa that can calm him down."
@halimasanusi0 said:
" Abeg buys masa for the little boy, watin concern am with fuel."
@godwinemenike8 said:
"Please buy masa for the boy."
@littlemyn07 said:
"Wettin concern him concern fuel, buy masa nor na president dey buy masa before?"
Watch the video:
Toddler in tears as he complains to mum who wouldn't let him have candy
Legit.ng previously reported that a toddler complained to his mum, who won't let him have candy.
In the sad video, the heartbroken toddler lamented his mother's refusal to give him candy.
In a trending video, the concerned mother asked her son why he looked so sad, and he said it was because she didn't give him candy.
Source: Legit.ng