"So Emotional": Young Man Shed Tears as He Goes Abroad, Touching Video Melts Hearts
In a heartwarming scene that touched the hearts of many, the young man struggled to hold back tears as he bid farewell to his mother at the airport.
The emotional moment, captured on video, has since garnered widespread attention, resonating with viewers who have experienced the bittersweet reality of saying goodbye to loved ones
On the other hand, some netizens encouraged the young man to look forward to the opportunities and possibilities that awaited him in the new country.
The video, shared on Tik Tok by @atoke701, showed a young man who struggled to hold back tears as he bid farewell to his mother at the airport.
The young man was engulfed with emotions as the departure time was at hand. Unable to contain his feelings, he broke down in tears and clutched his mother tightly in a long, heartfelt hug.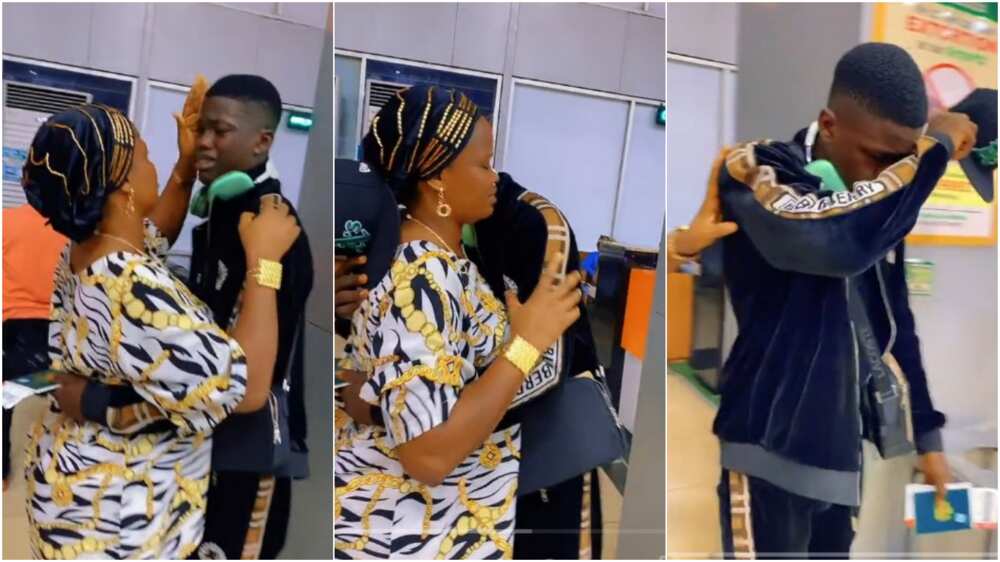 Amidst the tears, the young man's mother put on a brave smile through her own emotions, as she gently gestured for him to let go and proceed towards his departure gate.
Many expressed empathies as they understood the difficulty of saying goodbye to loved ones.
Some lightheartedly commented that he would undoubtedly miss his mother's home-cooked meals.
Social Media Reactions:
@akinoyeseleem said:
"Na only me understand the bobo will miss her mum food."
@ninalowo_abike said:
"Don't let mumcy cry bobo. God will keep you safe. May you come back in greatness and make her proud, and may she live long to eat the fruit of her labour."
@real_dj_joycekem said:
"I understand your mood, bro. I cry in silence and deeply in pain, but today I never regret leaving Nigeria, but GOD almighty will make us laugh last,"
@princemmmy said:
"Your own still better you see the person cry too."
@sadikuashaby said:
"Congratulations, brother Allah will guide and protect you insha'Allah."
@donflexzy4 said:
"Go well and prosper, boy and make Mama proud."
Watch video:
Little Girl Cries Uncontrollably as Her Mum Packs Her Bags to Travel
In a related story, Legit. ng reported about a little girl who cried uncontrollably as she prepared to travel.
A Nigerian mother has shared a video of her daughter's reaction whenever she sets out to travel to any location.
A video on TikTok showed the little girl crying uncontrollably as her mother tried to console her.
Source: Legit.ng