"I Want to Join": Chinese Kids Stir Laughter as They Attempt African Dance Moves in Class
A TikTok post went viral when it hilariously captured an African teacher attempting to teach Chinese children the amapiano dance in class
The video showed the children's struggle to replicate the dance moves, resulting in comical moments filled with clumsy footwork and laughter
The cross-cultural exchange of dance moves provided a heartwarming and amusing display of unity and shared experiences, leaving viewers in stitches
In a hilarious TikTok post that quickly went viral, an African teacher was captured imparting her dance skills to a group of Chinese children in a classroom.
The video showcased a joyful atmosphere as the kids attempted to learn the popular amapiano African dance moves.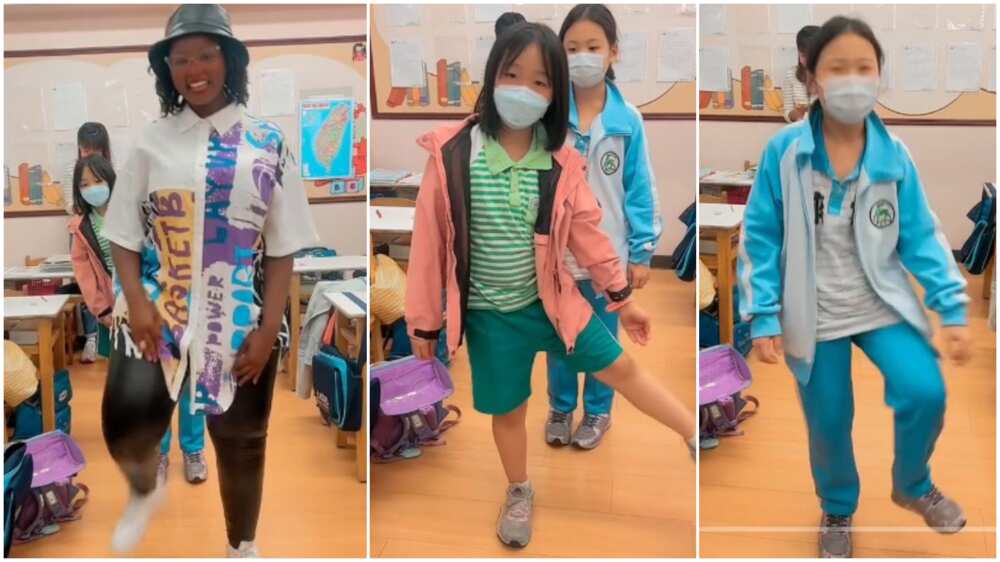 With their initial hesitations and awkward footwork, the children's attempts at mimicking the teacher's fluid movements resulted in comedic moments.
The infectious laughter and enthusiastic effort from the teacher and the children added to the comedic effect.
The cross-cultural exchange of dance moves proved to be a heartwarming and entertaining display of unity and shared joy, bringing smiles to countless faces worldwide.
Social media reactions:
@cosmicjourney19 noted:
"They looked like "she isn't paying me enough anyways."
@user3516610237402:
"Can I come to join you there?"
@presmo_92:
"The second one killed it silently ."
@jst_teezee said:
"The one in blue is always my favorite. She tries bakitsi ."
Watch the video:
COVID-19: Nigerian student in China recounts horrible experience with Chinese people
Legit.ng reported earlier that a Nigerian student identified as @Mzzrenna, who shared her experience as an African in China.
@Mzzrenna took to her page on the popular micro-blogging platform Twitter to tell people what she has been going through.
In a series of tweets, the Nigerian student said she had been subjected to compulsory quarantine even though she has not had a travel history for the past 12 months.
She said she did not sleep well at night because she was unsure what the next day holds for her, the report said.
Source: Legit.ng