"Figure Your Life out": Woman Throws her 30-Year-Old Jobless Daughter Out of Her House in Viral Video
A 30-year-old lady was sent packing out of the house by her mother in a video that has got netizens talking
Her mother could be seen gathering her daughter's personal effects into a black nylon and then throwing them out
The woman wants her daughter who is without a job to go figure out her life first before she can be accepted back
A woman has thrown her 30-year-old daughter out of her house in a bid to teach her a lesson.
A lady who was on ground when it happened recorded it and shared the clip on TikTok with the caption;
"30 year old brat gets kicked out of her Mothers Home. When being spoiled goes wrong."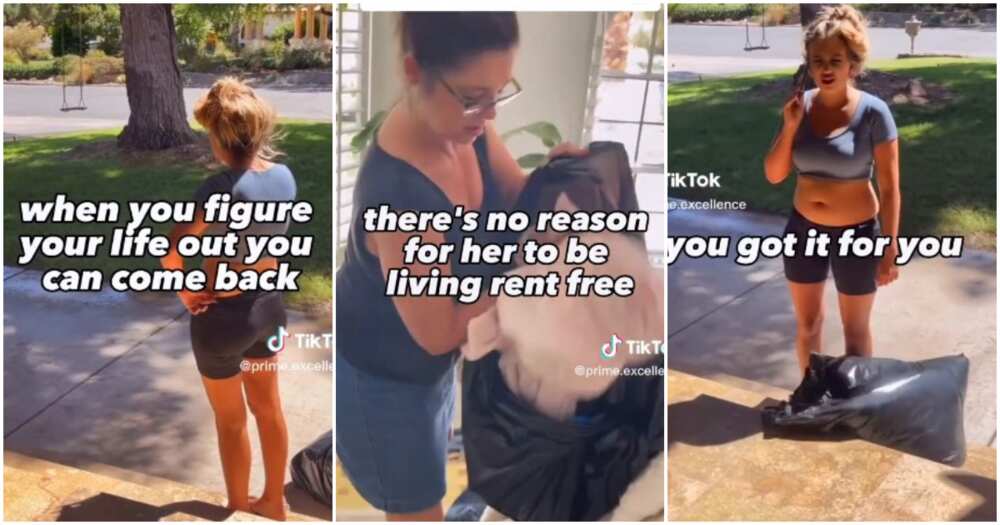 In the clip, the young lady is seen standing outside and making a call as her mum threw out her belongings fitted into a big black nylon.
PAY ATTENTION: Follow us on Instagram - get the most important news directly in your favourite app!
Her mum wants to teach her a lesson
Inside the house, her unhappy mum is seen gathering her daughter's other belongings into another black nylon. She was heard conversing with the lady in the background over what was happening.
Agreeing with the lady's statements, the mum said that her daughter is 30 years old and needs to figure out her life before she can come back.
The lady in the background threw her support behind the mum saying that she did the right thing. According to her, there is no reason for the jobless lady to turn her mum's house into a pigsty.
Watch the video below:
Social media reacts to mum throwing daughter out
alexmuntean525 said:
"I would never do this to my daughters ever. Why? Because I will make sure I won't have to do it ever. I'll be there and lead by example."
Georgeous187 said:
"That lesson should've been taught at 18. My mum showed my sister the door at 20 with her 1yo in tow. Sister thought Mum was the live-in babysitter."
Rick Martinez said:
"That's exactly what we had to do and it turned out positive now he has his own pad with his girl works hard and very responsible it was hard."
Lyt0492 said:
"My parents always said, if you're still living with us at 25, you're going to pitch in with the finances. Moved out at 24."
Sunset Lara said:
"I was still living at home when I was 30. However I had a career and helped my parents with everything. Sorry you had to take such drastic steps."
Ilhaam Foster said:
"How much you wanna bet later that night the mother couldn't sleep because she didn't know where her child was or whether she was safe."
Man seeks help after moving out of parents' house
Meanwhile, Legit.ng previously reported that a man had sought help after moving out of his parent's house.
In what is believed to be a move to live independently, the young man had moved out of his parent's house to a self-contain apartment.
Sharing photos of the empty self-con on Twitter, Yinka listed all he needed to furnish the apartment. In a list he attached in a fourth frame, the young man said he needed three small buckets of white paints, a shoe rack, a bed frame and cash of any amount.
Source: Legit.ng