"She Has Cooked for 12 Hours": Lady Starts Cooking in Ekiti, Vows to Break Hilda Baci's 100 Hours Record
A Nigerian lady is currently on a mission to break Hilda Baci's 100 hours cooking record
The young chef named Damilola has set up camp in Ekiti state, vowing to cook for 120 hours non-stop to set a Guinness World Record
As of the time of writing this story, Damilola has already netted in 12 hours and prepared 12 different foods
A Nigerian chef has set out to cook non-stop for 120 hours to set a new marathon cooking record.
Chef Damilola Adeparusi has since set up her kitchen in Oye, Ekiti state and is said to have started cooking up a storm.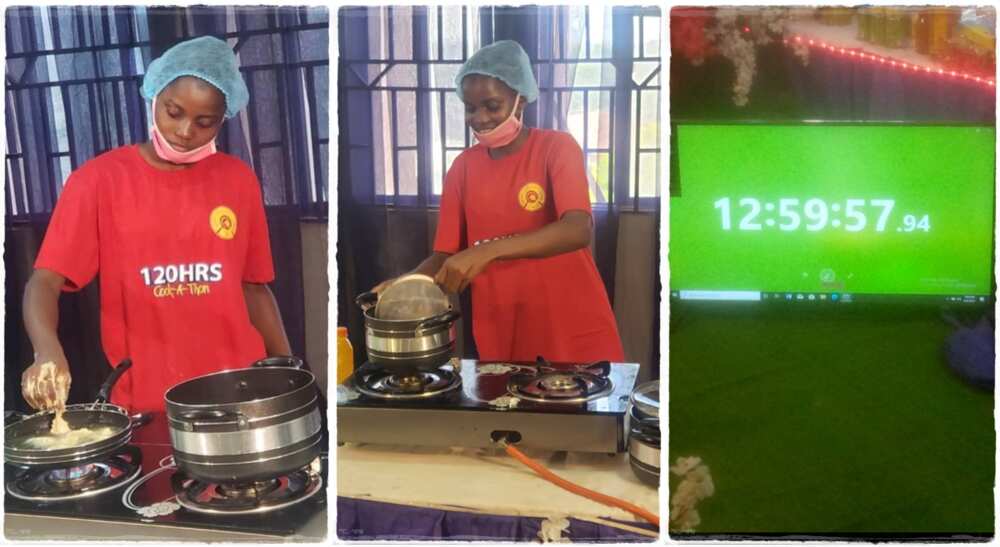 As of the time of writing this story, Chef Damilola is said to have cooked 12 different foods and netted in 12 hours of cooking.
Lady starts cooking in Ekiti to break Hilda Baci's record
A video seen on the Twitter handle of Spirit Word Global Mission shows Damilola cooking in a well-set-up kitchen.
If she succeeds in cooking for 120 hours, Damilola will set a new world record which would surpass that of Hilda Baci, who cooked for 100 hours in Lagos.
Although the Guinness World Records is yet to verify Hilda's record officially, the cookathon made her a celebrity.
Damilola's cooking quest has gone viral, and the video was also posted by @ekititrends.
Watch Damilola's video below:
Reactions to Damilola's 120 hours cookathon
@EkitiBabyGov asked:
"Can I get the Instagram handle? And how can the venue be located?"
@Ikechukwuisking said:
"Someone can not shine in peace in this country."
@OOmogbehinmi commented:
"Is she the one doing the preparation herself? She would get tired early. Preparation is even more stressful than the cooking itself(that's for me though)."
@NkemAmobi said:
"Nigerians and their ignorance. Why does everything have to be a competition with y'all? Let Hilda shine. And for the record GBR will not acknowledge two people at the same time."
Hilda Baci cooks for 100 hours
In a related story, Legit.ng reported that a viral video showed when Hilda Baci put off her gas after cooking for 100 hours.
Many people were still around when she turned off her gas, and they hailed her courage.
The video went viral and drew congratulatory comments from fellow Nigerians.
Source: Legit.ng