28-Year-Old Man from Osun State Who Won a Seat in the House of Assembly Reveals Winning Formula
Abiola Jeremiah Awoyeye is a 28-year-old politician who made history by winning a seat in the House of Assembly for Ife Central, Osun state on March 18, 2023.
Awoyeye is the youngest member of the legislative body in the state and the first to win under the platform of the People's Democratic Party (PDP).
Awoyeye, who holds a Masters degree in Sustainable Electrical Energy Systems from the Technological University, Dublin, said he decided to contest after gaining some working experience and realizing the need for a new type of leadership and representation in his constituency.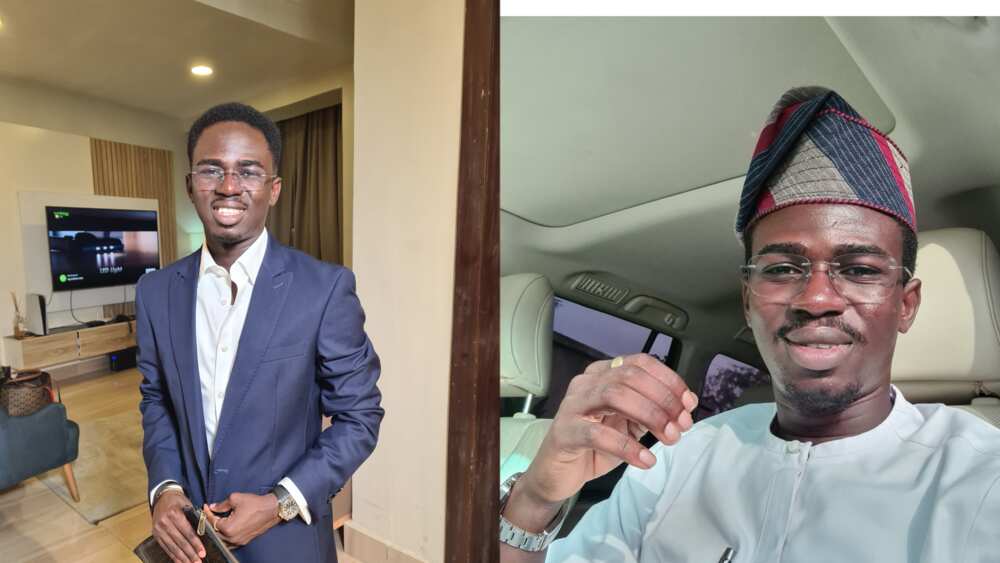 "I decided to contest after my Masters degree and working experience to usher in a new type of leadership and representation in Ife Central, for young people to use modern global practices to take Nigeria to a better place and I decided to start with my own immediate environment," he said.
The 28 years old said this was his first attempt at running for office and he faced a tough challenge at the primaries, where he had to convince the delegates and voters that he was the best candidate for the job.
PAY ATTENTION: Follow us on Instagram - get the most important news directly in your favourite app!
He told Legit.ng:
"The primaries was really hard, I campaigned to all voters and delegates, I decided to focus on every day voters even though the delegates were voting, it ultimately helped me as the delegates could see the best candidate for office with my popularity amongst everyday voters. I'm grateful to the PDP for this opportunity."
He said his opponent from the All Progressives Congress (APC) has not congratulated him yet, but he hopes to work with him and other members of the House for the benefit of the people.
He recalled some of the good moments during his campaign, such as meeting people across different communities and going back to his alma mater, Obafemi Awolowo University (OAU), where he graduated from in 2017 with a degree in Electrical and Electronics Engineering.
"Meeting people across different communities was a lovely humbling experience. Going back to my alma mater, Obafemi Awolowo University where I graduated from to campaign was a really good moment, I could see how my candidacy inspired other students in school, few years after graduation, I had gotten my masters and came back to solicit for their votes. That is one moment that stood out," he said.
A different tenure
He also shared some of his background and childhood memories, saying he grew up in Ile-Ife and attended Pearl preparatory school, Moremi High School and Osun state school of science before going to OAU.
His father was an activist and the Chairman of the Campaign for Democracy in Ife zone during the Abacha regime and taught him a lot of lessons on the struggle for good governance.
He said:
"My Tenure will be different and better than my predecessor's because I am better prepared for Office, I was the only one that shared a detailed manifesto for the people of Ife Central during the campaign and I know that with Governor Ademola Adeleke at the helm of Affairs, Osun state will be better and this will also make representation better. I am supper confident and fired up."
He advised young Nigerians who want to delve into politics to get involved at any level they can and participate actively in their wards and communities.
He also urged them to have genuine love for the people and be ready to serve them.
"Young Nigerians should get involved, regardless from the level, we should participate actively, attend ward meetings, be aware of our environment and surroundings and have genuine love for the people. It's already time for young people and we must all get involved to improve this country," he said.
Jubilation as 26-Year-Old Rukayat Shittu wins house of assembly seat in key northern state
Meanwhile, Legit.ng previously reported that Rukayat Shittu, the candidate of the All Progressives Congress (APC), has been declared the winner of the election for the Owode/Onire state constituency in Kwara.
Akeem Ijaiya, INEC returning officer, announced on Sunday, March 19, said Shittu polled 7,521 votes to defeat Abdullah Magaji of the Peoples Democratic Party (PDP) who scored 6,957 votes.
With her victory, Shittu will be the youngest state assembly lawmaker in the country by May 29.
Source: Legit.ng