Homeless Old Man Helps Stranger Asking for Money, Gets $500, Video Goes Viral on Instagram
A video showing a homeless old man who was willing to help a stranger with his money has gone viral on Instagram
The stranger had walked to the man and asked him if he could help him with some money to take a bus to work
The man did not think twice before he dipped his hand into a tin to bring out some money and gave it to the stranger who moved by the gesture, gave the homeless man $500
The story of a homeless man willing to help a stranger with some money to get a bus to work has warmed hearts despite struggling to pay his $195 rent.
The stranger approached the man and spoke to him about needing money to get a bus, and the man asked how much was enough.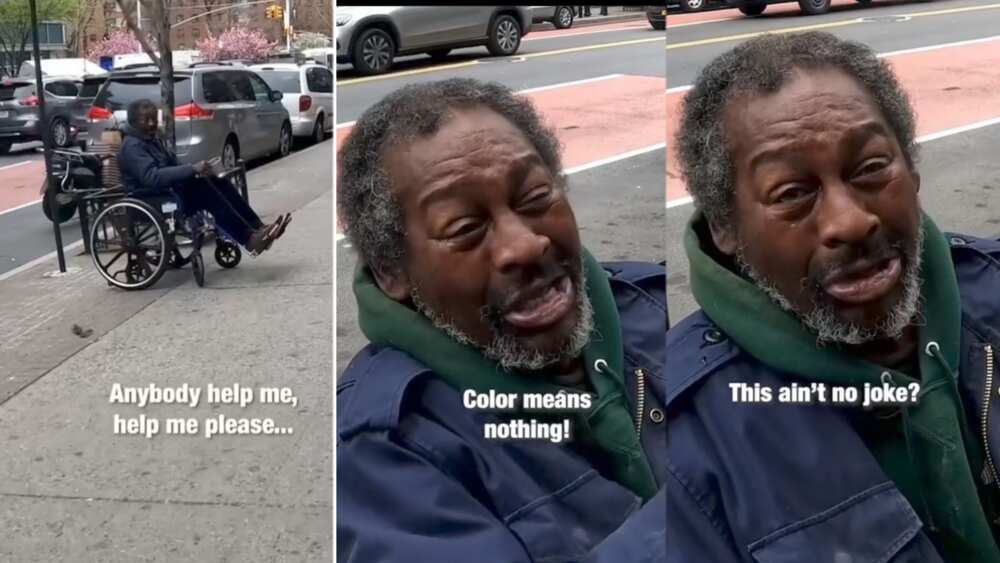 The stranger said a quarter was enough, and the homeless man did not hesitate to give him the exact amount.
Homeless man gets $500
The homeless older man had initially told the man that he was out in the street because he could not pay his rent of $195.
The homeless man's kindness, despite his struggles, moved the stranger, so he gave him $500.
In his final world, the older adult said there should be more peace and love in the world, and humanity should trump racism.
Watch the video below:
Legit.ng compiled some of the reactions below:
@rosegarndia reacted:
"Wow! We truly need to learn from others. What a humble heart, he didn't hesitate."
@jastusnatumanya wrote:
"Humanity will forever be greater than status."
@stephenchiefin 5h
"Color & Race means nothing."
@iamjoshua_n commented:
"Most homeless are honest and giving ppl."
@moriz_666 also reacted:
"I'm glad you helped, but please don't this for a post . Don't put a camera in someone's face in need of help. Be genuine, and do from your heart. Thanks again."
@phenomenalphilmz also commented:
"This made me cry.. Wow, | lost a lotta people. i didn't cry nl couldn't even when I really wanted to"
Nigerian lady picks up homeless retired officer, rents him a house
Meanwhile, Legit.ng previously reported that a young Nigerian lady identified as Julia Nnena put a smile on the face of a homeless retired officer by renting him a lovely apartment.
The lady was touched after spotting him by the roadside with his belongings and couldn't get him off her mind. In a lovely video she shared on Facebook, Julia came for him again and got him off the road to the house she rented for him.
Julia said that she couldn't come to terms with leaving him by the roadside. Though not fully furnished, the new abode had a mattress and some household items he could manage with.
Source: Legit.ng