CBN Deadline on Old Naira Notes: 3 Times Nigerians Quickly Stopped Saving in Their Piggy Banks
The Central Bank of Nigeria directed Nigerians to deposit their old N200, N500 and N1000 notes after new ones were printed
A young Nigerian man who had been saving in his piggy bank was angry that he had to break it because of the CBN directive
In another report, a mother took out the money boxes her children have been saving for years because she also wanted to exchange them for new naira papers
A man who quickly remembered that he could not continue saving in his piggy bank quickly made a post to warn many people
The directive by the Central Bank of Nigeria (CBN) giving a deadline on when people must take their old naira notes (N1000, N500, and N200) to banks for new ones has caused a lot of trouble for Nigerians.
Among those who were affected by the new development are people who have been saving in their piggy banks for years.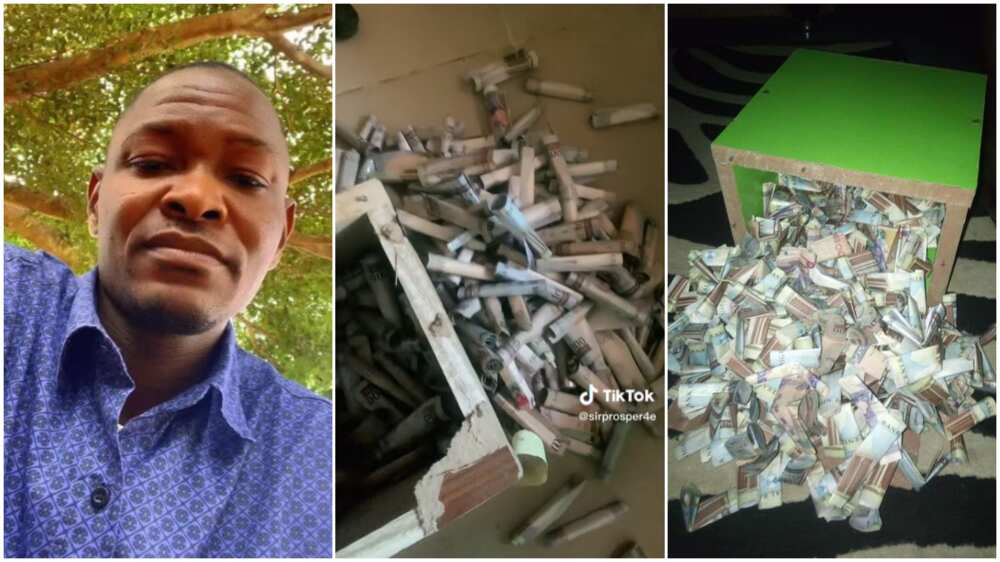 In this report, Legit.ng will be looking at three instances where the new naira notes issue put some Nigerians in discomfort.
1. Kids who have been saving for nearly 10 years
A mother and journalist, Morayo Afolabi-Brown, made a video to show people how she broke the piggy banks her kids have been using for almost a decade.
In the video, she had their crumpled naira note spread on the floor as she said she was planning on exchanging them for new notes before they are phased out.
2. I've been saving since 2021
A Nigerian man who said that he has been saving in his piggy bank for more than two years was sad that he had to break it.
In a video that went viral, the man said if not for the CBN deadline and the need to change the old notes, he would have continued his saving plan.
3. Young man reminds people of CBN deadline
A young man with the Twitter handle @MrMekzy_ made a post many days ago about the need for people to check their piggybanks if they have been saving old notes in them.
He attached a photo of his piggy bank to the tweet as many people thronged his comment section to share their experiences.
A Twitter user, @Eyinjuoluwamac2, said that the old naira note deadline is the reason why he has not started to save yet.
Another tweep, @juliusjay67, shared a photo to show how he already broke his. The snap has a massive pile of crumpled old notes.
Man breaks his piggy bank to buy girlfriend gifts
Meanwhile, Legit.ng earlier reported that a young Nigerian man, @anieprobeauty, went online to show people how much he loves his girlfriend and everybody was praising him.
In a very short video, he brought out his piggy bank and broke it to access all the money he has been saving in 2022.
After getting the money out, he arranged the notes to get his girlfriend some very beautiful Christmas gifts. He bought her things like a wig, chocolate and jewellery. The lady was overwhelmed with joy.
Source: Legit.ng