Confident Boy in Crossing Belt Dress Dances Smoothly in Midst of Crowd, Sweet Video Goes Viral on TikTok
2.4 million TikTok users have seen an 18 seconds video of a boy dancing in the midst of a large crowd of people
The boy who is clearly a good dancer used his back to dance, and also used his hands to gesture confidently
He danced so well that adults in the midst of the crowd watched him with rapt attention in other to properly enjoy his dance
2.4 million people have watched an 18 seconds video of a talented boy dancing for a large crowd of people.
The confident boy was dressed in a crossing belt shorts, a grey shirt and a pair of black shoes to match.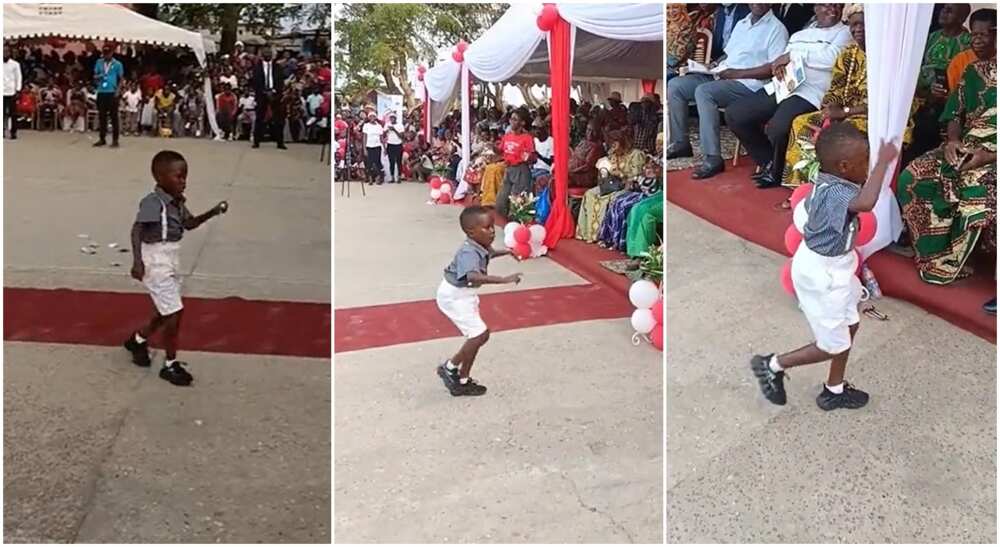 When he stepped into the arena, it was clear to everyone watching that the all expected dancer has arrived. His confidence on the dance floor was obvious to everyone.
Video of a boy dancing in a large arena goes viral
The boy dancer started by lifting up his right hand and wagging it as if he was pointing it at someone who offended him. But the impressive hand gesture was also a dance step.
He then shook his back stylishly, making sure whatever he did corresponded with the sound of loud music coming from the speakers.
Boy impresses elderly people with back dance
He gradually moved away from the center of the arena where he started and went to where elderly people were sitting. He used his dance to greet them nicely before turning back.
One man sitting in the crowd could not help but to also shake his head to acknowoldge the boy's talent.
There were so many people in the arena, but the boy became the centre of attention because of his beautiful dance steps. The most interesting thing is his confidence and how he refused to betray any sense of fear despite the huge crowd. The video was posted by @lindadiploci.
Watch the video below:
Video of a man dancing for old woman
In a related story, Legit.ng reported that a Nigerian man danced for an old woman who he saw in the streets.
He was able to use his nice dance to lift the woman's spirit because she started laughing in the video.
The man posted a new video and showed how he visited the woman and gave her N1 million.
Source: Legit.ng