"How Can My Mother Do This?" Lady in Tears as She Returns Home to See Her Mum Cutting Her Baby's Full Hair
A Nigerian mother has shared a video showing how her mother cut off her baby's hair when she was away
In the video, her mother was spotted with scissors as she brought down the cute baby's full hair
While sharing the video, the lady broke down in tears as she asked for an explanation on why babies must have a haircut
A Nigerian lady has lamented bitterly after returning home to see that her mother cut off her baby's hair when she was away.
According to the sad mother, she left the baby in her mother's care and when she returned, she saw that her mother had cut her daughter's hair.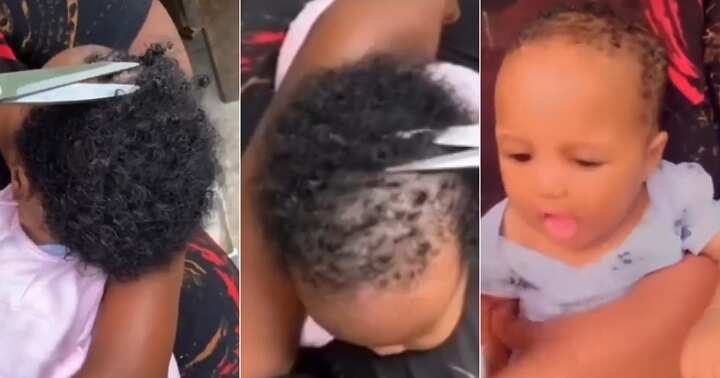 In the video, the cute baby girl's curly and full hair was cut off with scissors by her grandma.
While sharing the video, lady ask why it is important to cut the first set of a baby's hair.
She wrote:
"Went out and before I got back, my mum had cut her hair. Can someone explain why this is done?"
Social media reactions
@Nwamaka Amy Okehi said:
"To shave off the in-vitro hair the child was born with."
Chris Chatelain wrote:
"I don't gaf how old my kid is, you just don't do this. My daughter was 6ish and her aunt cut her hair bangs against my wish. I was pissed and we didn't speak for a long time.
@Mjolla Bakhonda reacted:
"They easily get sick. At first, I didn't believe it but my nephew got sick and my mum removed all her hair and the very same day she recovered.
@Zalene Reed commented:
"I know some people aren't going to agree with me and that's fine but this is the quickest way my parents wouldn't be able to see their grandkids."
@Sootie Maria cook added:
"In some cultures, they say our hair holds trauma from our previous life so they cut it for a baby to start afresh."
@Aqua Rhodes replied:
"It's going to go even and thicker."
@Valerie Jackson said:
"It's I would have gone mad if my mum did this to my baby."
Watch the video below:
Grandma barbs baby 'gorimapa'
Meanwhile, Legit.ng previously reported that a mum has posted a TikTok video of her little daughter who got a clean shaven haircut from her grandma. The mum, @jessiebucuane, posted the video on Thursday, January 5, saying she left the baby girl for her mum to look after.
She said her mother took custody of the baby girl when she went away to university, but she came back and met her hair shaved. Jessie said in the video that her daughter was born with rich, dark and curly hair but apparently, the granny had a different idea.
She posted old photos of what her daughter's hair used to look like before the 'gorimapa' cut by granny. The new look shows that the haircut was a clean one even though it has started growing back. Mixed reactions have followed the video which received 362k views as at January 6.
Source: Legit.ng