I Lost my First Admission due to Poverty: Nigerian First Class Graduate Tells Touching Story
A Nigerian first class graduate is full of joy for finally being able to go to university despite financial challenges that initially threatened his ambition
The man identified as Lateef Adeleke said he could not pursue his first admission offer because his father lacked the financial powers to sponsor him
Things eventually got better as Lateef was able to attend Adekunle Ajasin University where he recently bagged a first-class
It is celebrations all the way for Lateef Adeleke, a Nigerian student who has bagged a first-class degree against all odds. Adeleke is a recent graduate of Adekunle Ajasin University Akungba-Akoko where he studied Linguistics.
But Adeleke's success story was never easy. He lost his first admission and had to wait another year before resuming school. This was because his father could not afford his school fees.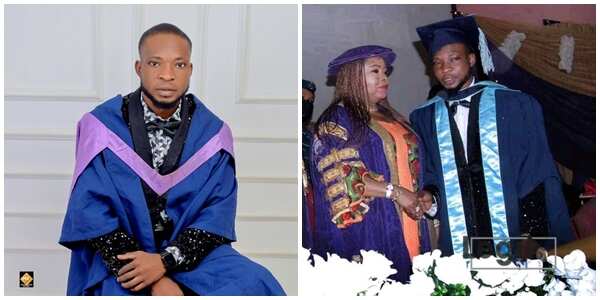 Narrating the bitter experience, Lateef said:
"I got my first university admission in 2014 but got declined because my father insisted that it wasn't yet time. He refused to tell me why the time wasn't right but I didn't allow that challenge to weigh me down."
When Legit.ng asked how he felt about staying at home while his mates went to school, he said it was a very bitter pill but he swallowed it with grace. He used the one year to acquire tailoring skills. He explained his pain back in 2014:
"I felt extremely bad owing to the fact that other friends of mine who went through the admission process with me left me at home while they departed to school. It wasn't easy, but then I had to summon my courage and demonstrate the potential in me to convince my parent that I truly deserved to be sponsored by all means."
Why his father could not afford his fees
But why would a father deny his son an admission that was already a done deal? It was later when the second admission came that his father opened up to him. He continued his touching narration:
"He eventually revealed why he hid the fact when I got my second admission. In his words 'I couldn't explain this to you because you are too young to have experience of how evil people could be. He actually stood as a guarantor for a friend who convince him that he needed money for business. The bank was deducting the money from his salary account."
Graciously, his father's economic condition had improved when the second admission letter arrived. His father had no issues approving it. He explained:
"I presented the admission letter to him anyway but with a frowned face because I have summed up my mind that his response this time around would reveal the true identity of our relationship. He read the admission letter, read my facial gesture and followed it with a smile. He then jovially said "Tunji, I know you are already thinking I shouldn't turn you down this time around. Be calm, I wouldn't."
How I made first class against all odds
Lateef told this publication that getting a first-class was never an easy affair, and his hard work saw him through the tough days. He made a CGPA of 4.77 on 5.0 scale. He said making a first class was a deliberate decision so he had to work for it.
"It wasn't easy but I was deliberate about it. To understand how serious I took it, I would like to tell you that I was in the library on my matriculation day. I left home by 7 am waited outside for the library staff to resume by 8:30 am. I left the library when other students were leaving the matriculation ground and we all met at the gate. My friends call me 10- to-10 just because I did read from 10am to 10pm during exam periods."
Another student makes perfect CGPA of 5.0 at Rivers State University
Legit.ng has also reported that another Nigerian student broke a 41-year-old record in Rivers State. The brilliant man named Otoko Steven Edwards finished from Rivers State University, Port Harcourt.
Mr Edwards studied Pure and Applied Mathematics. In the end, he posted a perfect CGPA of 5.0. He was the first person to make first-class from the department.
Since the Department of Mathematics was established in 1981, no student has achieved such a feat. During the 2021 graduation ceremony, Mr Edwards was showered with praises as a pioneer hero.
Source: Legit.ng