Cat with 9 Lives: I was Shot 18 Times while Trying to Cross to Italy through Lybia: Nigerian Man Narrates
A Nigerian man is lucky to be alive to tell his story despite having several pellets of bullets lodged in his body and being stabbed several times
The young man was trying to leave Nigeria and cross to Europe through the Lybia-Italy border but he was unlucky as he was intercepted by men of easy fortune who subjected him to torture
Saturday Airomoro said the Lybian police operatives shot him 18 times and that he still has some of the bullets lodged in his body since he has been unable to remove them
In his search for greener pastures, a desperate Nigerian young man identified as Saturday Airomoro almost lost his life as he was intercepted in Lybia and got shot 18 times by the Lybian police.
Mr. Saturday told LegitTV that he stopped schooling when he was in Senior Secondary School Two (SS2) and decided to learn handwork. After acquiring skills as a welder, he decided to leave Nigeria.
He said he wanted to cross to Europe so as to improve his financial status and help himself and his family.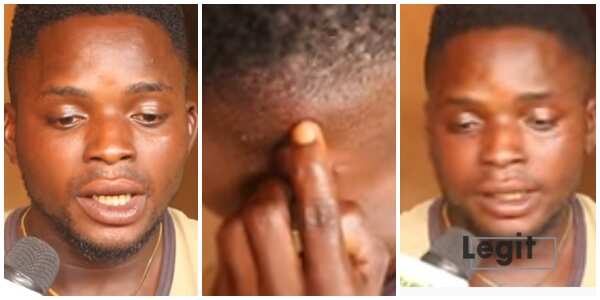 Why I left Nigeria in a bid to cross to Italy through Lybia
But that decision turned his life upside down because as soon as he left Nigeria, his life was never the same again. His story in his own words:
"Before I travel, I reach SS2. Things come dey difficult. I come decide say I need to learn work. At least make I get handwork. But the rest of my family, all of dem dey go school. They agreed for me to learn the work. Then I learn the work, four years. Before I travled, I tell my oga, see how condition dey hard now. No help, no money to open store."
Saturday said his family rallied around and raised N450,000 which he paid to enable him to cross to Europe through the Lybian border.
"Dem tell us say that N450,000 wey we pay, na to just cross from Lybia to Italy. We pay everything, do everything dem say make we do"
But he said his ordeal started when they got to Kano and subsequently out of Nigeria.
"From there Army people don dey beat us. From there the suffer now com increase like say tomorrow no dey. No food, no water. The only food wey dem go give you, dem go mix am with drug so that make you no escape because you don comot from Nigeria now. They will mix like 50 galon of fuel, divide am into two mix am with water, dem give you drink"
I was shot several times
Saturday also said he was shot several times while in Lybia. He said he still has 8 bullet pellets lodged within his body.
"Dem don shoot me well well for Lybia. Like my hand here now, bullet dey. They shoot me like 18 bullets, na 8 na him dey my body, 10 no enter."
Thousands of Africans embark on the deadly journey of crossing into Europe through the pirates-infested Lybian Border.
They use dingy boats that are deliberately sabotaged by gangs who are making a lot of money from crossing desperate migrants to the other end of the sea.
They are usually on a mission to escape poverty, but a United Nations report reveals that 2,275 people perished in the Mediterranean in 2018 while trying to enter Europe.
Legit.ng has earlier reported how another young man said he regretted leaving Nigeria after months of torture in Lybia.
The young man, identified as Ajuebor said things got bad to the extent that he almost buried himself in the sands of the desert.
He advised other Nigerians not to try leaving Nigeria through the land borders.
Source: Legit.ng