Single Mum Cries Out after Being Thrown Out of Shop She Earns Her Living, Wants Nigerians to Help
A young lady identified as Lizzy Etim had her shop demolished after her landlord sold the building to a man who then doubled the rent after a new structure was erected
Lizzy said the new landlord treated her unfairly and is only trying to scare her away with an annual rent of N480k as against the N240k she was initially paying
She has called on Nigerians to come to her rescue, saying her hairdressing shop is what she and her son relies on
A young Nigerian lady identified as Lizzy Etim has urged Nigerians to come to her rescue after her landlord sold the building where her hairdressing shop was situated.
Speaking with Legit.ng, the young lady said she had been occupying the shop since 2020, and she renewed her rent of N240,000 when it expired in April 2021.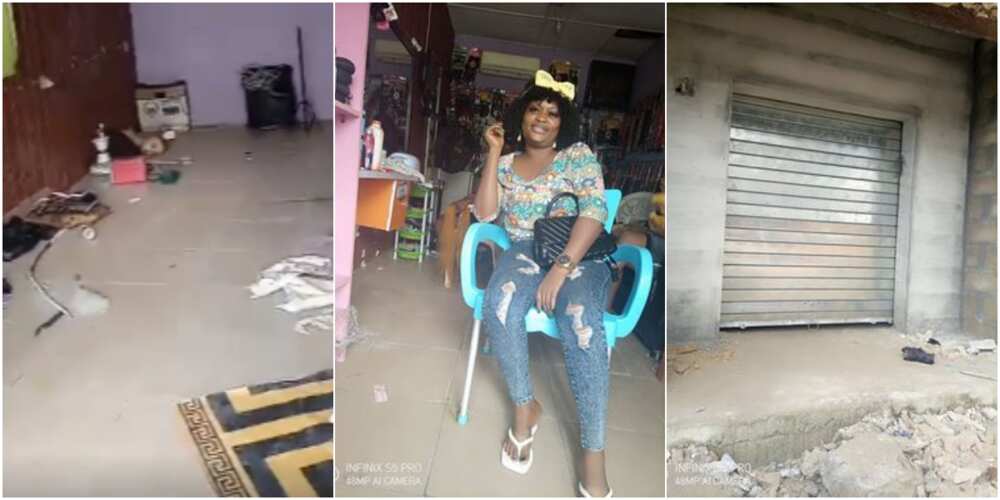 In her words:
"July this same year a man walked into my shop and told me that my landlord has sold the entire building to him so I told him to hold on let me confirm it from my landlord and when I called my landlord he admitted that he has sold it to him."
PAY ATTENTION: Install our latest app for Android, read best news on Nigeria's #1 news app
Getting 200k refund
Lizzy, who resides in Port Harcourt, Rivers state, said she got N200k refund out of her N240k and was told to leave the shop in September after being given three months grace.
In her words:
"So the money I paid by April was N240,000 and N200,000 was refunded to me and the new landlord and the former landlord agreed to give me three months to stay so that it can enable me look for another shop."
Breaching agreement
She said that same July, the new landlord convinced her to move out so that a better structure could be erected before November.
According to Lizzy, after telling the landlord that she had nowhere to put her tools, the man said he could put them in his family house.
She said:
"So I kept them there hoping as soon as he finished building the place he will give me a shop back so that I can start my business again.
"July 26th was when the whole place was demolished and he put in a two-storey building there. I kept checking, calling him, I kept going to the site to check how the job was going and I kept asking him to tell me how much the shop would cost me, but he refused telling me the exact amount the shop would be."
The shop is ready
Lizzy said that now that the shop is ready, the new landlord increased the rent from N240k per annum to N480k, a 100 percent increment.
According to the young lady, she was asked to pay for two years, which is N960,000, before she could move in to continue her hairdressing business.
Begging him
Lizzy said she has sent people to beg the man to allow her continue paying the old rent but all to no avail.
In her words:
"This is a man that begged me to leave the shop for him to put a better structure but today he has refused to give me the shop back.
"Using big money to chase me away after waiting for him since July to November."
Having nothing else to rely on
Lizzy, who is a single mum, said she and her child rely on that shop for their upkeep, adding that she has nobody to help her.
She said:
"We've been starving since July. I have been at home doing nothing because I was waiting for him."
Lizzy, who said she's really depressed, has called on Nigerians to come to her rescue and not allow her suffer with the little kid that has nobody else but his mum.
Lady returns from work to find laid blocks for another building inside her apartment
In other news, a Nigerian lady has shared the shocking discovery she made in her apartment upon returning from work.
She had left her apartment in order but returned to find it in chaos with construction works for another building ongoing.
In series of videos shared by Instablog9ja, laid blocks could be seen in an area in the apartment the lady confirmed to be the sitting room.
Inspiring photos of hairdressing salon under tree surface online
Legit.ng previously reported that pictures of a hairdressing salon that was set up under a tree got many massively reacting on social media.
The picture sighted by Legit.ng on the Facebook page of Nana Tea showed a hair-drying machine connected to a socket that had been mounted on the stem of a tree.
Also on the tree was a TV and a poster with different hairstyles.
Source: Legit.ng