5 of the Oldest Kings in Nigeria and Their Ages, One Is Over 90 Years Old
A very important part of the Nigerian culture is its traditional monarchical system. This system was so strong that the British had to build on it for their indirect rule during the colonial era.
Nigerian kings are not just revered by their people, they are also the custodians of history and the representation of the value system of their communities.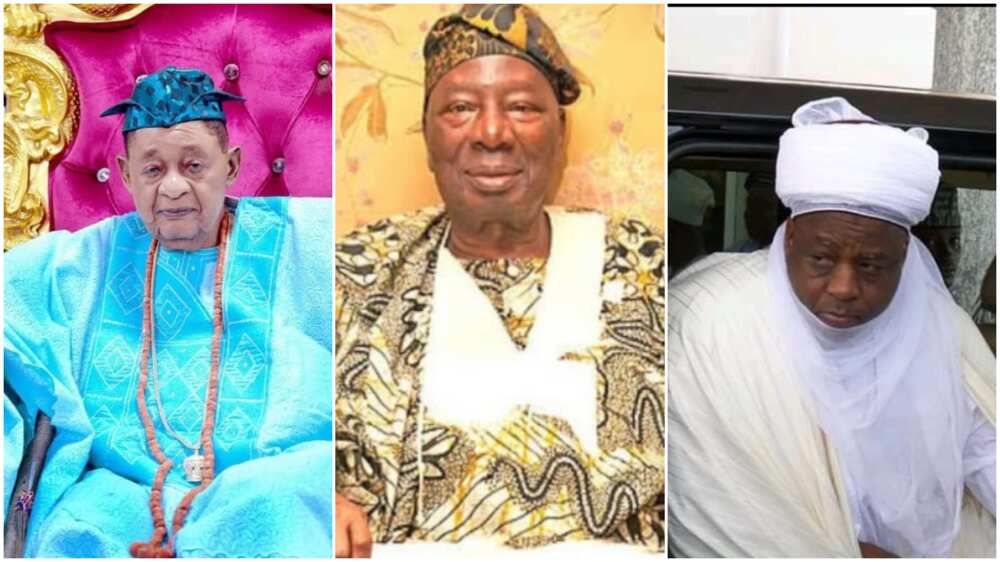 In this report, Legit.ng will be looking at five different kings and their ages, with some information about them.
1. Lamide Adeyemi III
Aged 83, the king of Oyo was born on October 15, 1938, into the house of Oranmiyan. His father's name is Raji Adeniran Adeyemi. His father became the Alaafin of Oyo in 1945.
It should be noted that Oba Lamidi succeeded Gbadegesin Ladigbolu II in 1970, which means he has been ruling for decades.
2. Rilwan Akiolu
The Oba of Lagos is one of the popular kings in Nigeria. Born on October 29, 1943, he is now 78 years old. He ascended the throne in 2003.
The king is a retired police officer as he served the force for 32 years. He got to the level of the assistant inspector-general before he retired.
3. Sultan of Sokoto
Born on August 24, 1956, the 65-year-old man's influence is great in the country as he is also considered the spiritual leader of many.
He is the youngest son of Sir Siddiq Abubakar II who ruled for more than fifty years. Sa'adu Abubakar was a member who studied in the Nigerian Defence Academy in 1975.
4. Soun of Ogbomoso
Oba Oladunni Oyewumi is the oldest on the list as he is 95 years old. He was born on May 27, 1926.
It should be noted that Oladunni's father was a former French soldier before he ascended the throne in 1916.
5. Ohinoyi of Ebiraland
Abdul Rahman Ado Ibrahim is the traditional ruler of the Ebira people. He was born in February 1929. It should be noted that whoever fills the position is chosen by a council of elders.
Kings of idols
Meanwhile, Legit.ng earlier reported that Oba Abdulrasheed Adewale Akanbi, the Oluwo of Iwo, spoke in a video about the relationship between kings in Yorubaland and deities.
In an exclusive interview with Abisola Alawode, the monarch said that any king that is still worshipping gods does not know what he is doing.
The king revealed that saying that a king is second to a deity shows why a king is powerless in the Yorubaland. According to him, a lot of superstitions need to be done away with.
Source: Legit.ng