Arrest Me in Place of Obi Cubana; Imo Businessman Writes Open Letter to EFCC Boss, Says He is Heartbroken
A heartbroken Imo-based businessman has openly written to the EFCC Chairman seeking to be detained in the place of socialite Obi Cubana
The media mogul identified as IfeanyiCy Njoku described Obi as a good man who didn't deserve to be destroyed
IfeanyiCy slammed the anti-graft agency for abandoning their duty to play the role of the Nigerian Federal Inland Revenue Service
A Nigerian businessman, IfeanyiCy Njoku, has written an open letter to the head of the Economic and Financial Crimes Commission Abdulrasheed Bawa over the arrest of socialite Obi Iyiegbu popularly known as Obi Cubana.
Obi Cubana was arrested by the anti-graft agency on November 1 on grounds of alleged money laundering and tax evasion, with the socialite still in their custody.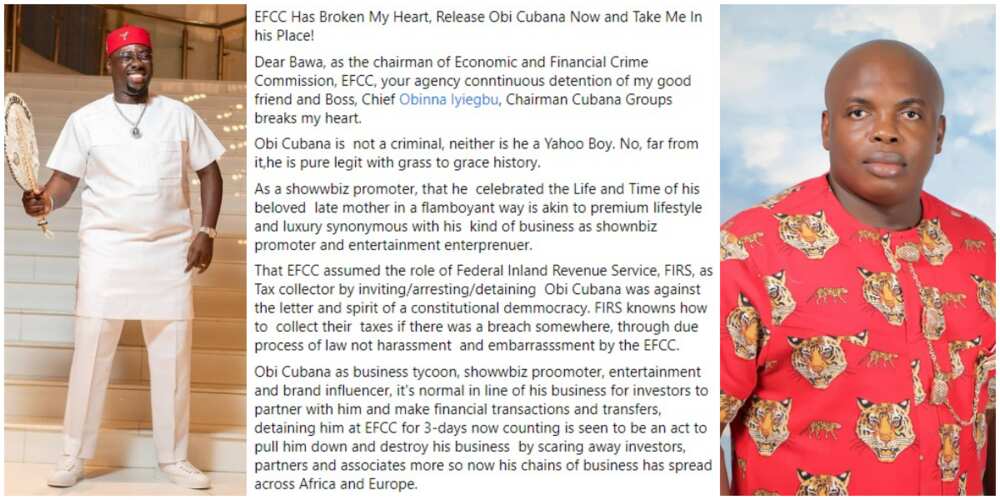 IfeanyiCy in a post on Facebook, titled, EFCC Has Broken My Heart, Release Obi Cubana Now and Take Me In his Place!, said that the socialite is not an internet fraudster or a criminal.
He slammed the EFCC for playing the role of FIRS
The Imo-based media mogul knocked EFCC for playing the role of Federal Inland Revenue Service.
He added that Obi's flamboyant lifestyle is necessitated by his showbiz and promoter kind of business.
"That EFCC assumed the role of Federal Inland Revenue Service, FIRS, as Tax collector by inviting/arresting/detaining Obi Cubana was against the letter and spirit of a constitutional demmocracy. FIRS knowns how to collect their taxes if there was a breach somewhere, through due process of law not harassment and embarrasssment by the EFCC."
He accused the anti-graft agency of trying to destroy Obi's business by going as far as allegedly arresting, inviting and detaining his business associates.
A heartbroken IfeanyiCy urged the EFCC to unconditionally release Obi who he described as an inspiration to millions of youths.
No sacrifice is too much for a diligent, hardworking man
Asked if he was really willing to be detained in the place of Obi, IfeanyiCy told Legit.ng's Victor Duru that he is serious about his demand stressing that no sacrifice is too much for a diligent man like Obi Cubana.
In his words:
"Obi Cubana for all I know and came to find out is not a corrupt politician or Nigerian econony saboteur, neither is he into internet fraud. He is a genuine business whose track record and grass to grace story is know to all Nigerians home and abroad.
"His charming personality, character, hardwork and humility is a model to Nigeria and African youths. He needs our support and encouragement not to be blackmailed with tax evasion and money laundering.
"No sacrifice is too much for a diligent, hardworking man like Obi Cubana. I am serious (about being detained in his place) and real about my position."
Nigerians react
Tochukwu Champion stated:
"That has been their mission to exterminate him and other productive people of igbo extraction from existence but what is written is written.
"Moreover,i think our people have seen the Essence of our Agitation for freedom because the earlier we all support the movement, the better for all of us or we continue been treated as rubbish in another land."
Ogunedo Wisdom wrote:
"EFCC should face corrupt politicians that steal our common wealth and leave successful business men alone is it bcs he is an igbo man."
Nicholas Emeaso thought:
"Funny enough this is what we have been going through and will still go through because we are IGBOS,
"Igbos are not free in Nigeria until the nation Biafra is free, anybody can argue this, but this is a known fact."
Samuel Nwori remarked:
"You have gone ahead to say his is not a criminal or yahoo boy. Do you think Efcc could have detained him for 3days now if he hasn't got some skeletons in his cupboard? All that glitters are not gold. While he is presumed to be innocent, we should also allow Efcc to do their job as we awaits their findings. People make money thru dubious ways and then channel it into legit businesses to conceal the source of the unexplained wealth."
Obi Cubana's wife speaks on his EFCC arrest
Meanwhile, Legit.ng previously reported that Obi Cubana's wife has reacted to his EFCC arrest.
Ebele showered her dear husband with encouraging words and assured him that he shall overcome the present obstacle. She shared a photo of him and declared that he is strong, resilient, a hard worker, a leader, and a great man with a heart of a diamond.
Her post read:
"We love you and we are solidly behind you. Even Jesus went through something worse than this so no stress. The grace is overwhelming and it's overflowing. God himself raised you."
Source: Legit.ng