Beautiful Lady Poses With White Range Rover, Many Men Could Not Resist Her As They Ask Lady Out
A local lady from Cape Town shared thumb-stopping photos of her posing in a luxury Range Rover
The post is getting massive attention from around Mzansi as people are captivated by the beautiful lady as well as the cool whip
In just a day, the pics received major attention with over 6 000 likes and over 200 retweets, and the number are increasing by the minute
A popular tweep from Cape Town, @SisiphoThisani, took to her account to share striking pics posing with a modified Range Rover with a killer grill.
Peeps around Mzansi are making the post famous and it is trending on the platform as they like, comment on and retweet it.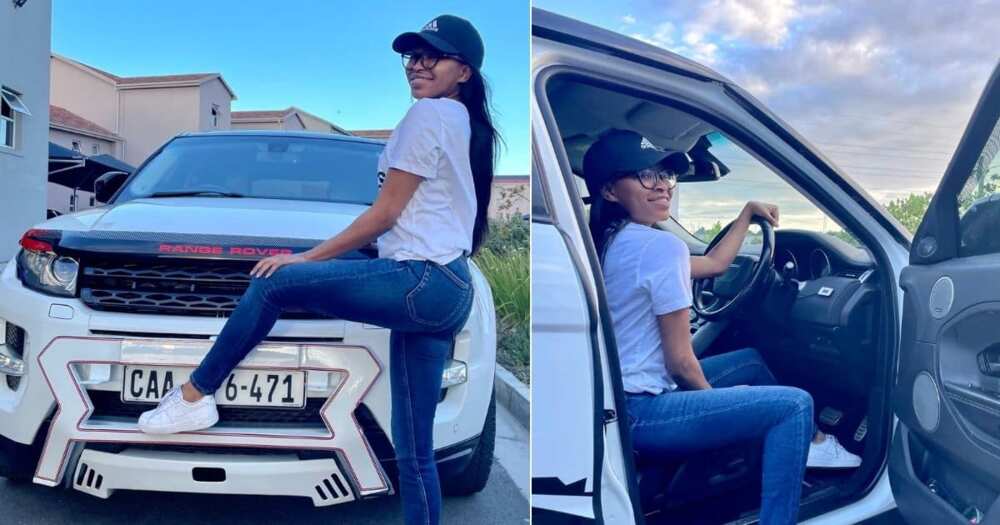 @SisiphoThisani captioned the post:
"Girls with big machines."
Although the lady didn't confirm the whip belonged to her, Saffas didn't care and the post soon exploded with over 6 000 likes and more than 200 retweets.
The comment section is a hive of activity as peeps share their thoughts on the pics. Some get a little flirtatious and others send her sweet compliments.
Check out some of the comments:
@KingDon_za
"You like them big neh."
@MandisiNgcetane:
"I love girls with big machines."
@tt_truser:
"And to think that I'm struggling to fix my Picanto, it breaks me."
@KingMbongs
"Can I be your big machine too?'
@MphuphuAviwe:
"Give me a ride please."
@Relocation_
"Beautiful and it suits you."
@MissNdou1
"When I grow up I want to be just like you!"
Lady saved to buy car
Meanwhile, Legit.ng earlier reported that a young Nigerian lady, Aderonke, has shown off the new ride she just bought and the reception was massive.
Posting photos of the new ride, the woman revealed that she saved for the duration of 1 year, eight months, and two weeks.
The woman said she is celebrating her small wins, adding that getting the car was not an easy task.
Aderonke added that she hopes the next big car would come from her hubby. The new car owner said she is very grateful for God's help. Read more: https://www.legit.ng/1404367-nigerian-lady-buys-car-1-year-8-months-2-weeks-save-money-amazes-people.html
Source: Legit.ng