UNICAL Sex Scandal: Lawyer Reveals What First Lady, NBA Should Do to Prof Cyril Ndifon
First Lady of Nigeria, Senator Oluremi Tinubu, has been urged to wade into the alleged sex scandal in the University of Calabar involving Prof Cyril Ndifon
In an exclusive chat with Legit.ng, the Nigerian Bar Association (NBA) Epe branch secretary, Barr Oladotun Hassan, said there is a need to protect women
He urged women's advocacy groups to take the bull by the horn and launch a campaign to protect women and girls from randy animals in human skin
FCT, Abuja - The Nigerian Bar Association (NBA) Epe branch secretary, Barr Oladotun Hassan, has waded into the sexual harassment scandal at the University of Calabar (UNICAL).
This is on the heels of UNICAL's suspension of the Dean, Faculty of Law, Prof. Cyril Ndifon, for alleged sexual harassment of female students in the faculty.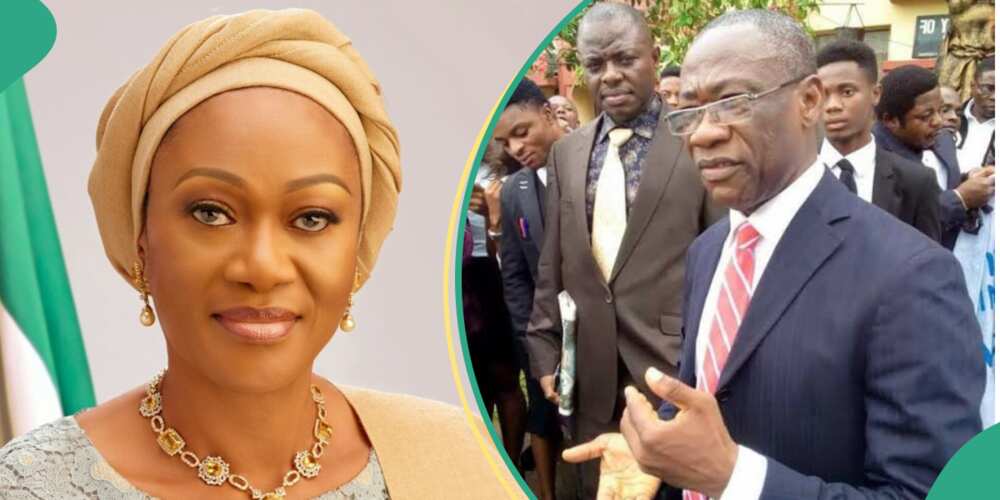 In reaction to this development, Barr Hassan urged the NBA to summon Prof Ndifon to the legal practitioner disciplinary committee for a stern investigation.
He stated that verifiable facts about victims on the ground are readily available for use against Prof Ndifon during prosecution.
Barr Hassan, also a member of the NBA security relations committee, said the matter should not be over-sensationalised as he urged the government to take a stand against such a heinous act.
He said there is a need for orientation on public service discipline and ethics in the civil service.
Oluremi Tinubu urged to intervene in UNICAL's sexual harassment case
Barr Hassan urged the body of women's groups and First Lady Oluremi Tinubu to take up the matter to defend and protect women's interests in society.
He said:
"I want the First Lady of the country and all other First Lady to take an interest in this matter because we have a lot of randy animals in human skin that are out there."
He also lamented that women find it challenging to get good jobs and compete in the labour market due to sexual harassment.
Barr Hassan said:
"There should be a declarative statement condemning this act, and we want that to be done. The NBA President should stage a whole lot of campaigns on women's protection, and this is criminal; it is unlawful, and appropriate sanctions be taken in this regard.
Reactions as UNICAL suspends dean over alleged sexual harassment
Meanwhile, the Dean of Law Faculty at the University of Calabar (UNICAL) has been suspended for alleged sexual harassment of female students.
The management of UNICAL announced the decision following students' protest against the embattled professor.
It was also gathered that the alleged professor had been accused of a similar case eight years ago but was able to get freedom after a long legal battle.
Source: Legit.ng