"I'm Truly Impressed," Muslim Leader Says as Christians Join to Clear Grass at Eid Praying Ground
Christians joined their Muslim brothers and sisters to clear grass at the Eid praying ground in Kachia Local Government Area of Kaduna state
The exercise was carried out to foster unity between Christians and Muslims in Kachia and its environs
Secretary, Jama'atu Nasril Islam, Kachia local government area chapter, Ibrahim Tasiu, said he was genuinely impressed by the kind gesture
Kachia, Kaduna state - To strengthen peaceful coexistence and religious tolerance, Christians have joined the Muslim faithful to clear grass at the Eid praying ground in Kachia Local Government Area of Kaduna state.
Daniel Bitrus, the Community Peace Observers (CPO) team leader, said the exercise was done to promote religious tolerance and better understanding among faith adherents, Premium Times reported.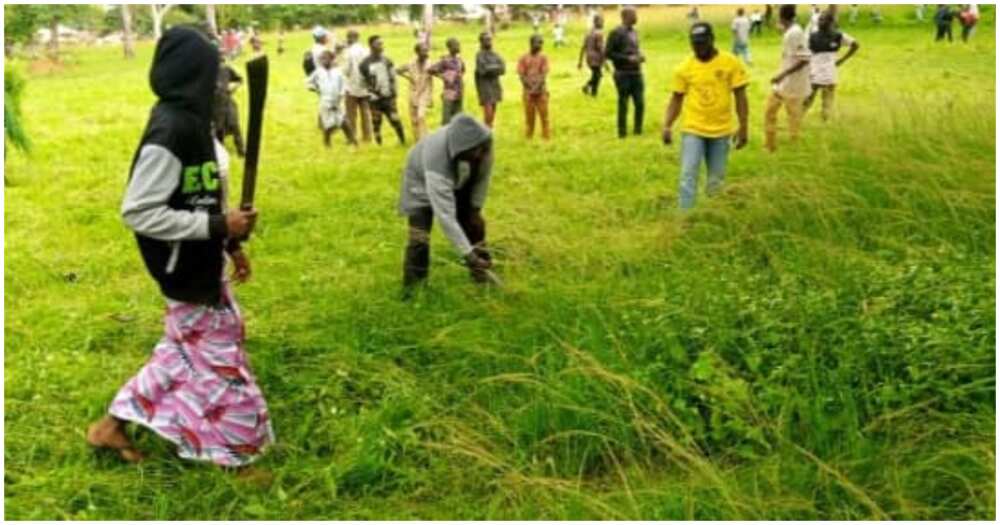 The Christian youth leader said:
"We came here to support our Muslim brothers and sisters towards clearing the environment around the Mosque, with sole aim of promoting peace and unity.
"We were here last year and by the grace of God, we are also here today to do the needful."
Jessica Akila and Mercy Bajumi, CPO members, said this is the second time volunteer Christian youth, women, religious and community elders are joining their Muslim brothers and sisters to clear grasses and get rid of trash at the premises of a Mosque in preparation for the Eid-El-Kabir prayers.
Akira and Bajumi, who also work under the Community Initiatives to Promote Peace (CIPP). Explained that they came to clear all the grass in order to beautify the premises and the general environment.
The secretary of Jama'atu Nasril Islam (JNI), Kachia Local Government area chapter, Ibrahim Tasiu, said the gesture is the first of its kind in the history of Southern Kaduna, known for its ethnoreligious crisis in the past.
Tasiu added that this was the second time the Christian youth joined the Muslims for such a remarkable exercise to explore ways to foster unity among the people in Kachia and its environs.
"I must confess to you that am truly impressed and may Allah bless them abundantly."
Sultan finally announces date for Eid Al-Adha 2023 in Nigeria
Meanwhile, Legit.ng reported that the Sultan of Sokoto, Alhaji Sa'ad Abubakar III, has declared Wednesday, June 28, as the day of Eid Al-Adha 1444 AH/2023.
The Sultan, who is the President-General Nigerian Supreme Council for Islamic Affairs, through Sultanate Council Sokoto, made the announcement on Sunday night, June 18, in a tweet sighted by Legit.ng.
"The Sultanate Council Sokoto has declared Monday 19/June/2023 as the first day of Zul-Hijjah 1444 AH," the tweet read.
Eid-el-Adha: Salah date and other Public holidays Nigerians will celebrate in 2023
When the federal government declares a public holiday through the Ministry of Interior, schools, businesses, banks, and government offices will be closed on such day.
The Eid-el-Kabir is expected to be celebrated on Wednesday, June 28, and Thursday, June 29, making both days public holidays.
Legit.ng compiled the remaining public holidays Nigerians will celebrate in 2023.
Source: Legit.ng