"Osinbajo Is an Amazing Leader, Focused, I Enjoy Working With Him", AfDB President Praises VP
President of the African Development Bank (AfDB), Dr Akinwunmi Adesina has praised Vice President Yemi Osinbajo, insisting that the VP has proven himself to be indeed an exemplary leader by all standards.
He described him as an "amazing, focused and determined VP," who he always enjoy working with.
This is coming at the heels of the recent launch of a new Investment in Digital and Creative Enterprises (iDICE) programme that took place on March 14 at the Statehouse conference centre, Abuja.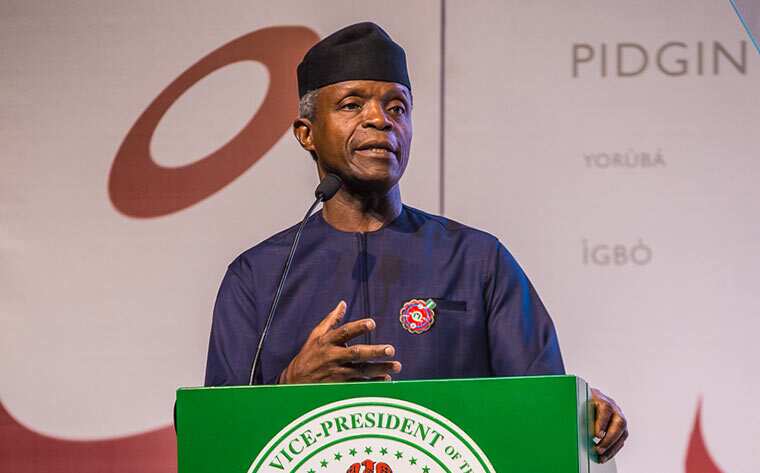 The iDICE initiative was a brainchild of Osinbajo and the AfDB president, who was a former Nigeria's minister of Agriculture.
Speaking at the official launch in Abuja on Tuesday, March 14, Dr Adesina, commended the federal government's commitment to the actualisation of the initiative, particularly the leadership of VP Osinbajo, in creating the enabling environment for the development of start-ups, as well as position Nigeria as Africa's leading digital technology centre.
"Today, I will thank you, my brother, the Vice President. You have been an amazing leader in our nation, you are a very focused and very determined person, as your time ends, may God continue to be with you and guide you in whatever lies ahead of you." 
In the same vein, Dr Adesina on Friday, March 17, also took to his official Twitter handle to appreciate VP Osinbajo, whom he called his "friend, brother and partner" by thanking him for his friendship and partnership that has birthed a new set of innovation in Nigeria's digital ecosystem and creative industries.
He wrote:
"I always enjoy working with my dear brother, friend and partner Vice President @ProfOsinbajo on development issues for Nigeria. Thank you for your friendship and partnership."
The iDICE initiative, with investments, totalling $618 million, will attract direct investments in more than 200 technology and creative start-ups and provide non-financial services to about 450 digital technology, small and medium enterprises.
Also, the iDICE initiative has the potential to generate $6.4 billion into Nigeria's economy and is expected to create six million new jobs for young Nigerians.
Source: Legit.ng